This post may contain affiliate links. Please see our full Disclosure Policy for details.
I love to try different mediums. I have been working on a few organizing projects to fix some mess around my work space. Like the multi-task message board and no hole wall holders. Today I am sharing a wooden books organizer that I decorated with paper using mod podge. You can use this idea to decorate a plain file organizer with magazine cutouts to use your favorite patterns, designs and other collections to decorate things at home.

Desktop File Organizer

This project was so much fun all the way. I started by looking through IKEA magazine for some interesting photos. Do you enjoy scrolling through ideas from the magazines?
I found these wonderful Plywood File Organizers at IKEA. They are called unfinished wooden organizers for magazine file.
Next, I painted them with white acrylic paint. And let them dry.

Then, I had cut the magazine papers and arrange them around to see how they look.
Finally when I was satisfied with the arrangement. I used Mod podge matte to decoupage them on to the plywood.
The procedure is very simple but requires paper handling. Spread mod podge on the backside of the paper with the help of a brush and place it in position to glue it on the surface. Apply a thin layer completely covering the paper for best results. You have to speed up in this step as mod podge dries quickly.
This part is very important. My alternative to roller, a glue bottle (or anything you can roll).
Roll over the paper to remove any air bubbles, and flatten the paper.
This step will help avoid any creases and irregularities in the surface.
This is how it looks so far. What do you think?
If you are not very technical, you can try this easier and faster way.
Apply mod podge over the wood (instead of paper) and put the paper in place.
Use your fingers to press and set as you go.

This method is very easy and gives accurate results with no bubbles and creases below the surface.

Once all the papers are set in place. Let them dry.
Afterwards coat the file organizer with mod podge to seal it. It will dry clear.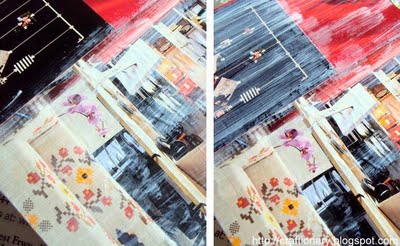 Decoupage and seal with mod podge.
Wooden File Organizer
Similarly, I decoupaged this pattern paper on the second file organizer.
Do you remember these Magnet hearts I made for valentines day?
It was so much fun decoupaging these file organizers for my work space.
Moreover, I love the Ikea magazine photos for inspiration.
Can't wait to share my next project!
Looking for more great DIY ideas to organize?
Check out tutorials in the category ORGANIZE.
Are you on pinterest?
You will also enjoy the Home Tips and Everything Kitchen Boards.
These are updated regularly whenever I find unique ideas.