This post may contain affiliate links. Please see our full Disclosure Policy for details.
Cars Themed Toddler Bedroom.
I finally managed to excite my little guy with some custom projects. Boys are so obsessed with cars. And so is mine!
I created simple projects to decorate little boys bedroom. Firstly I was in love with the cars themed fabric I found on an online store. And used it to create accent pillows for the bed. Next I used these frames to decorate the walls.
DIY Boys Room Frames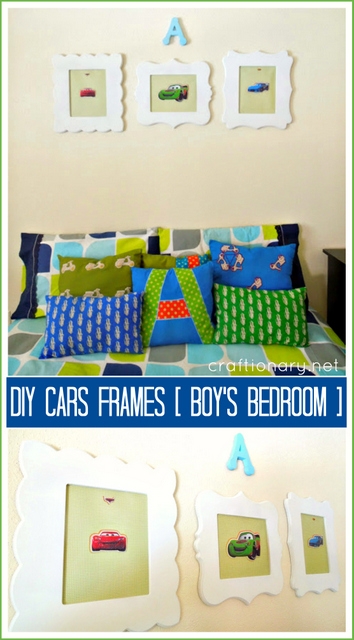 To create these boys room frames all you need is your choice background paper and stickers. Something even kids can make.
I don't think I need to introduce you to Cut it out. As most of you already know about these beautiful frames. These wooden frames are stylish and decorative. They come in six fun shapes and various sizes. These are great for wall art and picture gallery.
When I received these wonderful 8×10 Frames, I knew just where to use them. They come unfinished, ready to create and it's awesome to customize the frames anyway you like. They don't come with glass. But for displaying photos and art you can buy cheap frames from thrift store (or dollar store). And utilized the glass from those frames in these frames.
How to make DIY boys room frame?
So, let's get started. My project is really simple. First, I spray painted the frames white.
Then I placed a scrap paper of my choice inside them. If you see these frames with the naked eye, you will see small polka dots on the paper that match with the bedding.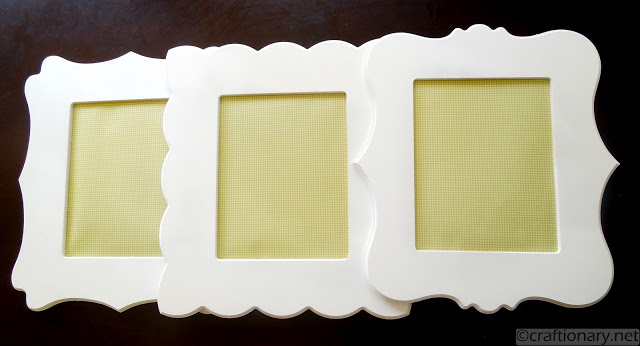 And glued the "cars" stickers on the frames. Easy peasy and done in a few minutes.
These stickers were basically puffed wall stickers and I didn't need glass frames so I was okay with it.
But if you intend to display your family photos, art or anything special; you can buy frames from dollar store (or thrift store) and use that glass with these frame.
That's about it all to make these boys room frames.
Disney Cars Frames
If you are interested in the process of making these pillows, you will love to see the
Cars pillows tutorial.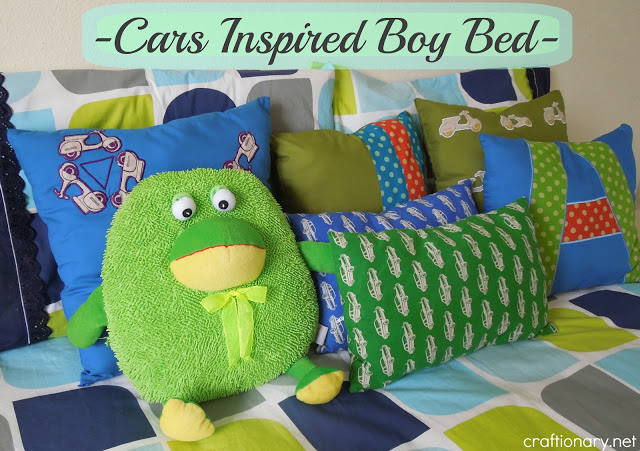 Sometimes it's fun to make nice things with very little effort.
I love the use of these beautiful frames in Family Gallery. And I look forward to doing it when we have our own house.
For now, here are some amazing projects that I am all eyes for using these frames: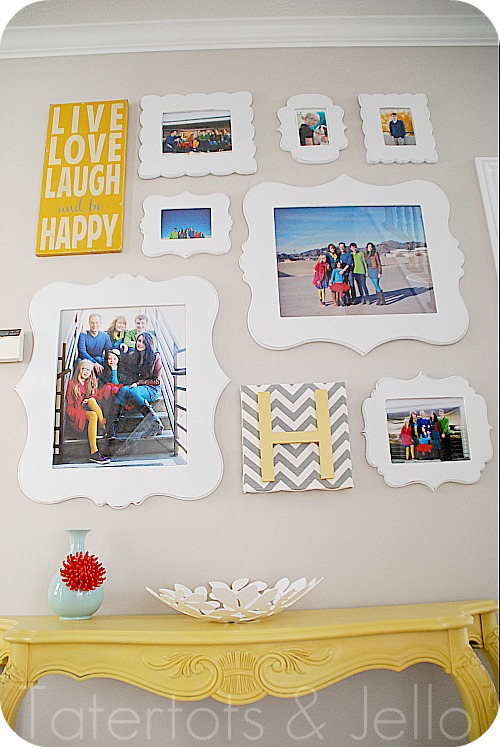 Hang them together on the wall. And use to display family photos.
 You will also like:
15 ways to make Tents
DIY Baby Boy Mobile
Boy Bedroom Clay Vase
Looking for more great ideas for Kids?