This post may contain affiliate links. Please see our full Disclosure Policy for details.
Organize craftily with origami is an origami paper folding compartment flower made to store crafts or office supplies in a handy way. Make this organizer to organize craftily in a stylish and have some fun with origami paper folding art. It is great for organizing stationery items for kids. Display it on kids homework station and check out these functional homework station ideas while you think!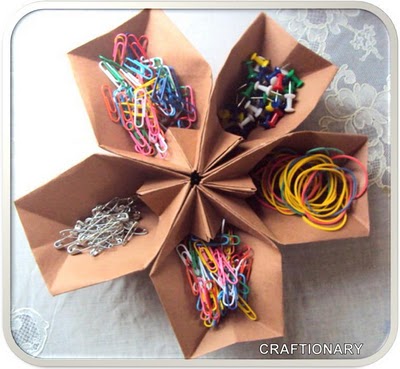 Organize craftily with stationery Organizer
I have always been obsessed with craft, when I was a child I used to climb up my cupboard to keep my things safe from my brothers and now I work when my  little man is sleeping. Sometimes it's challenging to find time too but I just can't quit crafting.
Now lets have a look at the origami organizer to organize craftily all the stationery needs and so much more. This flower  is a very useful organizer for all the small things we need everyday and don't know how to keep them handy. Not something to keep forever but it can be useful for kids and small temporary projects.
Kids can keep crayons and color pencils organized on their study table or when they are drawing and coloring

Place it in a nice basket so that it movable once it has weight in it

Place it in your drawers organizing your office supplies. 

Use it as a temporary holder for your projects that require use of small things like beads, crystals or buttons; you can keep them organized likewise and safe time as well.

Make organizer with compartments
Take a square paper (9″ x 9″) and fold it into a triangle. Fold both the sides of the triangle in halves shaping as shown below. Pattern side down.
Open the paper from the centre and fold the flap upward forming the triangle. Now open the side flaps and fold the paper at the centre again.
Rotate the above model into the shape shown below. Now fold the top-left corner towards right side and do the same with the other side.
Now fold the left and the right flaps into triangles as shown and unfold them. Unfold the flap facing down followed by folding the left flap over to form an envelope shape. Now finally fold the flap below upward again.

Open the shape at the top and fold in the smaller triangle.
Fold the top left corner and bring it down right, forming a triangle and unfold it. Again fold the top left corner, but this time form a small triangle meeting at the nearest line. Now fold the small triangle upward into a smaller triangle and unfold all.
Open the top and fold the above formed folds inside to complete the model.

Paper folding origami organizer
Glue them all together at the center only and use paper pins to hold them together till the glue dries. You can also use double-sided tape.
The final shape looks like this. Remove the paper pins
Keep your office supplies handy in this organizer. You can also use it to keep different colored beads, candies and small similar things organized and handy.

Hope you enjoyed this crafty organizer with me. I would love to see yours, so keep it coming.

 Here's a little feminine girly touch to the organizer. Just a last minute picture thought.

want to make the orange cute flower for organizing decor?
What I made last week?
"This post first appeared on Craftionary.net" Stay connected with us at
instagram
, I am just starting to learn to be more open on my channel about my lifestyle. Help with out by being interactive with me and say hello!