This post may contain affiliate links. Please see our full Disclosure Policy for details.
Make a front porch Fall planter DIY fairy garden bird bath in 10 minutes with this front porch Fall decor idea that adds to garden theme. This front porch Fall planter is great for any size outdoor space. If you have a larger porch you can enhance the look by adding pumpkins, candles and more planters. However, if your porch is small this Fall planter DIY fairy garden bird bath makes the entrance look charming. On top if you add some fairy lights to it. You have set it at another level.
Front porch Fall planter
When it comes to front porch simply some seasonal plants and planters can get the stage set. However, I like to add details to get the creativity flowing. This idea is so diverse you can actually set it for any season just by changing the plant or flower with the seasonal variety.
What can I add at the front porch to make it inviting?
Front porch or entrance can be made inviting in a variety of ways. The internet is full of ideas and great tips. However, I like simple and easy going things and the stores have already taken care of half of the varieties we need to set our space. My suggestions would be:
Invest in some high planters
Use seasonal decorations
Add cafe lights or fairy lights
Have an inviting number sign
Add floor mat that matches the theme
Hang DIY Fall wreath
Replace planters with seasonal varieties
Make wind chimes they bring charm to the space
Add bird bath for thirsty friends
DIY birdhouses or bird feeders to give food to birds
Add comfortable chairs and table to enjoy the space
Hang some waterproof frames
Here's a beautiful view of the front porch by my friend cherished bliss that talks to my suggestions most closely.
What are the best places to shop for seasonal Fall decorations?
In my honest opinion seasonal Fall decorations for front porch are so short lived and every year we grow and our taste changes. So, I would high recommend checking out budget friendly places like:
Costco – where you can find bulk in good quality for a reasonable price.
Dollarama or dollar store – this place is best for artificial flower arrangements and pumpkins. It also offers any trendy front porch Fall decorations for the best price.
Home Sense – You can sometimes score great value items for home decoration
Walmart – good price but I am not always convinced with the quality. However, it can get you into making a great DIY project for front porch Fall planter given the great variety of craft and garden supplies.
Michael – I love this place. It's a heaven for creativity. It's a little on the high-end side giving you comparatively higher prices but coupons can make you happy. This place is best for finding unique items that are for keeps for years to come.
Front porch Fall planter DIY fairy garden bird bath
Without any further a due, let's get started with this project. I was all set to arrange the porch but due to construction it is very dusty. I had a party at home so I quickly fixed what we know is a dusty and abandoned planter that had been lying there hopeless. Knowing that after a week this planter will be left in dust again, I decided to only work on this project and after the party I moved it back to my patio. One thing that hurts the most is if my flower is unhappy.
This is the before look of the planter without summer plants and some artificial garden decorations. No matter how much I clean it, the construction site factor is unavoidable. Anyways, there is always a time for everything.
Things needed to make front porch Fall planter DIY fairy garden
You will need the following to make the front porch Fall planter:
High planter (the ones I have are from Home Depot)
Fairy garden accessories (I bought mine from Michaels, they have great variety)
Seasonal flowers or plants (I went grocery shopping and bought these flowers from Walmart)
Pebbles and sand (optional bought from Dollarama)
A blue glass (to make a bird bath bought from Dollarama)
The picture is self explanatory but I'll share the instructions below.
How to make front porch Fall planter DIY fairy garden
To make the front porch Fall planter DIY fairy garden bird bath follow the instructions:
Wear your garden gloves
Start by removing the dead plants and accessories
Use your hands or tools to dig and freshen up the soil
Add fresh soil and fertilizer and mix it up to create a fresh layer for new plants
Add in the Fall flowers, instead of planting them in the center put them on the side to make space for DIY fairy garden
Clean the fairy garden accessories and wipe it with a clean paper towel
Decide how you want to set it up and start placing it in the soil
Start by putting the welcome fairy home in the center of planter
Put the stepping stones in front of the fairy home
Insert mushrooms and other varieties in the soil on the left side of the fairy home
Dig a hole in the soil to insert the glass into the soil. This acts as the swimming pool for the fairies or bird bath
Fill it up with water and spray the flowers to freshen up the arrangement
Now add pebbles at the base of the flower to give it support and add details
You can also add sand to create a road in front of the fairy house
That's about it all. Now let me share the resulting pictures of 10 minutes quick fix for the front porch Fall planter.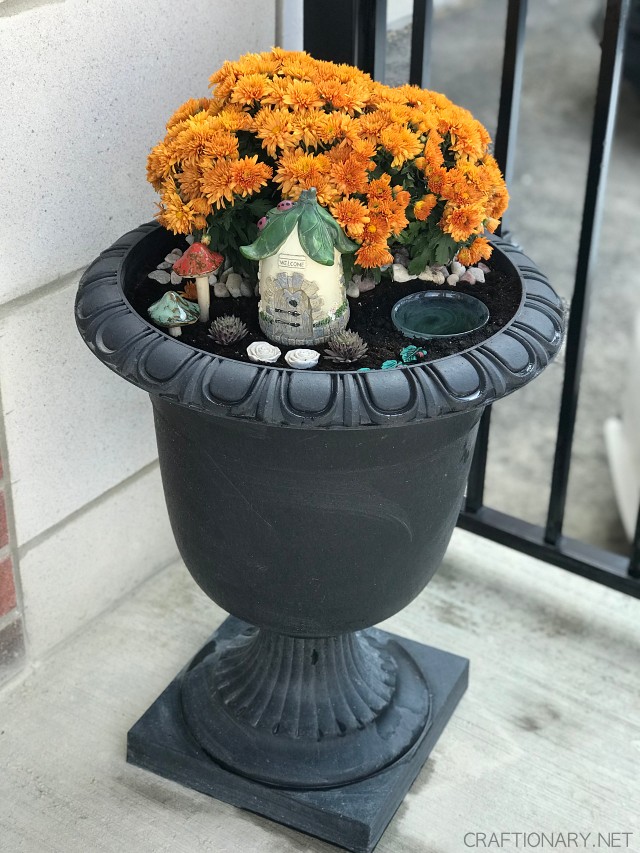 SHARING IS CARING
If you like simple ideas that are practical for your lifestyle to bring beauty at home, I share just the ideas. If you like this idea please help me reach other people by pinning this post or sharing it on instagram. Come follow me for real time updates on instagram.
Front porch Fall planter DIY video tutorial
If you are entertained by videos check out this 2 minute video showing you how I achieved the results from start to end. Hope you watch it and like it:
You will also like:
Best Fall Photo ideas for families
DIY Fall wreath ideas