This post may contain affiliate links. Please see our full Disclosure Policy for details.
Handmade nylon flowers decorating idea. I have this special love for making flowers. Flowers with paper, fabric, nylon, felt, you name it. Painting them on canvas. I also like to rearrange and change things around the house.
Orchids are beautiful and I had been wanting to make some for my home for a while now. So, I replaced the how to make nylon flower rose I made last year, with these cute Orchids. Arranged in a glass vase with stones. They look lovely when I light the candles.
Flowers decorating idea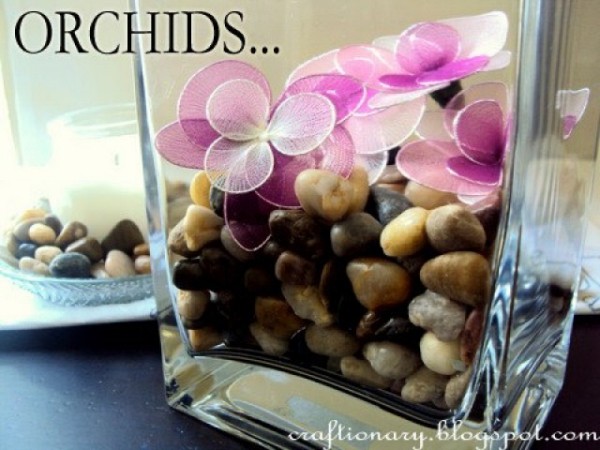 Handmade orchids
Orchids are so serene and pure. They look spectacular in wedding decorations and parties too. This is a very easy and quick decoration idea for home.
Material for flowers decorating idea
Nylon (in purple, pink and white colors)
Rings size (1,2,3) or something round with the same diameters
Nylon thread
Stems
Wire (gauge #22)
Plier or scissor
Earth accent stones
Glass vase (mine is from IKEA)
Flowers decorating idea
To make the Orchid.
You will need: 3 petals ring size (3), 2 petals ring size (2) and 3 petals ring size (1).
To make these petals follow the how to make basic nylon flower for making petals. And if you need more information about the nylon flowers material! You can find it nylon flowers material

.



Once you are done with making the petals for Orchid. Now it's time to assemble the flower.

Starting with the smallest petals, thread them tightly on the stem. And make sure you secure each petal individually before adding the next.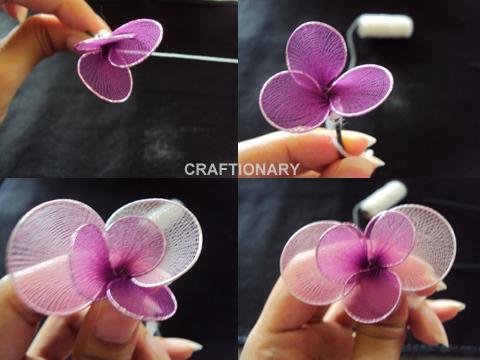 When the size (1) and size (2) petals are done threading.
Then add the largest petals.
As, you can see in the picture the largest petals of the orchid are a little pointed and elongated.
Shape the round petals as shown. And thread them in place. Making sure each petal is perfectly tightened.
Wrap floral tape around the wire to hide thread neatly.
These are the simplest and cutest flowers to make.
You can also make them with paper and fabric following the same tutorial.
For the paper simply cut the petals as shown below with a small square at the end. Roll the wire inside.
and for the fabric petals you can wind the fabric around the wire. Then glue or thread at the end similarly.
As easy as it seems  You are done!
You can make tons of orchids in small time.
Next I fill my Ikea Glass vase with accent stones. And arrange the flowers over it!
They look beautiful with candles.
I hope you enjoyed this tutorial to make handmade orchids.
This flowers decorating idea is cute and easy.
Stocking flowers or Nylon flowers
 For more beautiful flowers made using Stocking. Check out the link below:
You will also like:
Looking for more great ideas?
Are you on pinterest?
Updated regularly whenever I find unique ideas.