This post may contain affiliate links. Please see our full Disclosure Policy for details.
Glass painting vase is so much fun. Find a balloon inspired design for painting on glass that is great for parties and events.
A party is no fun without noise and music. Painting vase was fun to keep party blowers. Music can be taken care of and for some party noise "Party Blowers" are one best thing to have. Kids get fascinated blowing into the party blowers.  I had been wanting to do a Glass Painting project for a while now. Not that it's my first project but yes it definitely is my first tutorial.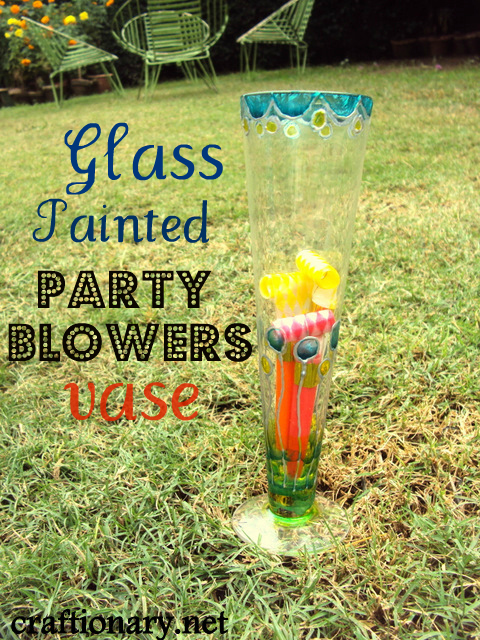 Painted Glass Vase worked great as a "Party Blower's" container. In fact, I underestimated it's capacity, even a small vase like mine can hold up to 10 of them. A glass bowl will look nice too.
You will need:
Glass vase or bowl
Glass paints (I used a Basic "Parrot Green" and a crystalline "Royal Blue" colors)
Paint brush
Glass lead (I used silver lining)
That's it, and yes off course FUN
I chose a very simple pattern of balloons, and drew it using lead liner. However, if you have a pattern that needs an outline, use carbon paper to trace it on the glass. When the lead dried (and it dries fast in about 10-15 minutes), I started painting in the balloons and the design at the top.
For the colorful swirly look at the end of the vase, I used layers of alternate green and blue color, at different instances of time and let it flow.
Here's a look at the glass vase from different angles.