This post may contain affiliate links. Please see our full Disclosure Policy for details.
Learn to make handmade stamps with this tutorial that uses foam sheets and cutting knife. Our guest today, is sharing a very useful tutorial today. If you like to craft with stamps this DIY project will save you tons of time and money. Normally we buy a stamp for a certain project, and then it just keeps lying there forever. Or just gets reused sometimes. You may also not find the right stamps for your projects in stores sometimes.
So, why not create our own handmade stamps. Which will not be so painful if they need to be gotten rid of at some point in life! You can use this tutorial to make DIY custom stamps in any shape or size you like. All you need is a little bit of patience, while you work with cutting knife.
Make Handmade Stamps
Hello Craftionary friends! I'm Michael Ann from the blog Michael Ann Made. And am so excited and honored that Hani asked me to post for you today! I love crafts of all kinds. And most importantly I love getting to know others who love crafting too. You can never have too many friends to craft with!
Today I would like to share a
Handmade Stamps Tutorial
to create your own
Personalized "Thank You" Cards
.
After the holidays, I find myself needing a big stack of thank you cards. What easier way to make them unique than with a stamp you made yourself?
Materials You Will Need:
Sticky back foam (I found this at the craft store)
A mount for your stamp (clear acrylic mounts make it easier to use your stamp)
Print out of the phrase or image you want to create
Small sharp scissors, a craft knife, paint or ink for your stamp, note cards
How to make personalized handmade stamps
First transfer your design onto the paper backing of the foam. An easy way to transfer is to color the backside of the image with a lead pencil, and then carefully trace over the top of the image. The lines you drew on the front will then be transferred by the lead on the back of the foam's paper backing.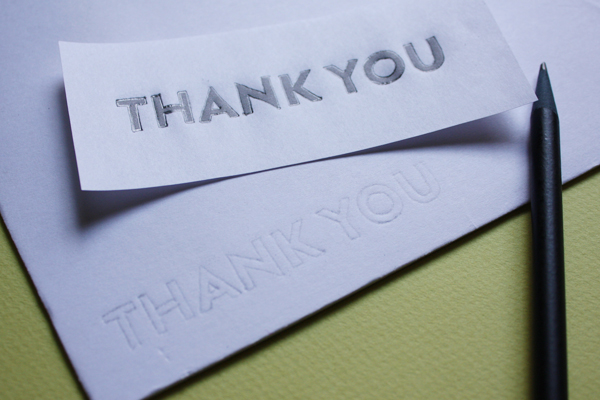 Then cut out your image or letters, following the lines you just traced. Peel off the paper backing and stick your image onto the acrylic block. Remember that stamps need to be reversed, so make sure your letters are going the right (wrong) way!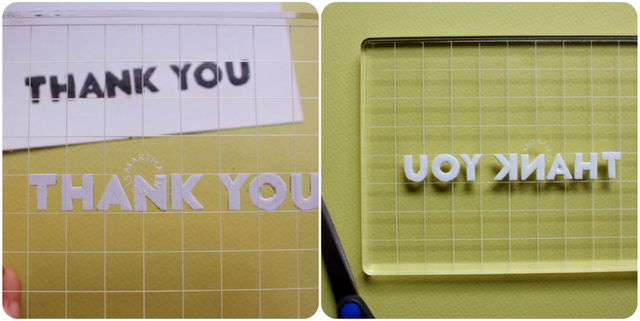 Lastly, get out your stamp pad and note cards and get stamping! I also added a bit of paper Washi tape to my cards for that extra bit of cute :] When you are done, the foam can easily be removed to reuse the block, or you can keep your stamp forever!
Handmade Stamps tutorial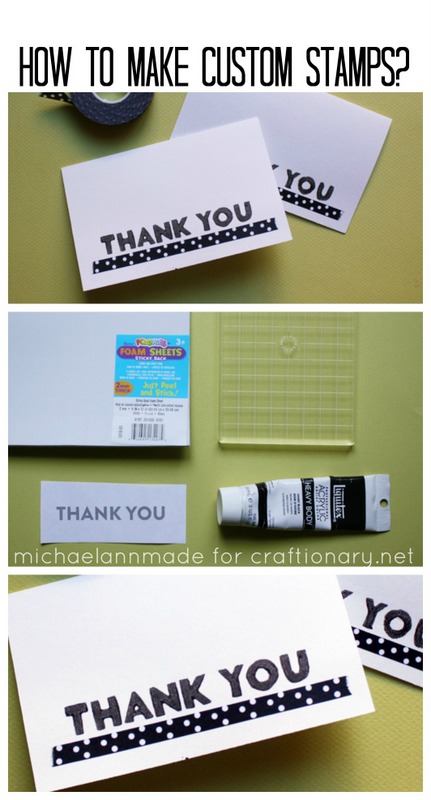 Thanks again Hani for having me, and thank you dear friends for reading! Happy crafting, and I hope to meet more crafting friends soon.
Thanks so much Michael Ann for sharing this Awesome technique.
Be sure to check out her blog for spectacular ideas like:
Woven Friendship Bracelets
Looking for more great ideas?
Check out tutorials in the category DIY PROJECTS.
Are you on pinterest?
You will also enjoy the DIY Techniques and DIY projects Boards.
These are updated regularly whenever I find unique ideas.