How to make ribbon flowers?  A simple DIY Ribbon Flowers tutorial.
And many more ways to make Ribbon flowers and Fabric flowers.
The flowers I am going to share today are very dear to my heart.  I learnt to (make ribbon flowers) sew these flowers using ribbon.  I used them to decorate a basket for my wedding.  These ribbon flowers are beautiful.
Let me share an image of the ribbon flowers decorated on the basket: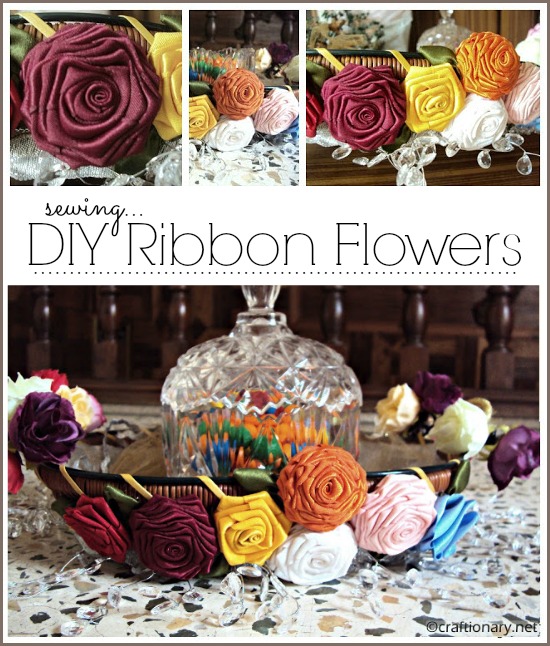 Ribbon Flowers
These flowers require a steady hand.  And the more you practice the better you get.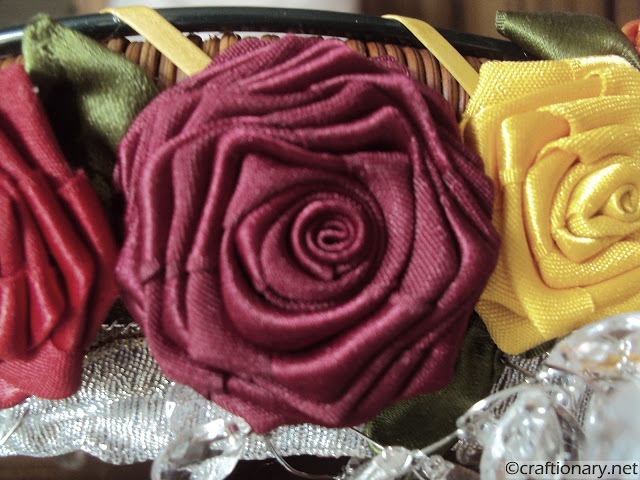 To sew
Ribbon Flower Rose:
Ribbon (I used 1″ wide ribbon)
Thread and needle (for sewing)
Start by rolling the ribbon in the form of a bud (as you can see at the center).
And use thread and needle to sew as you go, for a secure and perfect flower.
Once you have a supportive bud, big enough to hold in your fingers; start folding the ribbon.
Fold the ribbon and continue sewing each petal as you go below the other.
Each fold will give you an individual petal.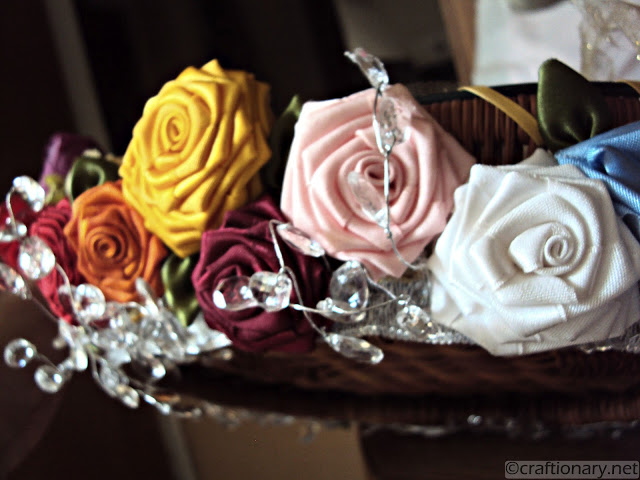 Next I just used thread to secure each flower on the basket.
To match the gold and silver theme of the event and glued ribbon to the bottom of the basket.
I also added a beads wired garland around the basket.
I don't know if I should say it myself, but it looked fabulous on my wedding! What do you think?
A few more flowers you can make using ribbon:
Make ribbon flowers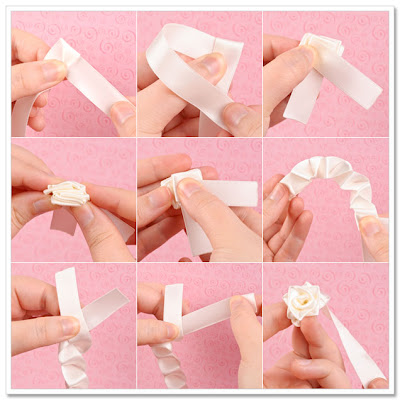 Fold the ribbon's both ends as shown in the picture and pull the longer end.
Cute grosgrain ribbon flowers via
artfully caroline.
Glue loops of ribbon on each other and use beads to make the center.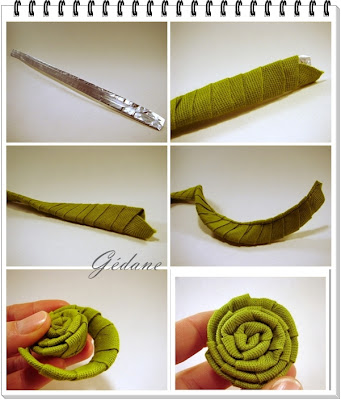 Roll your ribbon on a piece of wire.  Now roll the wire to make flower.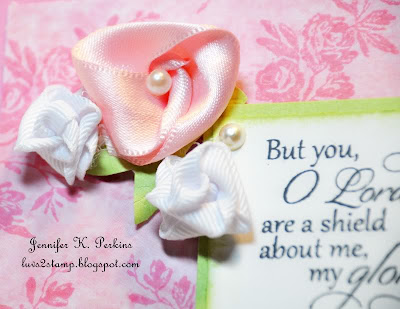 Fold the ribbon to make this three petaled ribbon flower.
You will also like:
Burlap and Fabric Flowers
Yarn Rosettes
25+ Handmade Flower Tutorials
Looking for more Handmade Flowers?
Check out tutorials in the category
FLOWERS
.
Are you on pinterest?
These are updated regularly whenever I find unique ideas.