This post may contain affiliate links. Please see our full Disclosure Policy for details.
OVERVIEW: Free Ramadan Printables for kids and home decor with Ramadan calendars, Ramadan activities and Ramadan countdown. Includes instructions on how to use them.
One thing I've learned and appreciated always is creativity. One of the things that I realized when I moved to North America is that a celebration is not just good food but a welcoming eventful environment as well. This doesn't mean you go all aboard and to extraordinary. But small gestures can make a whole new difference and teach new generation that we celebrate wholeheartedly.
Today, I am sharing a pleasing ramadan printable that you can print for free and use at home. Now it has many benefits, a few I can think on top of my head are:
It helps the entire family stay on track.
Adds to the Ramadan home decor.
Kids can learn the systematic changes in time with the earth's rotation around the sun.
Ramadan Printables
In the past, I have shared many printables for Ramadan. I will share them here again to give you a choice of options that are made available for you to use. Please note, these are for personal use only and not commercial purposes. Please consider this a gift from yours truly for Ramadan and keep me in yours prayers.
Ramadan Printable for decor
This year's ramadan printable is inspired by the sky. Since, sky has such a high significance in terms of spirituality, the ultimate goal and our reason for being; I felt the need to relate to it. The plants and flowers are a reminder that nature has it's own way and that patience is a virtue.
This printable is perfect for a 8×10 size frame. I have made the printable not too small neither too large to make it difficult to use. All you need is a A4 size paper and you are good to go.
How to print and use printables?
You can print and use ramadan printables at home following the steps below:
Download the PDF file I have shared below by clicking on the link.
You can easily print all the printables on a standard A4 size paper.
If you have a colored printer at home simply send the command to the printer and your printable is ready to use.
However, you can also print a black and white version and have the kids color it for customized display. This can get them excited!
Another great option that I like to use personally is Staples. They have ink jet printers that have great color results. I like to take my file on USB to their store and print it following the instructions on the touch screen. It's my most preferred option for just 50 cents a paper.
How to use Ramadan printables?
There are many ways you can use these printables. The most obvious is to display it in the family room and use it as a calendar to keep your 30 days of fasting on track. Your entire family can benefit from this simple wall art at home.
You can frame it and hang it on the wall or display it on a table or mantel. Use a dry erase marker to remove and rewrite everyday updates.
Ramadan day, suhoor and iftar time printable decor
In the file you will find choice to print two different fonts for Ramadan day, suhoor timings and iftar timings printable.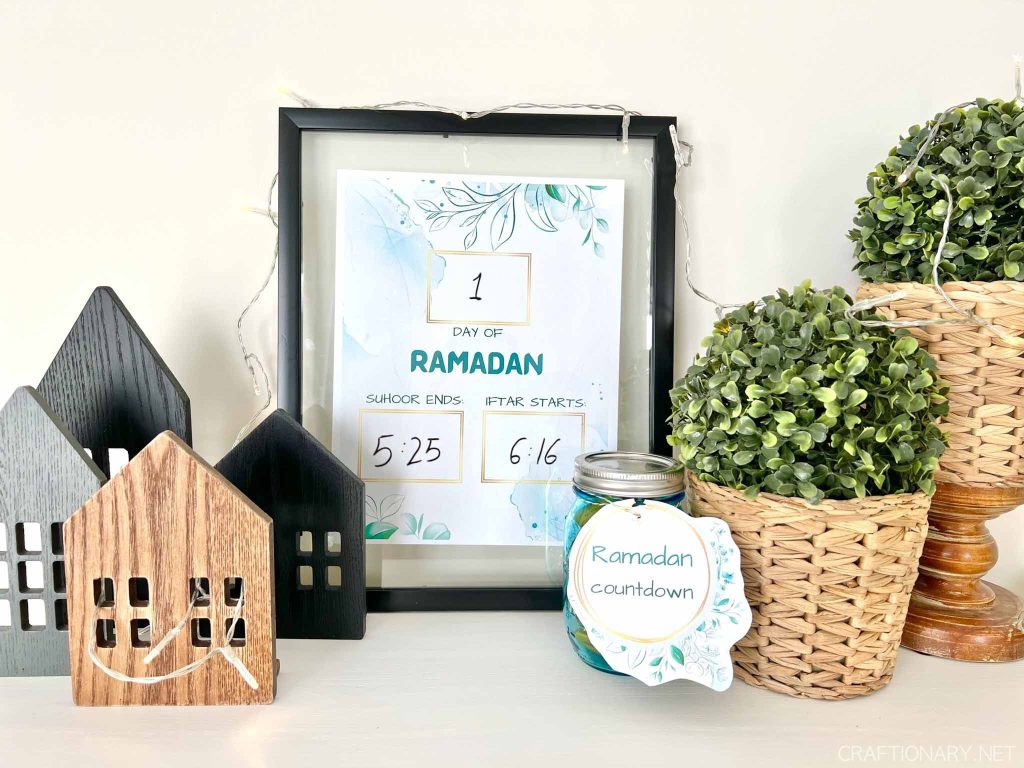 Ramadan Countdown printable
To add some excitement to the month of Ramadan (Ramazan), I decided to make individual mason jars filled with 30 chocolates each for the kids. Excitement is doubled when their is a treat involved so that's there!
You can substitute it with dates and give them as gifts to your family and friends. Speaking of dates, you can make special treat dates as well if you have time for it or want to make it extra special. There are tons of businesses that make custom dates as well. You can order those and add this printable Ramadan countdown gift tag as a unique touch.
The sheet prints as a A4 size paper and you can cut and customize it in many ways.
Please note I make free printables that are exclusively shared with the subscribers by email only! These printables are themed to home, organization, kids, Eid, and more.
Download the entire Ramadan printable package:
Kids learning about Ramadan
There are tons of printables available out there to color and activities. However, in my home they all don't seem to work. They are all great if your kids are inclined towards arts and crafts. However, my boys tend to lose interest very quickly. I see them to be interested in more practical approach.
Therefore, over years I have taken interest in teaching them meaningful ideas. Have them take genuine interest, do some research on their own and gain good understanding. Here are a few character traits that we worked on last year, for you to checkout.
This year my goal is to teach them the relationship between science and Ramadan. What's more hands on than this wonderful printable for an experiment that benefits the entire family by staying on track and kids gaining a practical knowledge about Ramadan.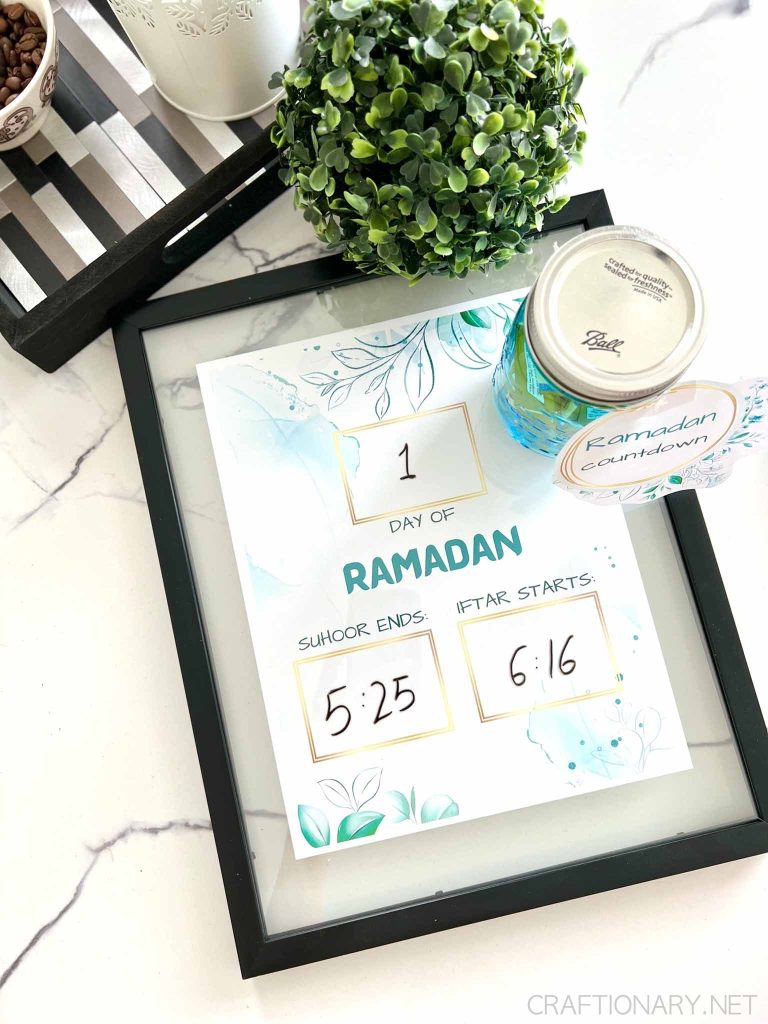 Have the kids follow your most reliable app or website to change the dry erase glass frame day, suhoor and iftar timings. Simple right?
Now ask them to think why the time changes in minutes everyday? Ask them to research how the Earth revolves around the Sun! How we have developed reliable systems to keep track of timings today? Even more interesting is how historically these timings were followed?
You may also like this planets cut and paste kids activity.
Ramadan Calendar Printables
These beautiful printables are free to download as well.
Ramadan Calendar Printable that helps you countdown to Eid. Frame it or stick it to a magnetic board.
Colorful Ramadan subway art display.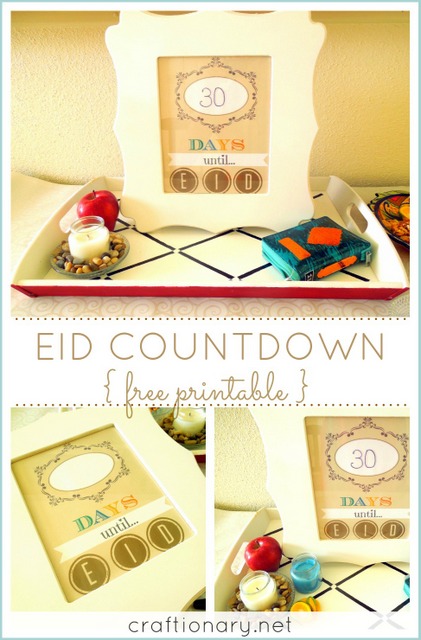 Countdown days until Eid with this printable Eid countdown.
Ramadan iftar time printable decor you can dry erase and update. Great for iftar parties and events inspired by night sky, stars and moon.
There's so much more to these simple Ramadan printables for decor, it's all about how you notice the large significance in the simplest ideas. So my friends, what do you think? Be sure to let me know down in the comments your thoughts or even better come follow along on Instagram and Facebook.
Till next time wishing you all a content month of Ramadan. Stay tuned for my gift to make your Eid day special. You can check out my previous gifts here.
2023 Ramadan Decor Update:
This year I created a DIY Ramadan decor inspired by long nights where we stay up and pray. This project utilizes xTool M1 a laser and blade cutting and engraving tool which is ideal for Small Business Entrepreneurs. Check it out if you are interested in starting your home-based business.