This post may contain affiliate links. Please see our full Disclosure Policy for details.
I have been sharing my peanut and nut free daily school lunch ideas on my instagram stories and found that they were helpful in meal prep for hot and cold lunch ideas for many parents. I have a dilemma at home: two picky eaters who love variation in food and a mom who wants to feed them easy healthy lunches. In the events, I found these amazing tried-and-true lunches for my elementary kids which are ideal for kindergartners and high school children alike. A change of portion size might be required but these healthy lunch ideas are good for toddler lunch ideas as well.
School lunch ideas for kids
These are peanut and nut free fast lunch ideas that can be prepared in advance at night and warmed in the morning or instead be equally quick lunch ideas when meal prep is left for the morning. These are ideal for busy moms. You will also like 11 Toddler Finger Food Lunches I shared earlier that are very popular. These include vegan lunch ideas (vegetarian lunch ideas) as well as homemade lunch ideas that can be packed with high protein source which are important for kids energy.
I will also share my tips and ideas to keep the food warm for lunch time and cold lunch ideas that will feel good eating cold. Usually the school requires 2 snacks and a lunch. Therefore, all these ideas will have 1st snack (mainly fruit), 2nd snack (a healthy pack alternative) and a homemade lunch using leftovers from dinner or quick lunch recipes.
Have questions for these ideas leave them in the comments section. Let's look at these lunch ideas:
16 Kids lunch ideas
1. White sauce pasta with sauteed onions and green pepper with blueberries. Peach yogurt and birthday cake bear paw for snacks.
2. Lasagna with cheese, spinach and minced meat with Mandarin clementine. Homemade dried mangoes and Breton multigrain crackers for snacks.
3. Chicken pasta and nano strawberry yogurt with pomegranate. Chocolate chip cookies for snacks.
4. Stonefire mini naan flatbread with cucumbers and hummus. Hello panda bite size chocolate cookies and mandarin tangerine for snacks.
5. 2 minute noodles with fish crackers and seedless green grapes. Boil packet noodles and remove the soup to avoid leakage and stir a few drops of olive oil with a fork to avoid noodles sticking together.
6. Kathi roll with paratha flatbread + egg + veggies + meat + green coriander sauce + ketchup with herbs. Two bite brownies and oranges for snacks.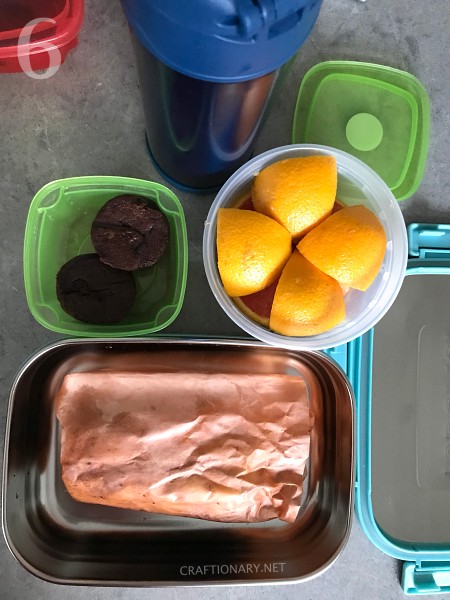 7. Garlic bread with baked BBQ chicken pieces and coleslaw. I don't normally stir away from healthy eating but exemptions are there for life. Fruit juice and chocolate oreo cookies.
8. Rice with boneless chicken pieces sauteed with white sauce and sour cream with spices. Olive oil dressing and greek salad (or quinoa salad) on the side with tangerine and oatmeal chocolate chip cookies for snacks.
9. Chocolate pancakes with strawberries and whipped cream. Fruit juice and lays potato chips for snacks.
Some days are just to make kids happy (aka cheat days for adults) so that there is a balance and they happily eat other essential daily foods.
10. Egg and cheese garlic bread sandwich with green bell peppers and cucumber dressing. Banana and cookies & cream Greek yogurt bar for snacks.
Cut scrambled egg slices and sandwich between garlic bread with mayo. Add a slice of cheese if you like.
11. Paneer roll (cottage cheese roll) in wholewheat with plum sauce and fruit juice. Trancetto snack cake with fresh strawberries for snacks.
Leftover school lunch ideas
12. Have leftovers from the night make a wholewheat roll with it. Sliced carrots, blueberries and popcorn (on demand) for snacks.
13. Fried rice with chicken and veggies served with apples and cheese string lunch. Soft and chewy granola bar and nano raspberry yogurt for snacks.
Toss slices of apple in lemon juice to keep fresh and avoid discoloration.
14. Chicken chow mein with slices of apples for lunch. Bear paw brownie and nano drinking yogurt for snacks.
15. I like to avoid store bought frozen patties and instead make burgers with minced meat or chicken breast pieces. Mayo, ketchup, tomatoes, lettuce and cheese slice with coriander chutney makes best chicken cheese burgers. Served with cucumbers, tangerine and famous amos chocolate chip cookies for snacks.
16. Wholewheat roti tacos with cheese strings and mini cucumbers. Blueberries and dad's oatmeal cookies for snacks.
Shredded chicken, cucumbers, your choice of sauce on one half of the flatbread. Cut into triangles to make tacos.
More easy and quick lunch ideas for school
Some ideas that I have tried but not taken pictures of but are equally popular amongst my kids include french toasts, waffles, and mushroom sauce spaghetti for kids lunches. Kiwis, avocado dip with mango slices, figs, plums, and peaches for fruits.
Products for school lunch ideas
Keep your lunches warm with vacuum insulated food jars from reduce. These are as effective as thermos food containers but more effectively priced. You can find these at Costco.
They are dishwasher safe, easy to clean with no leaks. My kids say their food is warm at lunch time after I have warmed and packed it 5 hours in advance.
Another tip to keep your kids food warm is to pour boiling water into the jar, let it sit inside for a 10 seconds and then pour it away. Fill your warmed food inside and quickly secure the lid. This helps keeping the food warm longer.
Stainless steel lunch boxes are a better way to pack warm lunches than plastic containers. Find a variety of options on amazon.
Tips for school lunch ideas
Pancake batter
I like to fill pancake batter in an empty sauce or ketchup bottle. It is so convenient to store and use. Makes perfect circles every time, is mess free and you can store it in the refrigerator for later use for a week.
You will also like: 30 Fridge Storage Solutions for busy moms
Bread pudding
Shahi tukray also known as bread pudding is a dessert but can be improvised for picky eaters. It offers milk and wholewheat bread benefits. Brush your wholewheat bread slices with little olive oil and heat them in a pan till they are crispy and brown. Let it cool down and then soak in pudding mixture. You can avoid over soaking and put just enough milk to make it soft. Serve chilled.
You will also like: Healthy Dates Pudding (3 Ingredients Recipe)
Cheese Buns from Kirkland
Costco sells these Kirkland cheese buns that are so versatile. Whenever you are out of ideas to make lunch for kids these are lifesavers. Just wrap them in foil and put them in the oven and they are ready to eat. You can also fill them with chicken spread, veggie slices to make them more full and delicious.
Breakfast for lunch
Once in a while kids love to take delicious meals for lunch. If time permits make them breakfast for lunch. This is something my kids love all the time. Veggie omelette with wedges and cheese with fruits on side. This picture is from a breakfast but they wanted me to keep it for inspiration.
Sometimes checking breakfast menu gives you great instant lunch ideas for kids with ingredients you most likely will have at home. Make them one night before or early in the morning and they are ideal and complete meal.
Snack ideas for kids school lunches
Kids burn calories at school and require instant energy. Sometimes it really hard to figure what snacks to give them everyday. Therefore, I have simplified things by just focusing on checklist rule. Here's what my checklist focuses on:
Grains (wholewheat, rice, flour)
Protein (chicken, meat, fish)
Serving of veggies
Serving of fruit
Dairy
Instant energy nut free snack
I try to cover the first three in a healthy homemade school lunch, first snack with fruit and the second with a collection of options so the kids don't get bored.
All my snack options are usually from Costco. Here's are some snack options that are organized in baskets in the kitchen pantry at this time. I replenish it with different varieties and recirculate snack packs so kids don't get bored.
You will notice some items are almost finished, those ones are from the last trip. I tend to bring only two large snack boxes once the first ones are almost finished.
I hope you liked these ideas. My plan is to update this post every year with new tried and enjoyed school lunch ideas for my kids. Let me know what you think? I love to learn and improve things around my home with you.
You will also like:
200 DIY Dollar Store Organization and Storage Ideas
The best corn recipe with nachos