This post may contain affiliate links. Please see our full Disclosure Policy for details.
The best corn recipe, 3 ingredient corns salad with nachos. Ready to serve where there is fun!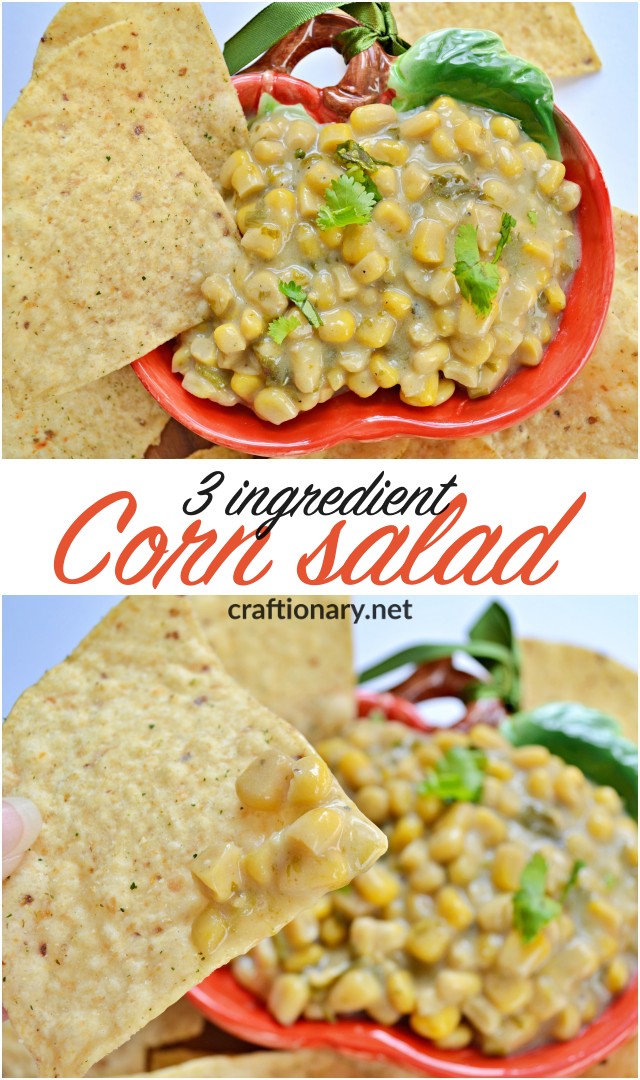 This corn recipe with only 3 ingredients is perfect for vegans. It has carbs, vegetables and daily. Perfect source of nutrients.
Corn recipe for busy moms
This corn salad recipe is a very simple and easy corn recipe that is hassle free and requires minimum time to prep. Just put the ingredients together and viola! Let it cook while you get other things done around the house.
Perfect Corn salad for parties
Being crafty, I love to come up with recipes that are quick to whip up or inspire me to be creative with food. This way I have more time to be creative with the party decor and theme ideas. Last week we had a great time celebrating our kids birthday party. The boys were interested in a video game themed party. For the appetizers we had custard and nachos.
Where did this idea come from?
We love coconut milk corns on a cob. The creamy soup with sweet corn is perfect for the cold weather. However, I wanted something to serve with nachos. So, I decided to tweak the recipe my mom gave me a bit to come up with this kids-approved and friends-approved corn salad. It can be served with nachos and it tastes delicious. Try it for yourself!
Fresh lemons gives this recipe an extra flavor
Freshly squeezed lemon juice is a great combination with coconut milk and sweet corns. It brings in an extra Thai taste that makes it the secret ingredient.
What makes it better than salsa?
We are accustomed to salsa with nachos. However, this recipe breaks the habit and brings something new to the table effortlessly.
Can I substitute corns with canned corns?
Yes! I used canned corns in this recipe. Due to seasonal stocking corns may not be readily available in your local grocery store. Same was the case with me. So, I bought canned corns and washed them thoroughly with water to remove excess can liquid.
What ingredients are needed to make corns?
All you need to make this salad is coconut milk, sweet corns, coriander, spring onion, lemon and seasoning. Coconut milk instead of cream makes this recipe taste light and feel good.
How to make corn salad video recipe?
We recommend lemon nachos and jalapeno nachos. It tastes so good, try it for yourself!
The best corn recipe – 3 ingredients salad with nachos
Perfect vegan option for parties and get together.
Prep Time: 5 mins
Cook Time: 45 mins
Course: Appetizer, Salad
Cuisine: Indian, Mexican
Serves: 15
Ingredients
1200 mL coconut milk
3 cups sweet corns
1 cup finely chopped coriander ( you can substitute it with parsley)
1 cup finely chopped spring onion
salt and pepper to taste
Paprika to taste
Freshly squeezed lemon to taste
Instructions
Pour coconut milk into an stainless steel pot and let it simmer on low flame.
While the coconut milk simmers. Strain your corns from the can and wash them properly.
Finely chop coriander and spring onion.
When the coconut milk comes to boil, add corns to it.
Season it with salt, pepper and paprika to taste. Let it boil for about 30 minutes.
When it starts to thicken, add finely chopped coriander and spring onion to it.
Stir it and let it simmer till the desired consistency is achieved.
Save some coriander and spring onion for garnish.
Squeeze some freshly squeezed lemon and serve with your favorite flavor of nachos.
You will also like:
Check out our YouTube channel if you like videos better.