This post may contain affiliate links. Please see our full Disclosure Policy for details.
I made this paper roll pencil organizer to keep my boy's colors and crayons organized. The best part about this organizer is that it teaches your kids to sort colors. I just started teaching my little guy to use pencils and crayons. It's so much fun to watch those little hands learn to color.
Paper roll pencil organizer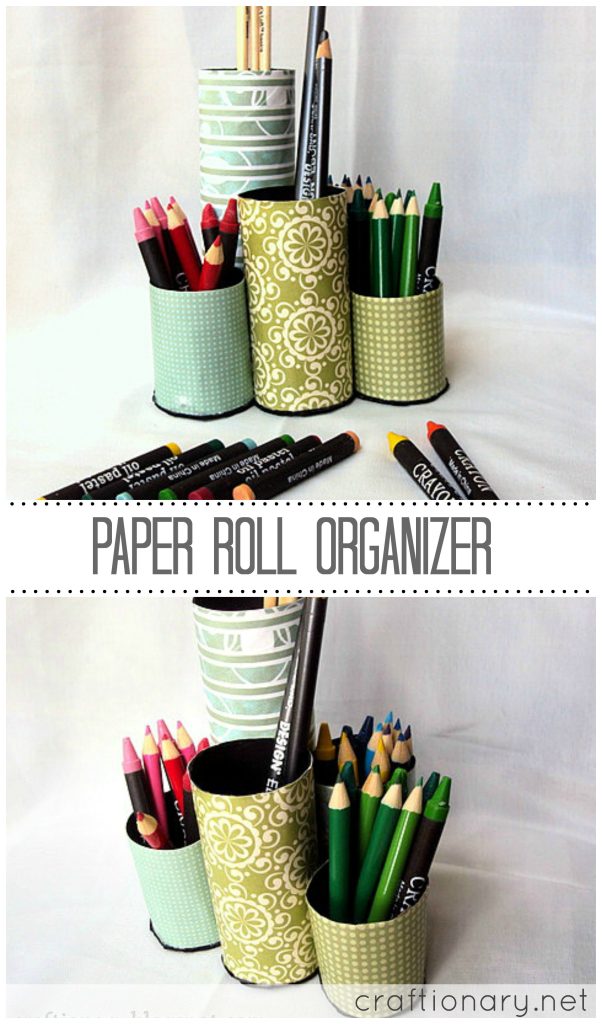 This project can also be a great back to school supplies organizer. Kids can keep in their lockers or on their table when working. It's a great school project for teaching kids to recycle.
You can use this to organize:
Office supplies, kids crayons, paint brushes and more.
Pattern paper and Mod Podge, is all you need to make this.
Here's what I did:
Paper roll pencil organizer
Paper roll
Scissors
X-Acto Knife and self-healing mat
Pattern/scrapbook paper
Mod podge
Recycle toilet paper roll
Paper roll pencil organizer
Cut the toilet paper roll into different random sizes using the x-acto knife.
Make sure none is taller than the pencils or the pens. The tallest one in my design is for keeping the paint brushes.
Choose and arrange different scrapbook papers to see how they look together.
I used green and blue to match my boy's room.
Next cut the paper to the tube's size.
The simplest way to do this is by rolling the paper over the tissue roll. And mark the length and width of the roll. Once you have marked all the papers, it is easy to cut them to the right sizes. Make sure you leave some extra width, more is better than less.
Now paint the inside of the tissue roll with acrylic paints.
I painted it black, you can paint it white or any other color you like.
Let it dry, than decoupage scrapbook paper onto the tubes using Mod Podge Matte.
Next cover the paper with Mod Podge to seal it. Let it dry, and then join the tubes together using mod podge.
Hold the tubes together for a while for a stronger bond. (as shown in the picture)
 


Finally to make the base of the organizer, cut and paint a piece of cardboard.

Glue the base to the tissue rolls and let it dry.
I used mod podge to glue the base also.
Cut the base around the tissue rolls with the x-acto knife.
You will need some paint touches on the edges.
Here's what you get:
Paper roll holder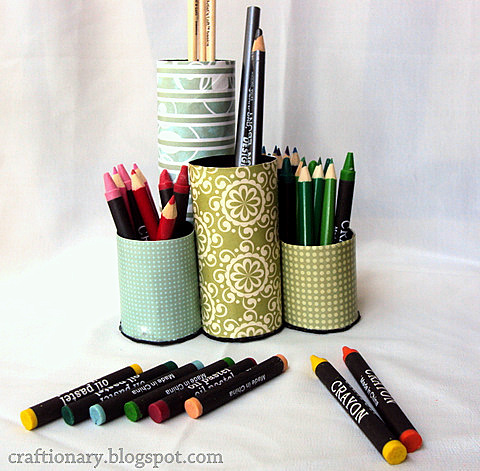 Now you can enjoy your paper roll pencil organizer.
The best part about this recycled organizer is you can design it anyway you want.
I hope you found this idea to recycle toilet paper roll useful.
You will also like:
Recycle tin cans into organizers
Color wheel (teaching kids color)
18 ways to make decorative letters
Looking for more great ideas?
Are you on pinterest?
These are updated regularly whenever I find unique ideas.