This post may contain affiliate links. Please see our full Disclosure Policy for details.
Nothing announces the arrival of spring like tulips. There's something about these beautiful flowers whether the numerous variety of colors or the shape of it's leaves. Tulips bring life to fields in garden and brightness to homes in flower pots. In how to decorate with paper tulips for spring, I am sharing two fun flower arrangements with tulips.
I am participating in the Spring Home Tour with 28 amazing bloggers. Don't forget to check out their great ideas. You can find them at the end of this post.
I was able to complete this project with a few supplies already at home. The construction paper, glue stick and scissors are all you need to make paper tulips. Find the instructions on origami tulip flower craft that I shared earlier.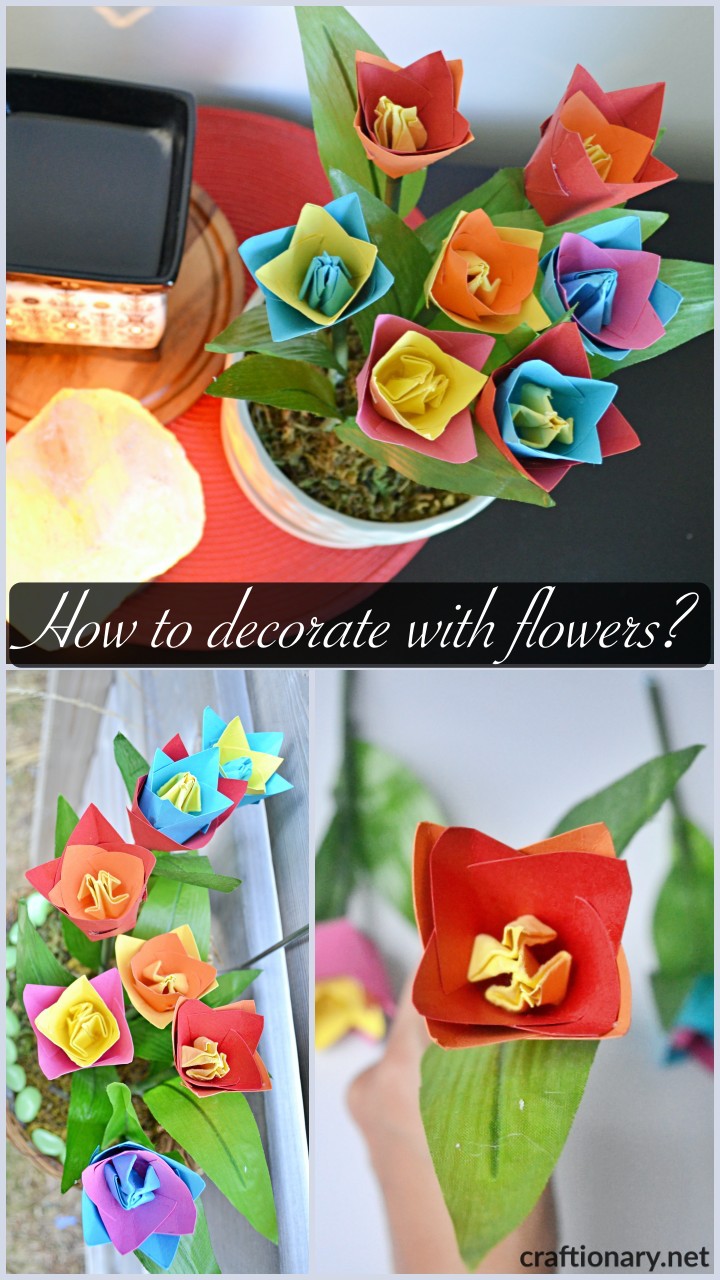 How to decorate with paper tulips
Tulip leaves, garden moss, flower pot and foam box are all you need for this project. These supplies are easily available in a variety of choices from dollar store to michaels. Depending on how much you like to spend on your craft project you can gather these materials.
In this post you will find simple how to instructions to decorate with paper tulips below. A full video tutorial can be found at the bottom of the post.
Related: How to display plants indoor?
Video tutorial decorate with paper tulips
Watch the video tutorial for a step by step guide on how to decorate with paper tulips. Find more easy and simple ideas by browsing our categories at the top menu bar on our website.
Things you need for paper tulips decoration
Tulip flowers ( find instructions for making origami tulip flower craft)
Floral Foam box (depending on the size of your pot or basket)
Artificial tulip leaves (I bought artificial tulips from dollarama and plucked the tulip leaves for this project)
Glue gun
Flower pot or hanging basket
TIPS: I bought all my supplies from dollarama. Artificial tulips arrangement came with a floral foam and flowers. I simply unassembled the plant to get my supplies for this project. Even the flower pot and hanging basket varieties over there were nice for a seasonal project.
Related: DIY photo display ideas
Paper tulips decoration instruction
STEP 1: Gather your supplies and use hot glue to stick floral leaves to your paper tulips.
STEP 2: Arrange the floral foam in your flower pot or basket. You can use stones and soft items like the plucked tulips for instance that I used to position it properly.
STEP 3: Start pushing the tulips in the floral foam. I arranged them in alignment with a few sticking higher and a few sticking lower to give a natural look.
STEP 4: Finally add green moss and glow in the dark garden pebbles to complete the look. You can mix shades of moss to make it interesting.
Related: Decorating with string lights
Ways to decorate with tulips
There are many ways you can decorate with flowers. I am sharing three ways and would love to hear from you which one you think looks the best.
Hanging basket that glows in the dark for your patio outdoors
Adorable flower pot in the kitchen
Colorful tulips for mindfulness station
1) Paper tulips hanging basket
The hanging basket is a cute way to decorate outdoor spaces with paper tulips. You can even use this idea to arrange your real tulips or any other flowers in the backyard or garden. Here are some ways to use them:
PLANT SOME FLOWERS
These baskets come with plastic covering so the soil can stay in it. Just add some soil and plant your plants for an easy decoration. Hanging baskets are a simple way to add a statement to your outdoor space.
KIDS DOLL HOUSE GARDEN
You can hang these baskets with paper tulips on your kids play house.
WREATH
Hang the basket as a wreath on your front door.
SMALL SPACE DECORATION
Hang this floral arrangement in your balcony or your glass patio. This will save foot space and add to the beauty of the space. The low maintenance makes them a great project for busy people.
TIP: The glow in the dark garden pebbles will make this project eye catchy at night. If you live in a windy place, use glue gun to glue it to moss and it is guaranteed to stay. Tried and proven in Toronto winds. Try it and see for yourself!
Related: DIY decorative flower vases
2) Paper tulips flower pot
Have the flower arrangement enhance the kitchen space and wake up to bright and beautiful colors that will surely make you feel alive after months of winter and snow.
3) Decorate with paper tulips for spring
Personally, I ended up making it a part of my favorite spot in the house. Since, we spend most of our time in the family room this spot was the best choice. The project was intended to celebrate early spring while it's still cold out here and it's serving the purpose.
Flower arrangement and mindfulness station
I love to relax with a cup of green tea in the evening. The colors of spring is the only thing I was missing. This project has added that missing piece into the space at this time of the year. With pops of color for the eyes, essential oil infused with scentsy for the nose and himalayan glow natural pink salt lamp for the soul. This space is perfect for mindfulness.
TIP: A few drops of essential oil in wax when you turn the candle warmer on brings beautiful aromas in the home. This is great for hosting as well.
Want more decoration inspiration?
Check out decorating ideas for home and garden in our resource decorate home.
This post contains affiliate links to product mentioned. Read our disclosure policy for more information.