20 Easter Homemade Chocolate recipes. Delicious recipes to make Easter eggs at home with chocolate.
Fill them up with mousse, pudding, cheesecake, candies and so much more.
Easter Homemade Chocolate Recipes
Chocolate Egg shells with marshmallow filling.
Chocolate Easter Eggs
Homemade crunchy chocolate Easter Eggs.
With a preparation time of 15 minutes. These Easter Eggs feature graham crackers, coconut and peanut butter.
Filled inside an egg shell of chocolate and butterscotch.
Crunchy Easter Eggs
Great idea for Easter. Hidden surprise inside the chocolate Easter Eggs.
Chocolate eggs made with Candiquik chocolate. And silicon Egg-shaped baking molds.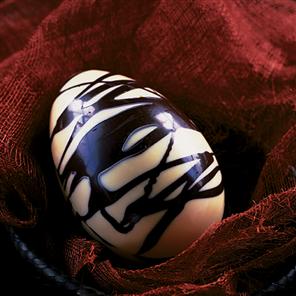 Homemade Easter Egg with plain chocolate and white chocolate.
Homemade Cadbury Creme Chocolate Easter Eggs recipe.
Cadbury Chocolate Eggs
Make chocolate Easter Eggs at home. And fill them with trail mix.
Trail Mix Chocolate Eggs
Delicious Chocolate Mousse Easter Eggs easy recipe.
Egg shell made with melted dark chocolate. Filled with Nestle Diet Chocolate Mousse. And topped with honeycomb chocolate bar.
Easter Homemade Chocolate Mousse
Homemade Lindor Hazelnut Chocolate Truffles for Easter.
Easter homemade chocolate truffles
Chocolate Easter Eggs filled with pudding.
Made with instant pudding mix. Use food color (to make colorful eggs) with vanilla pudding.
Coat with melted chocolate using the dipping method.
Homemade chocolate coated Gluten-Free Easter Eggs.
Chocolate eggs with peanut butter and coconut fillings.
Gluten-Free Easter Eggs Recipe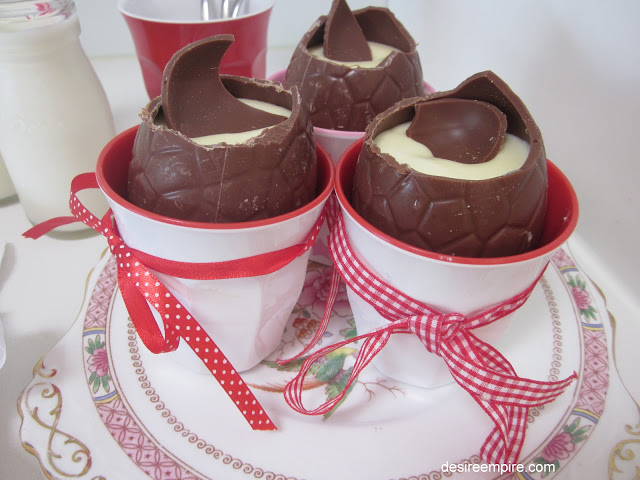 Fill Chocolate Easter Eggs with pudding containing passion fruit.
Quick and Easy Chocolate Mousse Recipe.
Easter Egg Chocolate Mousse
These will be fun to make with your kids.
Dip peeps in melted chocolate. And use sprinkles to decorate.
Rich chocolate mousse recipe for the filling in dark chocolate eggs.
Chocolate Mousse-Filled Easter Eggs
Mixed dark chocolate and white chocolate half eggs.
Melt and pour chocolate into the molds. Easy and quick chocolate Easter Eggs.
Made with Betty Crocker® Rich & Creamy chocolate frosting. And creamy peanut butter or marshmallow creme.
Fudgy Truffle Eggs Recipe
Easter homemade chocolate eggs with cheesecake filling.
Cheesecake filled Easter Eggs
Mke Easter Egg Marshmallow truffles with marshmallow creme. Coat it with chocolate and sprinkles.
Homemade chocolate recipe to make cream filled Easter eggs.
These Easter Eggs can be made in advance and refrigerated.
Easter Chocolate Recipe
I hope you enjoyed these delicious Easter homemade chocolate recipes.
You will also like:
100 EASTER free printable ideas
60 SPRING free printable ideas
20 Easter Bunny Projects for Spring
Looking for more great ideas for Easter?
Check out our category
EASTER
.
Are you on pinterest?
Updated regularly whenever I find unique ideas.