This post may contain affiliate links. Please see our full Disclosure Policy for details.
Effortlessly decorate by putting a collection of elements in the middle of the dining table. These can include vase fillers, candle sticks, plants, stem holders, urns, foraged leaves, fruit bowls and beautiful table linens to name a few. From rustic to modern, minimalist to eclectic, there are endless possibilities for enhancing your dining space according to your taste.
Make your dining table look nice in a variety of different ways. Think about the shape of your table and whether you want to cover it with a tablecloth or not! Choose practical elements that don't require moving everyday when using the dining table such as a statement vase. Consider if a neutral or colorful palette will go with the ambience of the dining room. Choose a table runner and table mats based on the design of your dining area. Go with options that are ideal for variations like use more than one flower arrangements and mix up fruits or vegetables.
There are many ways to style an empty dining table when meal time is over. Use height variation, assorted objects that suit your personality, consider dried flowers and grasses and statement lightning fixture in your interior to choose your tabletop decor. In this article, we have curated a list of dining table decor ideas that will elevate your dining experience to the next level.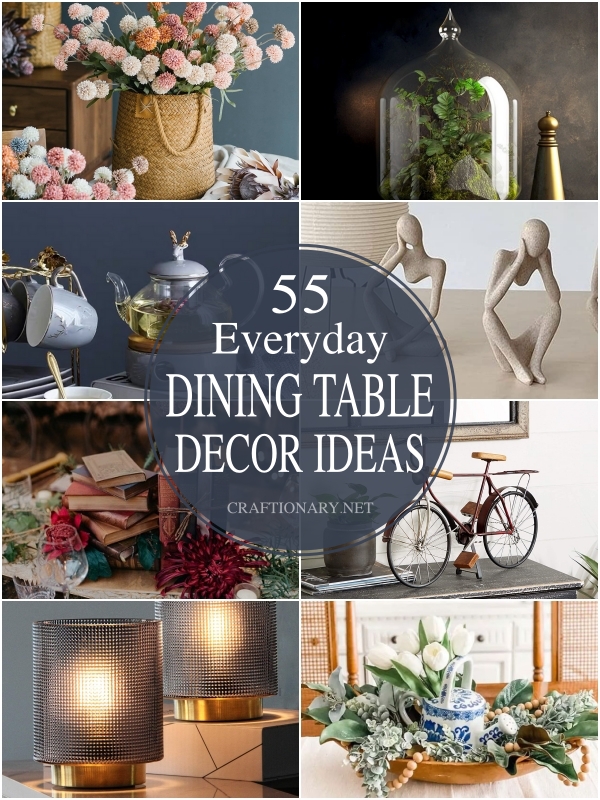 Everyday dining table decor ideas
Enhance the look of your dining table for daily use to create a pleasant atmosphere with natural materials and keep the table clear and neat for meal time.
Cozy Fruit bowl
A fruit basket is one of the best everyday dining table decor ideas. You can fill the basket with seasonal fruits to enhance your dining table for daily use.
Fruit dough bowl from Amazon.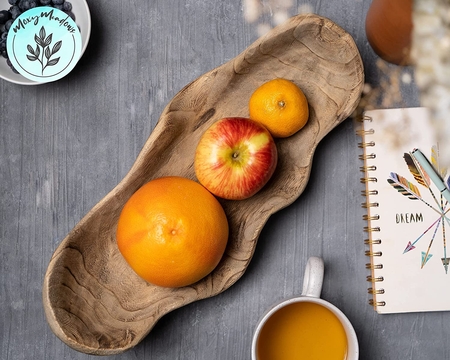 Rustic Fish Aquarium
If you have a small fish tank in your house, then consider placing it on your dining table.
Recycled glass and teak fish tank from Etsy can also be used as terrarium, sand garden, wood sculpture and planter for air plants.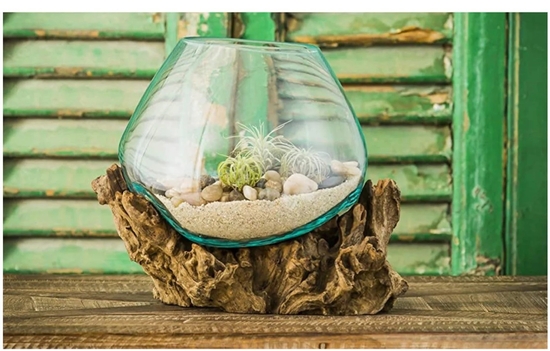 Small dining table decor ideas
DIY centerpieces easily with these resources available at your home. Incorporate 2023 design trends with gold accents, warm woods and statement rugs.
Flower arrangement
Decorate your dining table with an empty vase you can find in your home. You can use creative vase filler ideas like fresh flowers or dried botanicals, branches, or twigs for decor.
Artificial flowers like Vase filled with silk flowers from Amazon.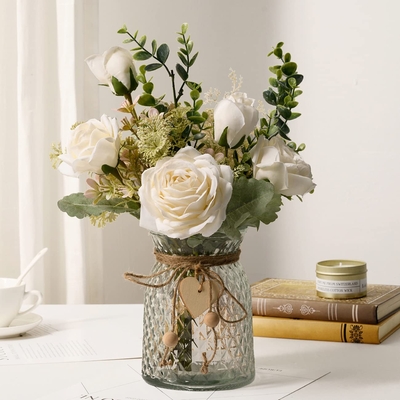 Vases/Urns
Looking for a budget-friendly DIY project? Recycle a thrift store glass jar into distressed broken clay pot from craftionary.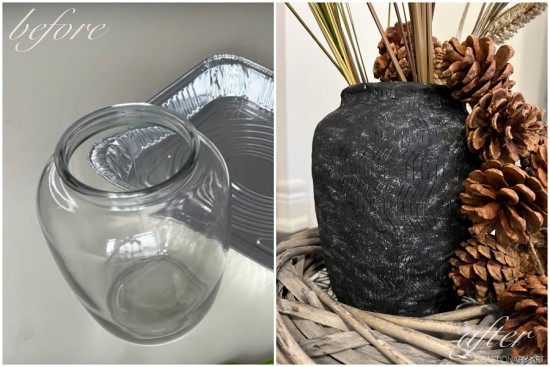 Pattern Bowls
Fill decorative bowls with decorative fillers like flowers, pearls, or plants.
Metal bowl filled with fruits from Amazon.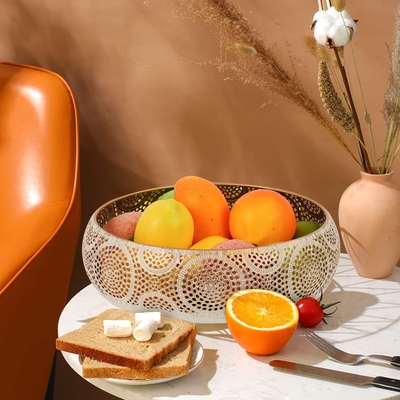 Silver hammered stainless steel gold leaf bowl from Amazon.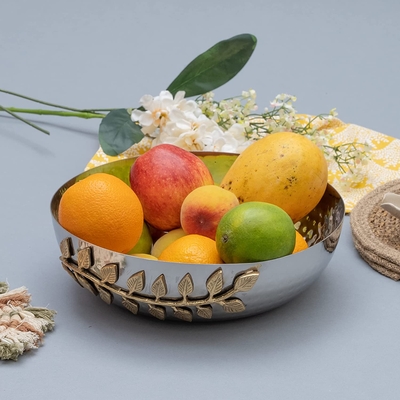 Plants and terrarium
Succulents, houseplants and potted flowers add a fresh and organic feel to your dining table.
Waterlily and Succulents Floral Arrangement from Etsy.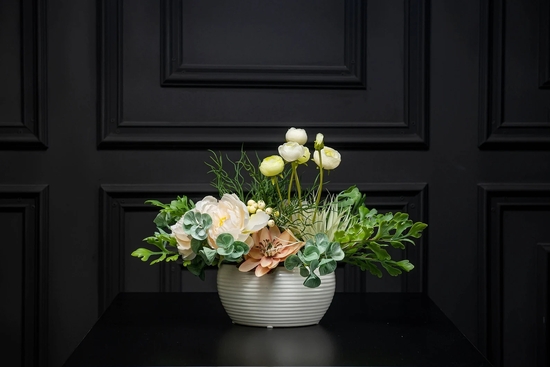 A natural scent that ultimately keeps the surroundings pleasant and serene. Plant terrarium decorative piece from Instagram.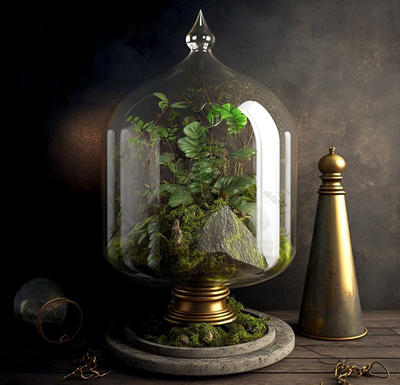 Vintage collectables
Use faux stems or large branches with leaves as a dining table centerpiece. Faux stems from Instagram in vintage double handled urn from Etsy.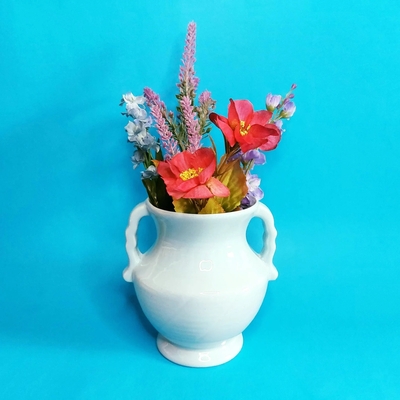 Add greenery garlands in the center of the dining table to make an attractive tablescape. More common for weddings but does it hurt? Perhaps a use for those memorable eucalyptus white roses table garland from Etsy.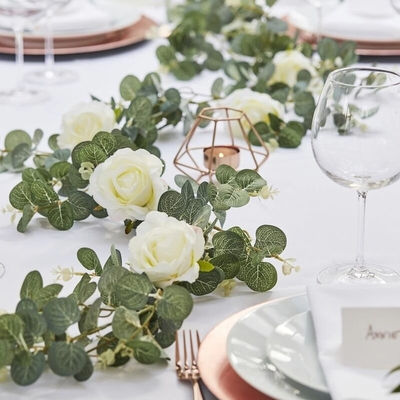 Artwork
If you love to make art at home consider displaying your artwork on the table and you can have conversations about it when eating together.
Sea globes from Etsy.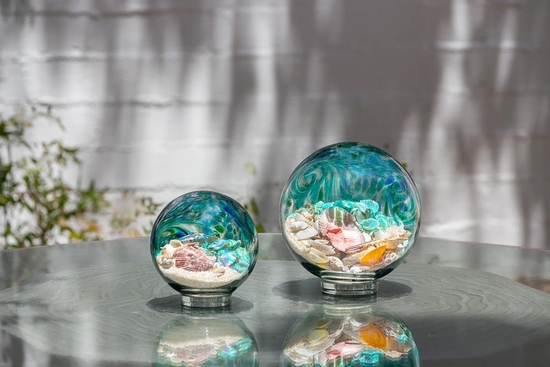 Simple dining table decor ideas
If you love simplicity, then you should consider adorning your house with less detailed decor items.
Antique decor
Stone and metallic vintage figurines and sculptures give a decent and minimalistic look to the dining table.
Metal fruit decorative sculpture from Amazon.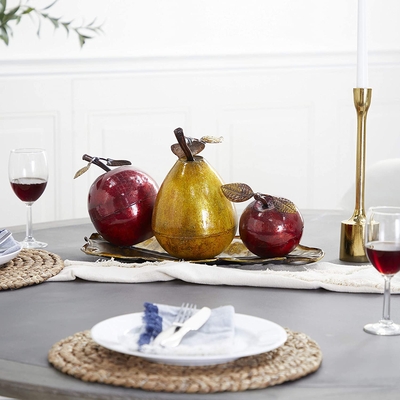 Decorative pieces
Thinker statues from Amazon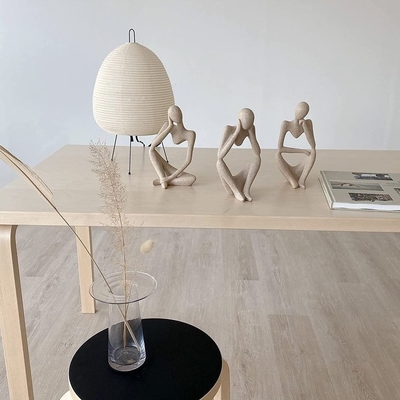 Make use of your ceramic collection or thrift store finds. Ceramics matcha set from Etsy.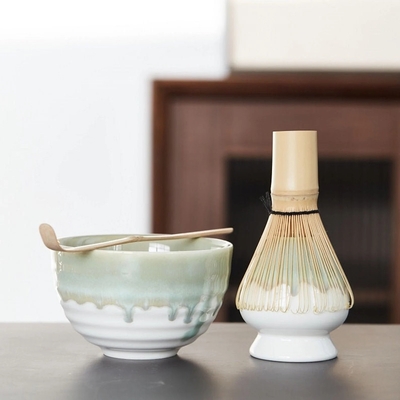 Books kept on the table as a decor item from a divine events.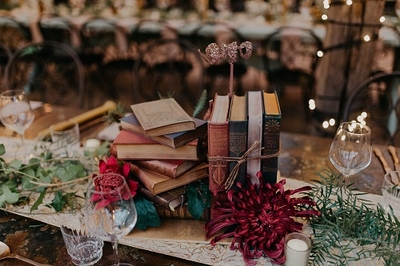 Dining table decor ideas with candles
Are you searching for different ways to use candles on your dining table other than using a candle holder? Candles boost up the interior of the dining space and if the candles are scented, they will also uplift and cheer the mood of your guests.
DIY Concrete tealight holder and more candle decoration ideas.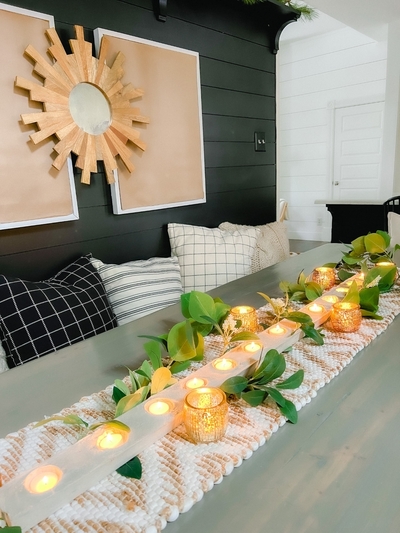 Mercury glass candle votives using spray and glass jars.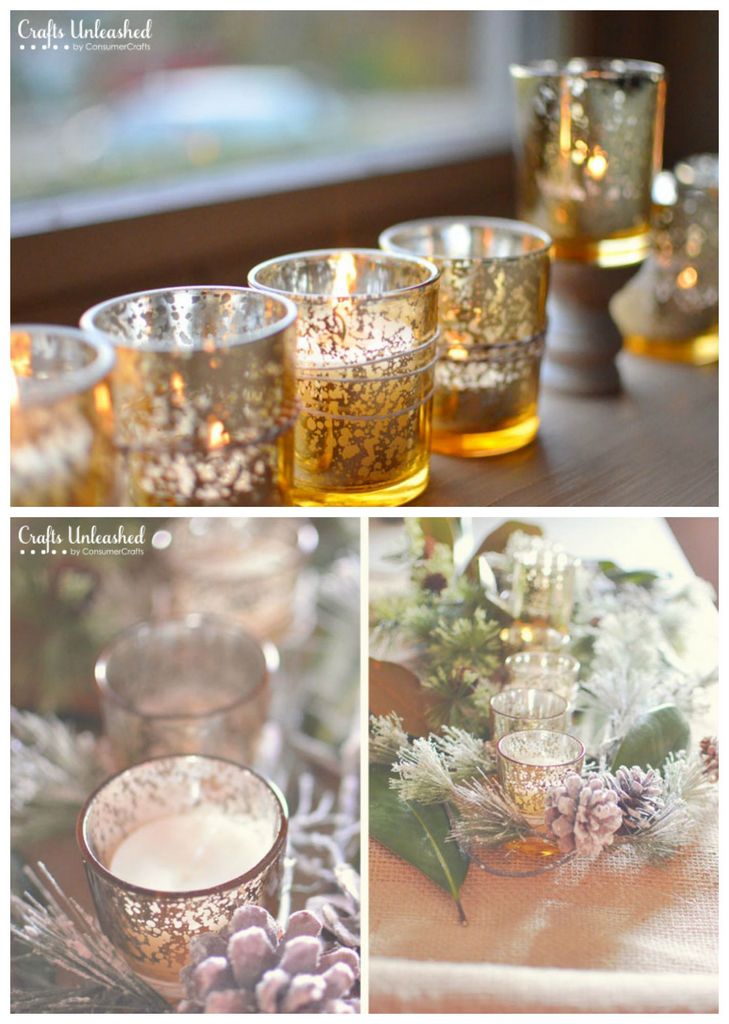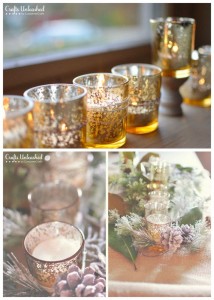 Painted candles dining table arrangement by craftberry bush.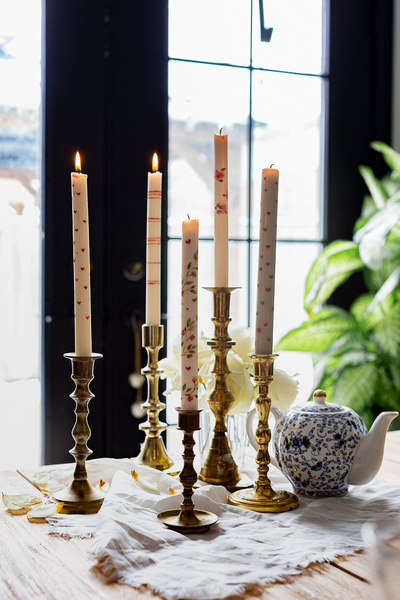 Dining table decor ideas with tray
Trays are a great addition to decorating your dining table with minimal effort and natural textures like oak.
3 Tier white distressed tray from Etsy to display cute items that you can change, like this farmhouse rustic cottage decor with ceramics and wooden birds.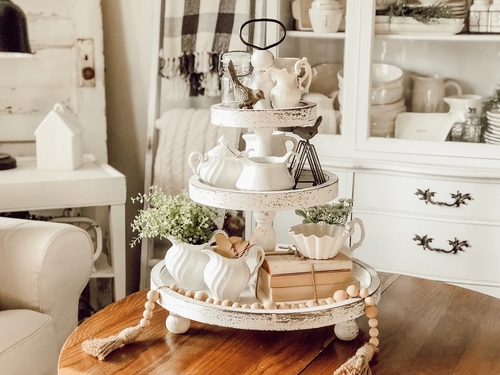 Use hand woven tray from Amazon to display glassware, cutlery, or plates.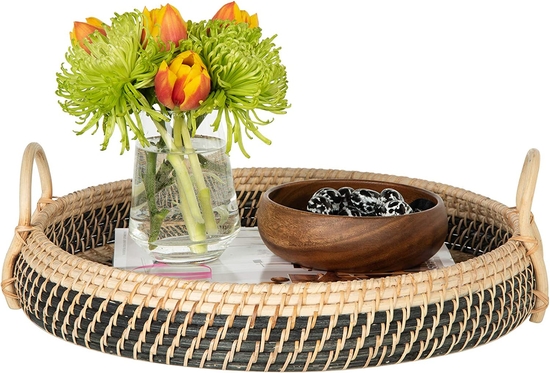 Display tea pot, candles and unique cups in a serving tray from Amazon.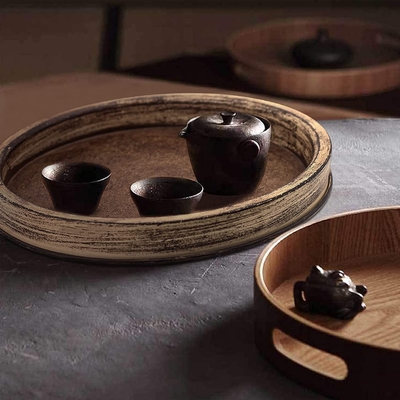 Decorative mirrored serving tray from Etsy.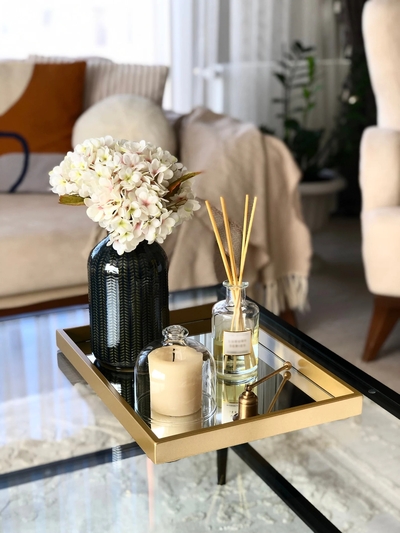 Dining table decor ideas with linen
Embellish your dining table with linen so that it gives regal and royal vibes to your guests. Consider mismatched items or vibrant plaids around neutral playful centerpieces.
Bold tablecloth
Use bright tablecloth or colorful linen table runners that are very stylish and trendy. Table runner from Boho Home.
While your choice of tablecloth can be in any design, texture or pattern, you can use table cover protector to show the table's beauty while keeping it safe while dining everyday. In most case clear plastic tablecloth works just fine.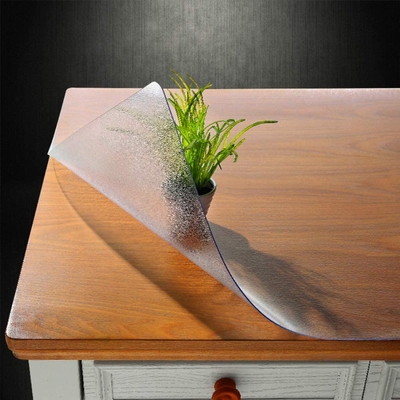 Settle for warm textures
Use matching table covers and table mats for styling by MJ with love.
Italian dining table decor ideas
Decorating the dining table in an Italian style is very straightforward. The focus is primarily on place setting.
Set the dinnerware on the table
You need to make sure that you set all the dinnerware on the dining table before your guests arrive. Choice of fabric for tabletop is important. A crystal chandelier and color scheme with table decor and napkins brings a cohesive look that speaks mid-century vibes.
Italian dining table decor with tableware for inspiration from Ilareiga.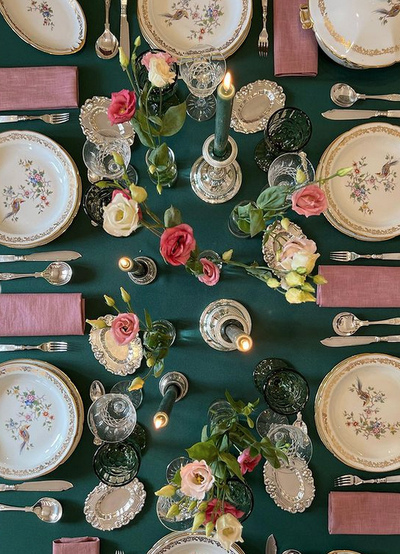 Dining table decor ideas when not in use
When your dining table is not in use, consider decorating it with items that are delicate and easy to replace.
Wooden wine bottle cordless lamp with timer from Amazon.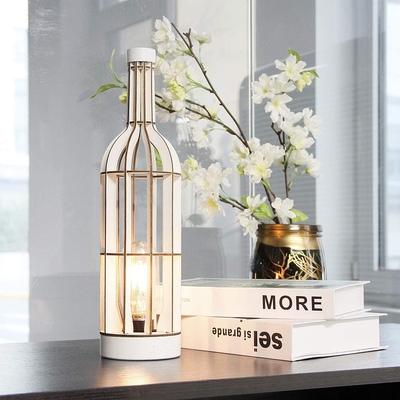 Tea or coffee set
Tea or coffee sets beautify the dining table to a great extent. Simple and minimalistic cup sets look great on wooden dining tables while patterned cup sets complement traditional touch.
Use gold plated vintage tea set as centerpiece from Amazon.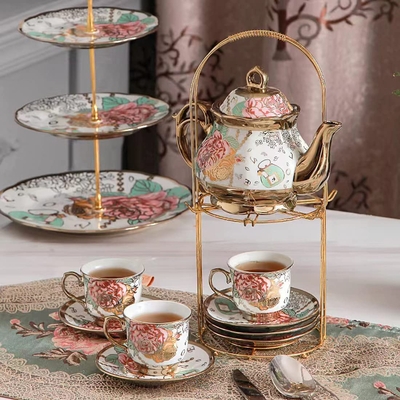 Modern ceramic coffee set from the courture zilla.
Board games
Keep your favorite games ready for some fun with family and friends anytime. Some traditional favorites like a scrabble set, sequence, or chessboard. Bristish Roman Marble and Brass Chessboard from Etsy.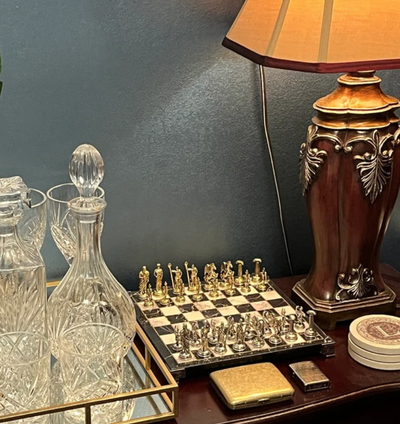 Round dining table decor ideas
Round dining tables are the best for small gatherings and give a sense of coziness.
Lazy Susan

Consider adding a glass turntable from Amazon to your circular dinning table for assistance and decor.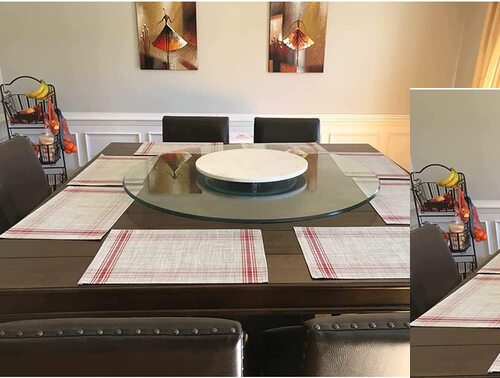 Resin custom centerpiece

A centerpiece bowl to bring color accent from Etsy.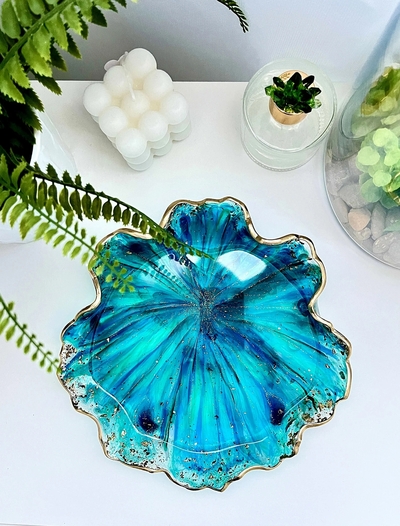 Large unique jar centerpiece with orchids makes serious impact by stone gable.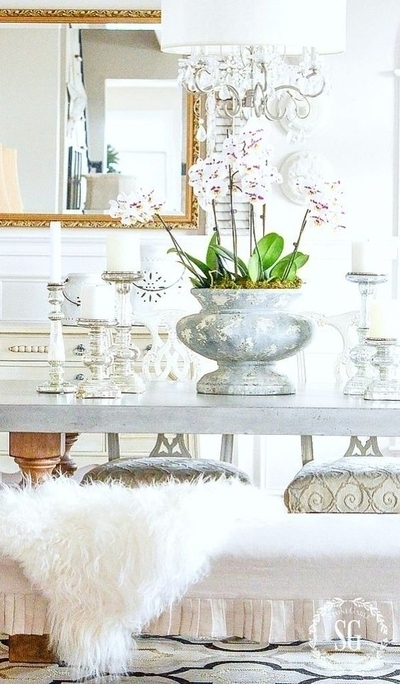 Resin wooden bowl with forest vibes and more DIY resin projects.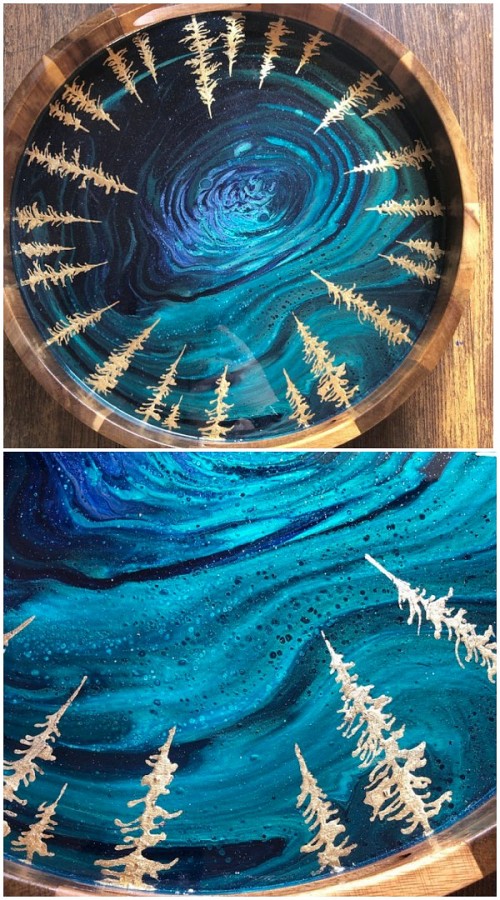 Geometic glass orb with LED lights on wood slice from Etsy.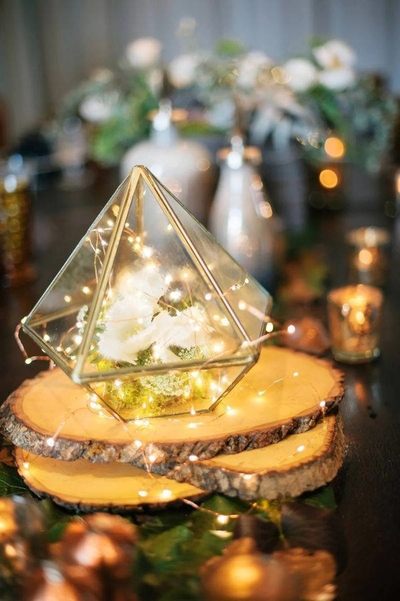 Elevated your table decor

Enhance the look by adding height with footed tray or container for a round dining table. Like this elevated shelf decor with rolling pin from our wild leaf ranch.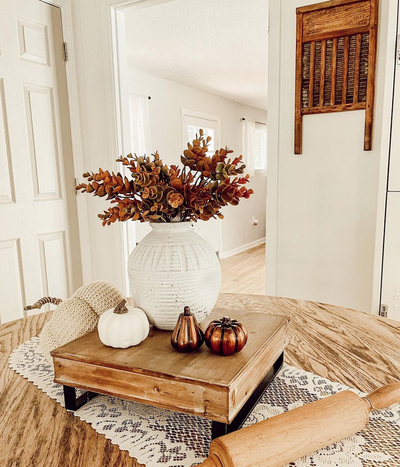 Oval dining table decor ideas
Things in alignment with the oval shape such as these ceramic vase set from Etsy.
Mix and match
Display a set of vases from Coricraft.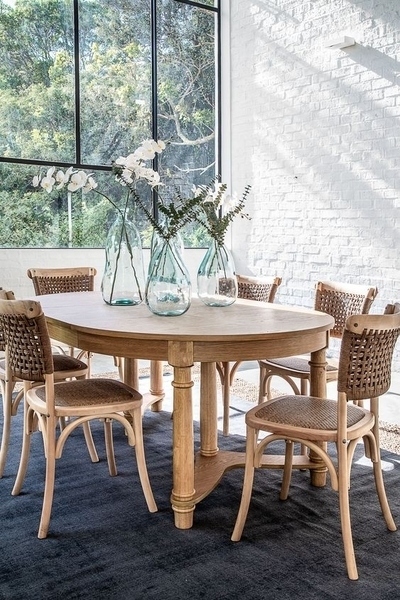 Display decor in a weighing scale like this unique french scale with original bins and antique scale from Etsy.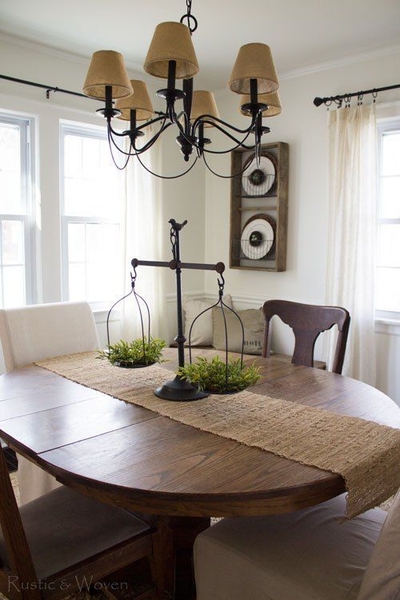 Rectangle dining table decor ideas
Rectangular dining tables are great for holding large gatherings. Consider adding a bench on one side for sitting more people.
Vinyl rug
Consider bringing attention to your dining table floors with a peel and stick vinyl carpet instead of painted floors which is easy to clean with your hardwood floors yet brings decor aesthetics from Joanna Anastasia.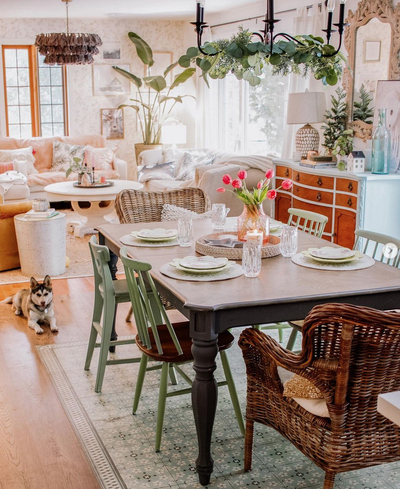 Decorate with accents
A vase with candle holders on the sides and charming pastels by Melissa Septien.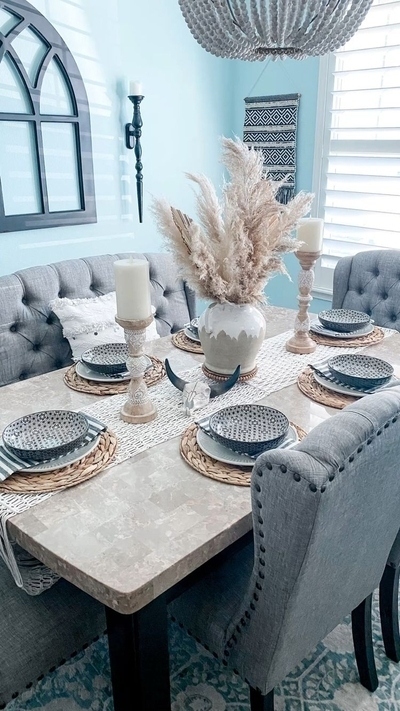 Use bird cage to decorate dinning table from Sweet Valley Acres.
Farmhouse table trough for decorating is perfect for rectangular table from Etsy.
Black and white

The two colors compliment each other. If your table has a darker tone contrast with lighter colors and vice versa for decorating dinning table. Add character to your dining room with a white or marble dining table. A white dining table set exhibits a neat and classic look.
Use blue china and garden decor accents as centerpieces for white spaces.
Rustic dining table decor ideas
A rustic dining table looks very natural and realistic with farmhouse feel.
Aged vessel white pitcher vase from Etsy.
Simple set of 2 wooden lantern from Etsy.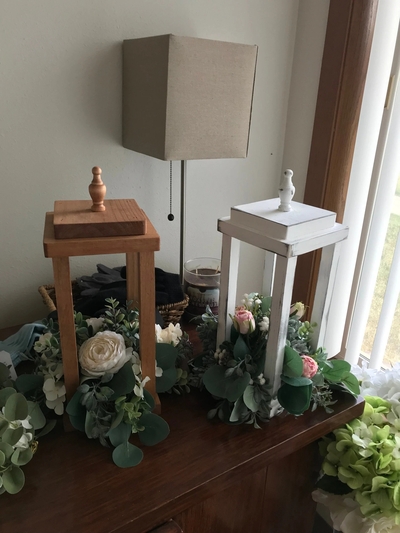 Clock with floral stand from Amazon.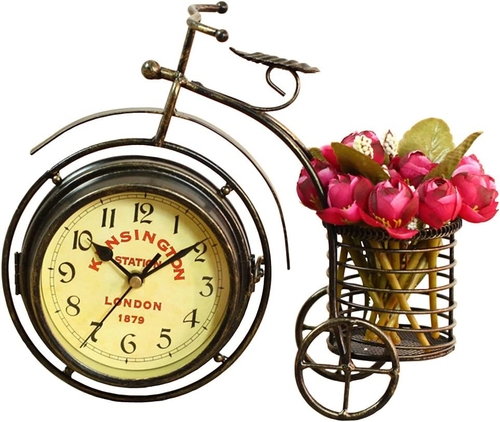 Farmhouse style

A farmhouse dining table is all about creating a warm and inviting atmosphere with a mix of vintage and rustic elements. Use vintage decor items such as antique candlesticks, mason jars, and vintage pitchers to decorate your farmhouse dining table effortlessly.
Recycled Amber Mason jars to decorate your dinning table with pampas grass arrangement from Etsy.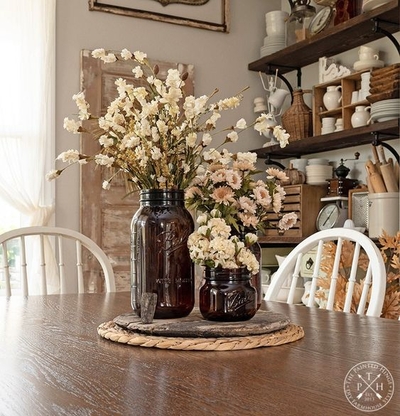 Metal bike sculpture with wooden stand from Amazon.
Table lamp
Unique table lamps don't have to be around with cords passing all the time. Recycle unique pieces that don't work anymore as decor items.
Display an antique cordless table lamp from Etsy.
Do you still own those unique kerosene lamps or get light lanterns from Etsy to display on your table as decor.
Modern dining table decor ideas
Modern dining table decor involves setting the table with sophisticated and simple decor items to achieve a contemporary look.
Woven accents
Use woven basket and artificial floral arrangement from Etsy.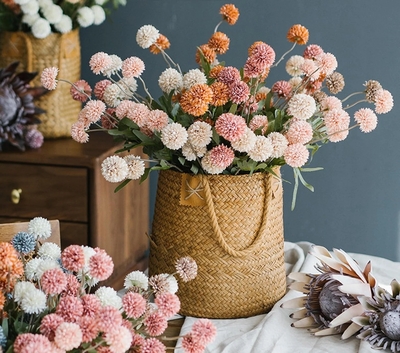 This mushroom lamp is adorable for your dinning table from Etsy.
Glass top dining table decor ideas
A glass-top dining table looks very stylish and elegant because of its transparent nature. All of the above ideas are great for glass tabletops.
Repurpose glass wine bottles with water and evergreens to display white candles.
Black Battery operated cordless decorative lamps from Amazon.
So, what are you waiting for? Consider decorating your dining table and see which dining table decor ideas complement your dining room. The dining table is the main center of attraction of a house, so experiment with different dining table decor ideas and see for yourself which dining table decor idea is best suited for your dining area.