This post may contain affiliate links. Please see our full Disclosure Policy for details.
Make colorful large coir doormat to welcome home: Make a beautiful hand painted entrance rug by using blank coir doormat.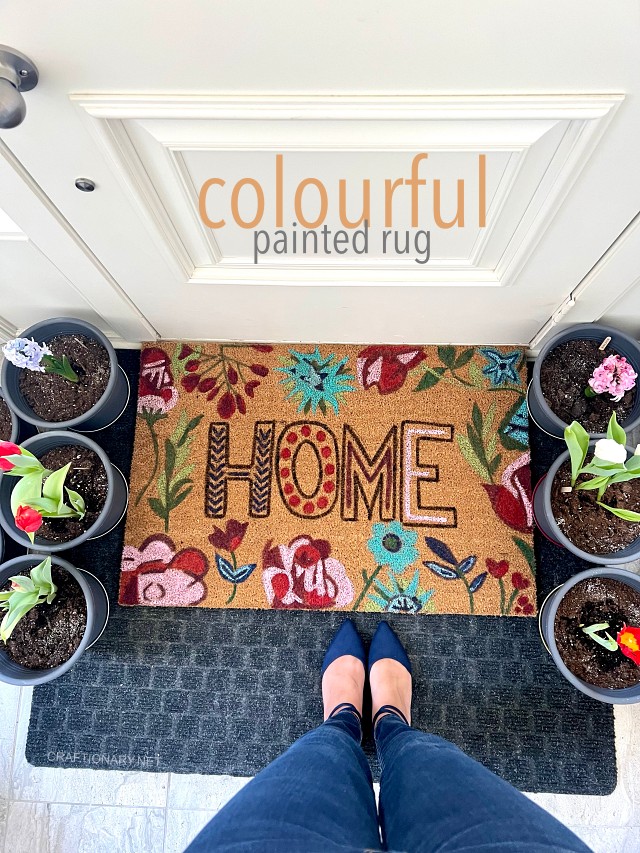 Painting Coir Doormat Video Tutorial
Here's a video tutorial short clip showing how to paint using acrylic paints on the coir mat.
Did I tell you I have developed a passion for growing and learning about plants? It all started last year when we moved into our first home. I started with houseplants and decided to plant some bulb flowers. The blooms are in full blossom now.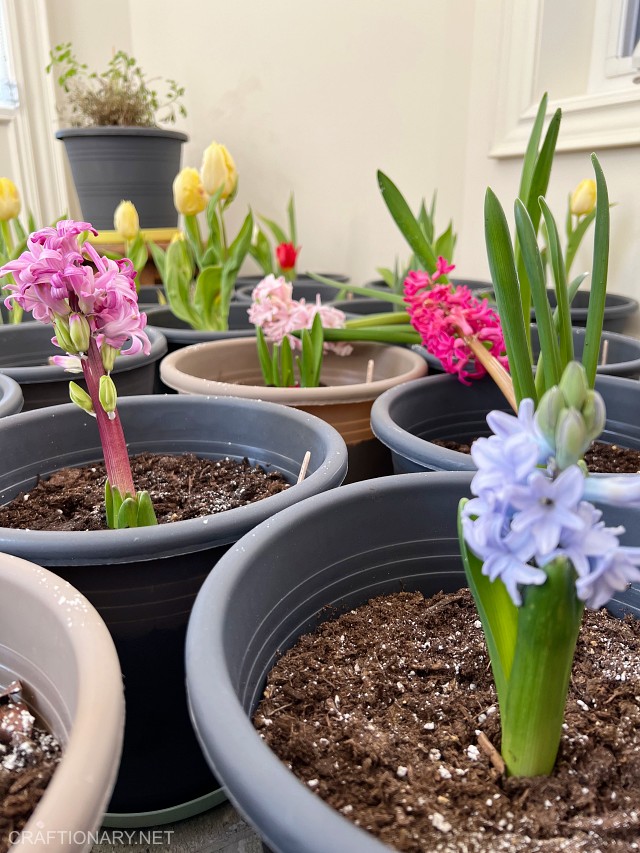 These beautiful flowers inspired me to prep for spring welcome entrance mat and I ended up making a custom spring doormat. This will also be festive for Easter doormat.
Make colorful large coir doormat
Even though the pictures are taken indoors. This indoor door mat is intended to be displayed outside as an outdoor door mat. The idea is to have a large front door mat and have this painted coir mat on top. The sides will be decorated with bulb flowers pots and more (hoping they are still blooming when Spring comes). I can't wait to share the complete show in Spring.
The large door mat below the Ikea coir doormat can be a rubber doormat, jute doormat or even thin patio doormat. It is important that it is an outside doormat so that it can withstand the weather changes.
Best paint for door mats
Coir doormat can be painted with any medium. I like to use water-based acrylic paints. The quality of acrylic paints is that you can make them runny or thick based on requirement.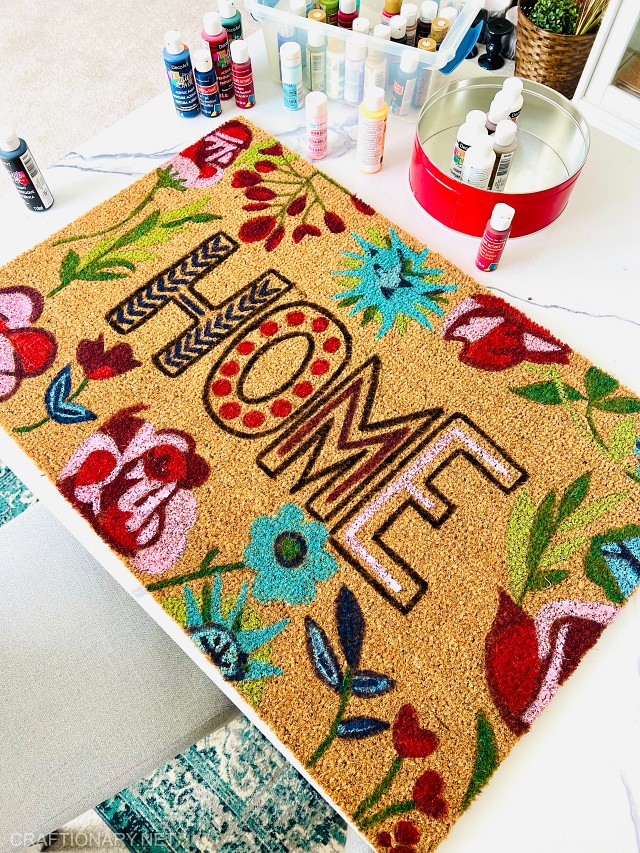 However, for more strong results I might go ahead and try drywall paints and see the results as well. Some other choices may include latex paints, oil-based paints and fabric paints.
What paint can I use on door mats?
The best paint for outdoor doormats would be weather resistant acrylic paints which can withstand weather changes. It adheres to surfaces in changing temperatures and resist water. No sealing or varnishing is required after painting.
Use outdoor acrylic paint so that your painted coir doormat design lasts longer in the natural elements. Squeeze some paint in a disposable plate (I like to use a glass slate) and prepare your paint brush and sponge to paint. A little paint can cover a good amount of space with these acrylic craft paints designed specially for outdoor decorating.
What you need to make a Spring doormat?
Material and supplies for doormat:
How to draw custom pattern on coir doormat?
1. HAND PAINTED: I free-handed draw my pattern with a marker by looking at a picture on my laptop.
2. STENCIL PAINTED: However, if you are not comfortable doodling your pattern, you can print your pattern and font on a paper. Cut it to make a stencil for your rug. You can also use silhouette or cricut cutting machine if you own one! Use the stencil and draw the pattern on coir mat using marker.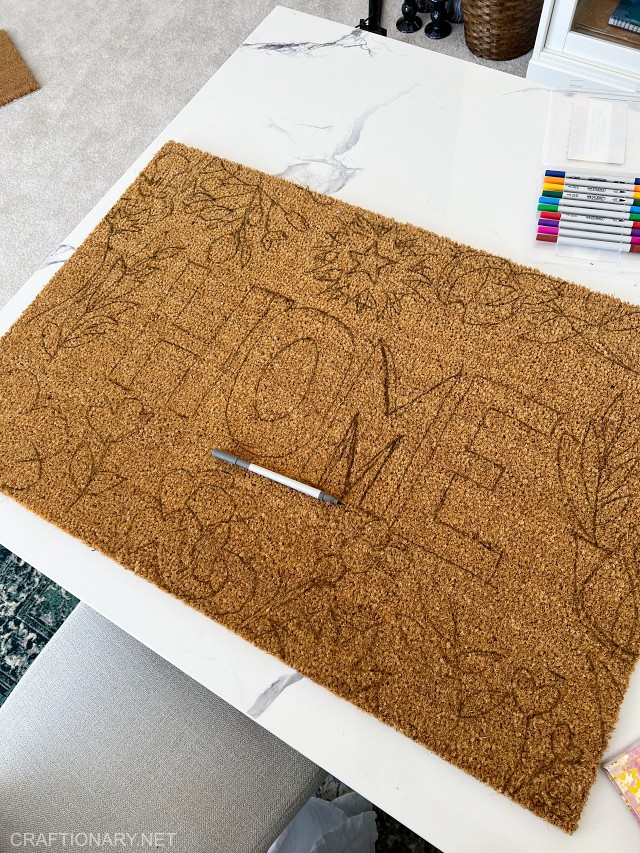 How to paint your design on coir mat?
Painting a coir mat you have to get ready to use lots of paint and enjoy the rough surface. This was my fun ever rug painting and I really enjoyed it. There are three ways you can paint the coir door mat.
Paint brush method
Stencil paint
1. PAINT DIY COIR DOORMAT
Use a paint brush to outline the pattern with the paint color of your choice.
To fill inside use a foam brush or sponge for ease of dabbing the paint.
However, paint brush works fine too. It's just more time consuming but less paint consuming.
Coir painting tip: I cleaned and reused a single brush for all the colors. This way I ended up ruining the bristles of only one paint brush. Complete satisfaction for someone who tries to be as less wasteful as possible when creating and crafting!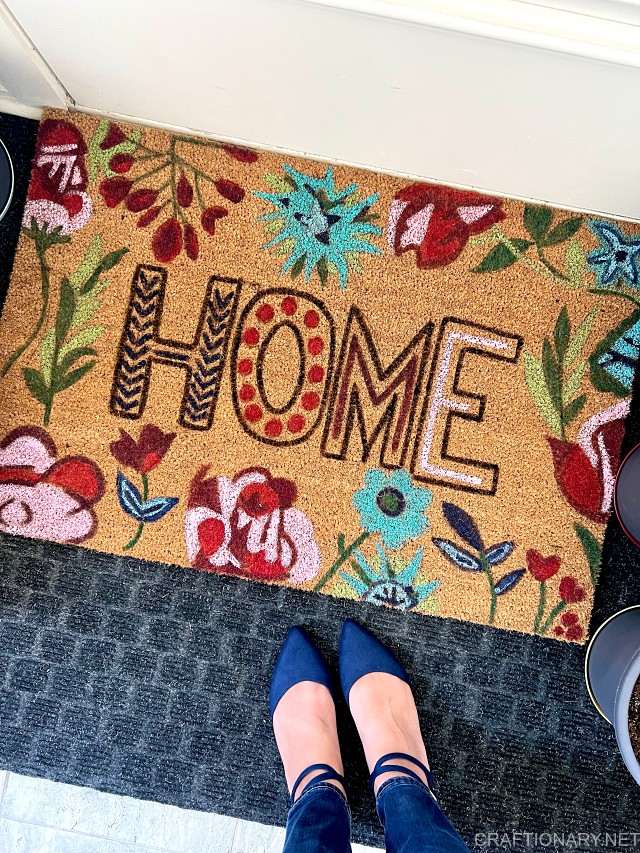 2. SQUEEZE BOTTLES OR PAINT POUR BOTTLES ON MAT
Another method my friend Jen used is squeeze bottles. Squeeze bottles are plastic bottles with a nozzle tip at the end.
Fill these mixing bottles with acrylic paint and use water to make it runny. Use 80% paint and 20% water.
Now simply squeeze the paint out to paint your coir doormat.
The only drawback with this idea is that if you have no use for these bottles, you end up with an extra thing on hand. You will need one bottle for each color to paint. The surface of coir mat is rough and using squeeze bottles to outline straight lines on your drawing may get tricky. Instead, use a paint brush to outline for neatness.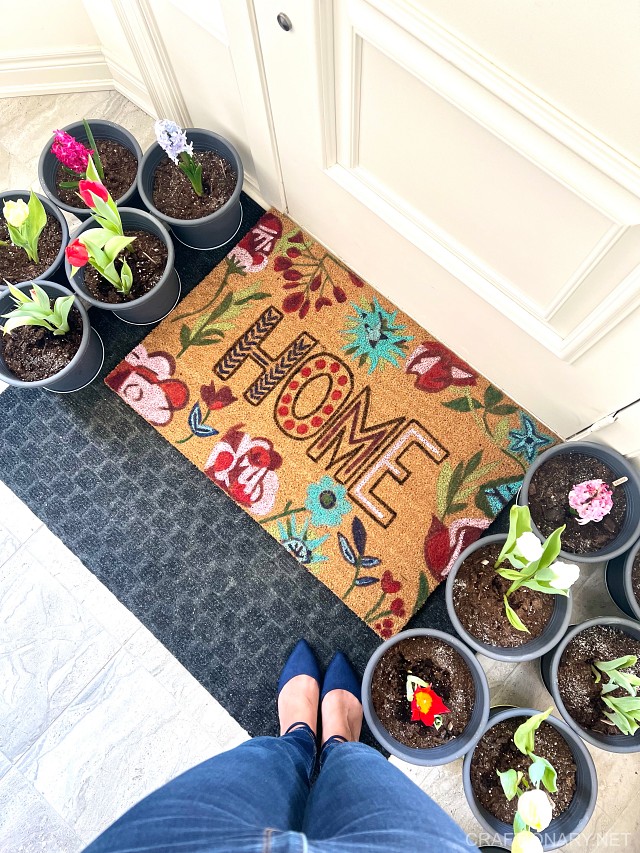 Nozzle bottle painting tip: When using paint pouring bottles one has little control on the paint running unlike the paint brush tip. Use it sideways to avoid big quantity of paint pouring out.
3. VINYL STENCIL PAINT DOOR MAT
With a vinyl stencil cutout you can also get directly into painting the design instead of outlining first as well.
Lay down the pattern and letters cutout on the mat and use pins to keep the stencil in place while you paint.
Now use a foam brush or sponge to dab paint on top of the stencil.
Stencil painting tip: Dabbing a stencil is the easiest and most satisfactory option. However, it takes away from the fun of crafting. Once done, you can use paint brush or thick marker to outline your painted design for fine and neat edges.
4. MASKING TAPE TO PAINT COIR DOORMAT
Nowadays modern and abstract patterns are so in. You can also use painter's tape or masking tape to paint coir doormat. Just tape your pattern, letters and design and use acrylic craft paint or spray paint to complete the project.
Can you paint a coir doormat?
Even though the above options can fade and lose it's brightness overtime with water and sunlight. A clear winner here is the enamel spray paint.
5. SPRAY PAINT COIR MAT: Use masking tape to sketch your pattern on coir. Now shake the spray paint for several minutes to ensure the paint is mixed. Holding it four to six inches away from the surface use short, even strokes in circular motion to coat the coir doormat with paint.
SHARING IS CARING: If you like this project help me reach others by pinning this image and sharing on social media. Thank you!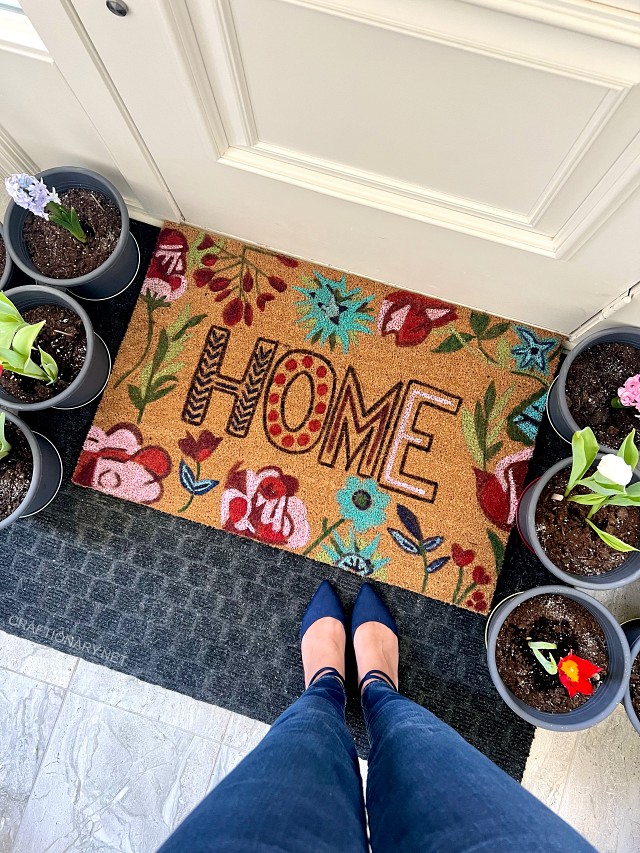 Some more DIY doormat ideas for you to get your creative juice going. I hope you enjoyed this project. Till next time take care.
FAQs about painting a rug
Some questions about making painted coir doormat that you might ask are answered below:
Where to buy a plain coir doormat?
I bought a black rug and blank coir doormat from IKEA. I think the luxury front door mat look can be achieved with black mat because black is classic! Make sure your under doormat rug is thin so the comfort of stepping inside from front entrance is not compromised.
Is coir good for a doormat?
The fiber coir is made of coconut husk and is best for exterior doormats that are exposed to the weather. Coir doormats are water resistant. Terrain's Handel recommends the thicker and scratchier the coir doormat, the better.
How long does a coir doormat last?
A coir doormat is highly durable and easy to clean. Coir is a sustainable resource and can last for 6-10 years depending on the use. A thicker coir doormat increases the longevity of the rug.
How to protect coir doormat?
Coir can be best protected in sheltered places. To preserve your coir mat avoid long hours of exposure to sun and water. Some natural fading overtime is common. However, you can spray a few coats of polyurethane over your new painted coir doormat to keep coir mat from fading.
How to clean a coir mat?
Start by scraping off the visible dirt. Try handling the mat and beating it with a broom to remove excess of dirt. Use a garden hose to wash off and let it dry naturally.
How to make a coir doormat?
A custom coir doormat is the easiest choice if you are looking to make a statement one-of-a-kind front door rug. You can choose small or large door mats and blank coir mats are readily available.
What do you use to seal a coir doormat?
You can seal a coir mat using the following options:
Spray a few coats of polyurethane on your new doormat before using.
A protective spray which is clear, liquid rubber sealant coating like Flex Seal Clear spray.
You can also protect your painted doormat with Shellac from Zinsser or any brand clear laquer spray.
How do you seal a painted doormat?
When painting the doormat use fusion colors and press hard into the coir to ensure that the paint really soaks in. Once done, use the above options to protect the painted coir doormat.
You may also like: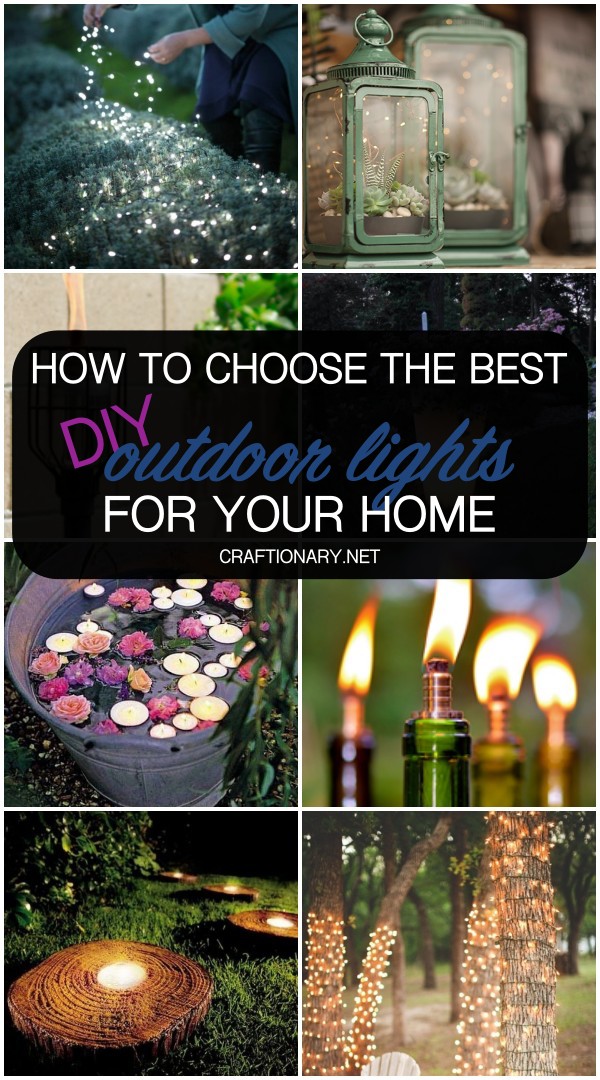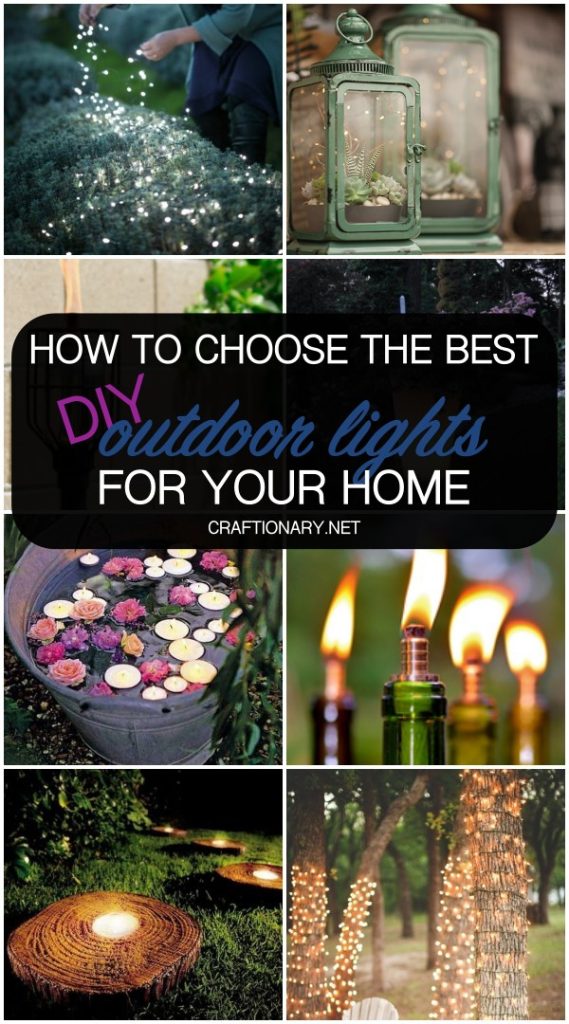 DIY outdoor lights simple and easy ideas for homes