This post may contain affiliate links. Please see our full Disclosure Policy for details.
Start a fun Christmas tradition for your kids this holiday season with best elf on the shelf ideas.
The Christmas season brings in an enchanting tradition that has got the hearts of families around the world- the Elf on the Shelf. This mischievous character comes to life each night, embarking on adventures to entertain kids and spread festive happiness. If you want to up your Elf on the Shelf game this year, we have gotten 150 unique ideas and Elf kits to keep the enchantment alive that are perfect for the last minute!
With quick and easy elf-on-the-shelf ideas, you can start a fun Christmas tradition for your kids this holiday season. Hide Elf in your gorgeous Christmas centerpiece, Christmas garland, or even Holiday Outdoor Decorations as a spy. You will also have fun while he sits and relaxes on your decorated Christmas Mantel or near your festive Christmas Charcuterie Board. He will also make a fun addition while you decorate your Christmas tree and wrap gifts to place under it.
Best elf on the shelf ideas
There are many kid-friendly elves on the shelf ideas to pick from, whether you're looking for food and drink or funny and naughty elf ideas. Additionally, there are special arrival and return ideas.
When the holiday season begins, we mark various important days on the calendar, from Thanksgiving to Christmas to New Year's. But one day stands out each year: the return of The Elf on the Shelf. Along with the introduction of advent calendars and the writing of Merry Christmas greetings in our cards, this naughty creature's return to our homes marks the start of the holiday excitement. But it's time to be ready with the best when Santa's Scout Elves return.
In the Elves on the Shelf Concepts for 2023 some elves are funny while others are a bit naughty, and others like participating in family Christmas games. However, as things turn out in your home, it's great to be ready so you don't have to rush for last-minute elf ideas. You don't have to worry about more expense this year with these ideas as they are usually free and inexpensive.
You can use an advent calendar to record the 24 days till Christmas as the countdown to the holiday. But you may spend the time before Santa Claus climbs down the chimney adorning your home. You already know that there are countless possibilities, from tiny Elf on the shelf accessories to hilarious scenes all around the house, if the adults in your family set up intricate Elf on the shelf ideas for the kids to enjoy.
In this article:
What is a good The Elf on the Shelf gift?
Think about creating a customized elf accessory package that includes items like a little sleeping bag or a miniature mailbox. Another considerate present idea is a book with exquisite illustrations that explains the duty of the elf. Give children a little DIY kit with supplies so they may create their miniature scenarios for a unique touch. Children will find the ritual more fascinating and unforgettable because of these presents, which heighten its charm. Some Elf accessories:
World's smallest Elf on the shelf
Doctor to make Elf bendable and flexible
Where do I put my Elf on the Shelf?
Place your elf in various locations so it may thrill and surprise you every morning. You can put it on a bookcase, behind curtains, or suspended from a chandelier, as a few examples of possible positions. Think about having toys linked to its nightly escapades on kitchen counters, close to family photographs, or even alongside them. For more intrigue, switch up the spots to make sure your elf maintains the festive spirit throughout your house. Place it out of reach from curious little hands and family pets to keep the elf magic alive. Avoid high traffic areas so that no one can touch the elf.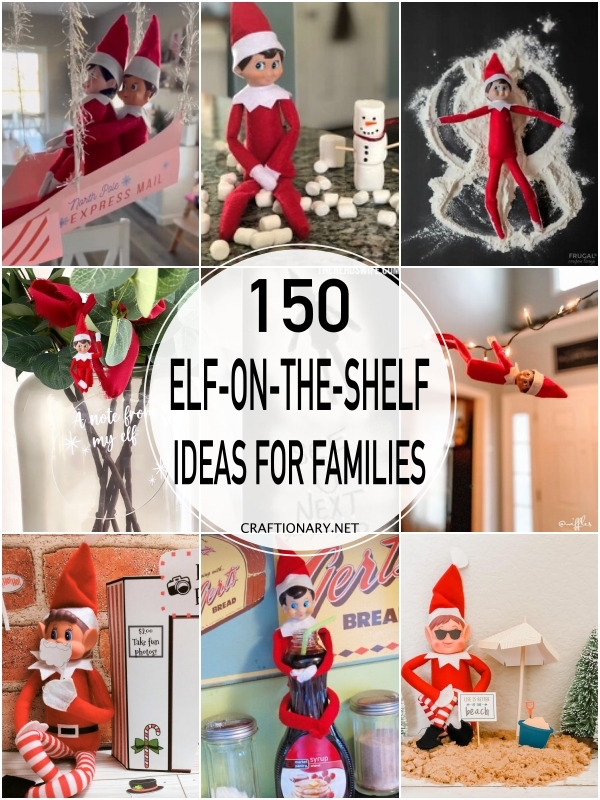 Elf on the shelf Food and Drink Ideas
You can add many food and drink ideas. Imagine an elf "eating" cereal, drinking from a little cup, or savoring a doughnut in a miniature breakfast setting. Create a little picnic with an elf and doll food. These amusing designs give the tradition a unique twist and enhance its appeal.
Elf Having a Cozy Campfire with Marshmallows
Building a Marshmallow Snowman Elf on the Shelf Idea
Cookie Monster Locked Outside while Elf eats cookies
Mini Cookies for Elf on the Shelf Idea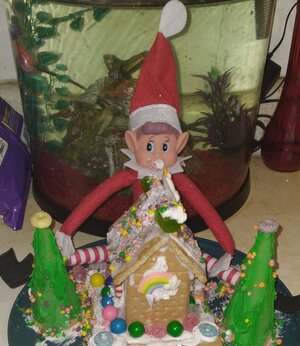 North Pole Ice cream stand by Elf from Etsy
Elf making a Fruit Loop Garland
Green Milk Elf on the Shelf Ideas
Maple Syrup Drink Elf on the Shelf Idea
Elf on shelf Drinking k cup coffee
Reindeer Root Beer Elf on the Shelf Ideas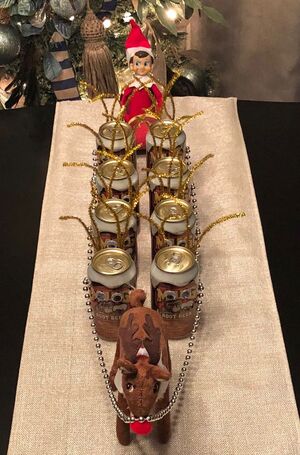 Taco Tuesday Elf Burrito on the shelf idea
Elf jumping on MacDonald's bandwagon
Elf Eating Maple Syrup Spaghetti
Arrival and Departure Elf on the Shelf Ideas
You can place the elf by a greeting sign, or have it offer a small present when it arrives. A last message that teases a possible comeback the following year might be included in the departure. These little touches add to the tradition's enchantment, setting the tone for a joyous holiday and increasing anticipation for the next visit.
I'm back elf arrival note for the window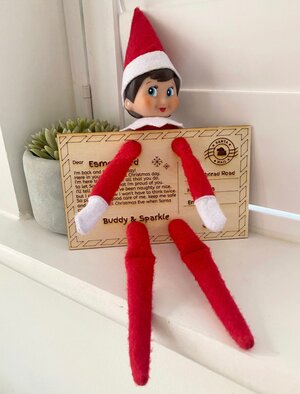 Bursting out of Package Elf Arrival Box
Bursting out of Package Arrival
Balloon Arrival with Printable Banner
Free Printable Elf on the Shelf Arrival Letter
Random Act of Kindness Arrival Letter
Elf makes snow angels in flour

Welcome Letter for Elf on the Shelf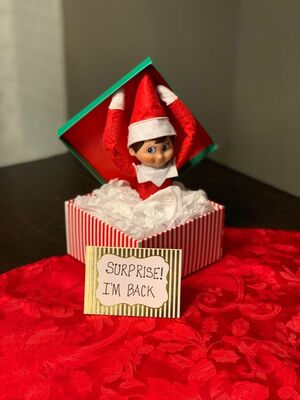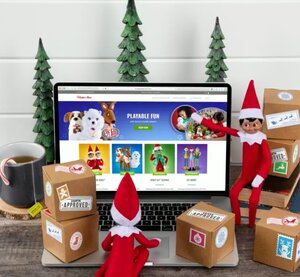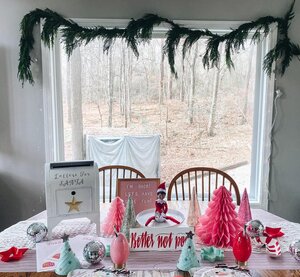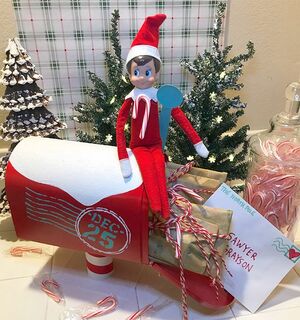 Hot Chocolate Welcome Back Party
Elf on the Shelf Goodbye with snow sprayed message on the window
Sledding Away Goodbye Elf with Reindeers
Christmas Eve Farewell Gift Elf on the Shelf Idea
Goodbye kisses sign with Hershey's kisses
Elf Packed Up and driving away in toy car
Elf Adventurous Ideas
Allow your elf sledding down the stairs, a rock-climbing wall, or go zip-lining across the room. Create a miniature campfire and tell tales around it or put the elf in a toy vehicle and have a little race. The festive season is made more interesting by these imaginative antics.
Elf Rolling Down the Stairs in toilet paper roll
Climbing the Window with mini gift bows Elf on the Shelf Idea
Toilet Paper Roll Swing for Elf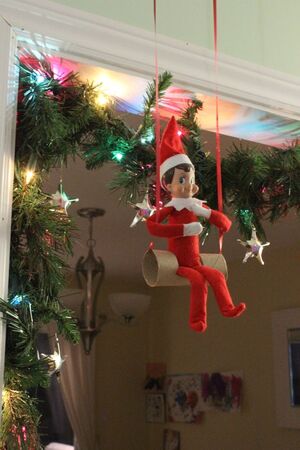 Sledding down the staircase railing Elf on the Shelf idea
Elf Caught a Shark in the sink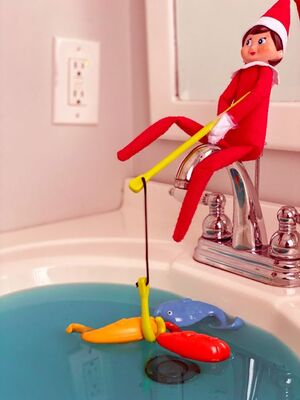 Funny and Naughty Ideas
You can use many funny and naughty ideas ideas available in this blog like
Elf on shelf Cutting Down Christmas Tree
Quick and Easy Found the Stickers Elf on the shelf idea
(404 ERROR)
Breaking into M&Ms Elf on the Shelf Ideas
Elf Chocolate Poops in the Bathroom
Drawing on Faces with Dry Erase Marker
Elf Drawing Minions on Bananas
Piggy Bank Burglar Elf on the Shelf Ideas
Elf putting clown noses on picture frames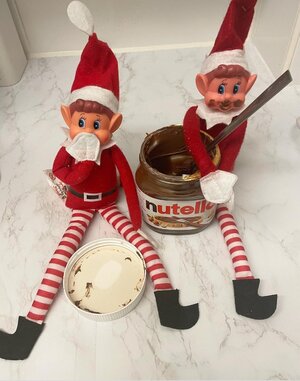 Melted Snowman Elf on the Shelf Ideas
Other Characters with Elf on the Shelf
Increase the enjoyment by introducing toy friends. Make scenarios with stuffed animals enjoying a party, action figures accompanying an elf on a journey, or dolls participating in a mini game. By doing this, the magic is increased, and your elf's antics have more company to shine.
Drive in Movie with Barbie Elf on the Shelf Idea
Harry Potter Elf on the Shelf Idea
Elf on the broom playing Quidditch
Elf Playing Twister with free printable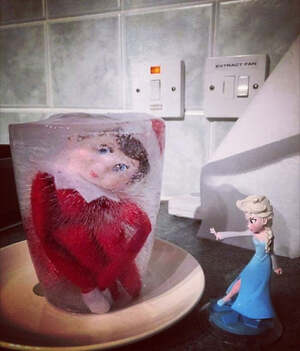 Elf captures and Ties Up Grinch
Batman Smells Elf on the Shelf Prank
Batman Dangling Elf over the Toilet
Elf in the Spiderman Halloween cobweb
Free Printable Spiderman Mask Elf on the Shelf Ideas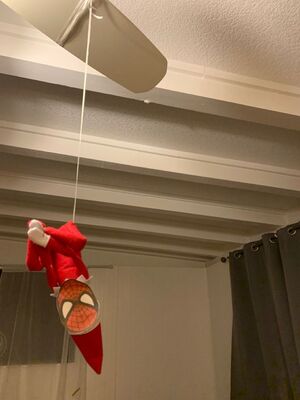 Feeling Sick Elf on the Shelf Ideas
There are many different ideas to show the sickness of elf. You can also add a humorous twist. It gives the custom fun by showing that even elves may have a "holiday cold."
Doctor's Note Printable Elf on the Shelf Idea
Elf on shelf with a Broken Leg
Free Printable Elf on the Shelf Quarantine Letter
Quarantine Elf on shelf with Free Coloring Printable
More Elf on the Shelf Ideas
There are other suggestions to add to the previously stated ones to make your vacation s more memorable and enjoyable.
Yoga Class Elf from Etsy
Hiding in the ice dispenser Elf on the Shelf Idea – missing the north pole
Elf on the Shelf Rules Printable
Reasons for Not Moving Elf on the Shelf Ideas from Etsy
Elf Meter from Etsy
Elf on the Shelf Hiding in the Fridge
Pin the Nose on the Reindeer Elf on the Shelf Ideas
Elf Gone Fishing with Goldfish Crackers
Ball pit Elf on the Shelf Idea
Spelling with Cheerios Elf on the Shelf Ideas
Magic Dust Printable Elf on the Shelf Idea
Advent Box Elf on the Shelf Idea
Watching a Movie Elf on the Shelf Ideas
Elf Hides in the Silverware Drawer
Hidden Christmas Ornaments Elf on the Shelf Treasure Hunt
Elf Making a Snow Angel with flour
Elves having fun bungee jumping
Shopping for Christmas with Elf
Elf at beach from Etsy
Photo Booth Elf from Etsy
Elf on the shelf daily acrylic note from Etsy
The Elf on the Shelf tradition is a fantastic way to let your family experience the joy of the Christmas season even more. With these 150 unique suggestions, you are certain to maintain the excitement while your sneaky scout elf sets off on fantastical adventures throughout December. The options are unlimited, from simple setups to elaborate ones, and the happiness that your elf gives to your house will undoubtedly become treasured memories for years to come. Happy Christmas, elfin people!
History of Elf on the Shelf
Before you buy your Elf on the Shelf this Christmas, here is a little refresher for those who are unfamiliar with the Elf on the Shelf's past. Santa's Scout Elves, who go to homes near and far to report back on who has been naughty and who has been nice. Each day after reporting to Santa, the elves reappear in a new spot, which makes the kids giggle a lot since they can be surprised to see their friend in unexpected places like the entryway or hanging from the shelf. Arranging the scenario is a Christmas pastime in and of itself for older children and adults, who may have fun putting the Elf in absurd circumstances that will cause more laughter than a Christmas puzzle.
The goal of Elf on the Shelf activities is to make your family happy and cheerful during the whole month of December. These funny events could even top seasonal jokes and hilarious Christmas memes in their ability to make people laugh. Whether an Elf on the Shelf is visiting your house for the first time or not. The custom has been cherished by the family for many years.
Here's everything you need to know about this well-known Christmas custom before you begin.
What is the Elf on the shelf?
For those who are unaware of this well-known Christmas custom, it is based on a children's picture book from 2005 written by Carol Aebersold and her daughter Chanda Bell, in which Santa sends special scout elves to your house to help your children behave and report back to the grownups oversee relocating the elf once per day during December till Christmas, since kids are not allowed to touch it or else it would lose its charm. Only at night, when the kids are asleep, does it move. Here is a fun way to introduce your children to their elf if they have never participated in the elf on the shelf tradition by adopting an elf – boy or girl that comes with an illustrated storybook, keepsake box, and an official adoption certificate.
Kids love this enjoyable Christmas tradition, but it may be difficult for parents to come up with fresh ideas for a whole month. To help you out, we've included some fast and simple ideas below. You won't run out of ideas for years because there are more than a hundred distinct options!
When Does Elf on the Shelf Return and Depart?
The Scout Elf Return Week occurs between November 24 and December 1st, marking the departure of Santa's elves from the North Pole and their stay at home until Christmas Eve December 24th. This tradition is a timeless family tradition, but it requires a variety of entertaining Elf on the Shelf ideas to keep them entertained throughout the season. There are many ways to hide elves, whether you are new to the adventure or have had a scout in your house for a while. Some ideas are funny, such as elves in disguises, while others are pleasant, like discovering them in the kitchen with holiday sweets.
What are the rules of The Elf on the Shelf?
There are two guidelines for The Elf on the Shelf:
While someone is awake, the Elf observes and listens instead of acting or speaking.
The Elf surprises and delights children every night by moving to a new location, setting up fantastic scenarios for them to find the next morning. These guidelines enchant the Christmas season by promoting good conduct and inspiring creativity and unity among families.
How do you introduce The Elf on the Shelf for the first time?
Bring your family together and tell them the magical story of the scout elf's work as Santa's helper. Present your first Elf as a special guest who will keep an eye out and contact Santa every night. Give the elf a name and highlight how crucial it is to a happy Christmas. Encourage kids to look for the elf's new hiding place every morning to create excitement and promote festive cheer throughout December. Fascinate the kids by motivating them to share wishes and secrets as Elves are great listeners!
What is a good age to start Elf on the Shelf?
It is up to the child, but we recommend three years old or when he or she begins to appreciate the wonder of Christmas. If older siblings are living in the home, the custom will begin much earlier. Although there is no harm in starting earlier, your child might not be as interested in learning at a younger age.
Author: Alveena Nazir