This post may contain affiliate links. Please see our full Disclosure Policy for details.
So, I wanted to make a wall art for my boy's room and what would be better than the Classic!
This Mickey and Friends wall art is arranged on the side wall besides my baby's collage in his room.
Kids room wall art (Mickey mouse and friends)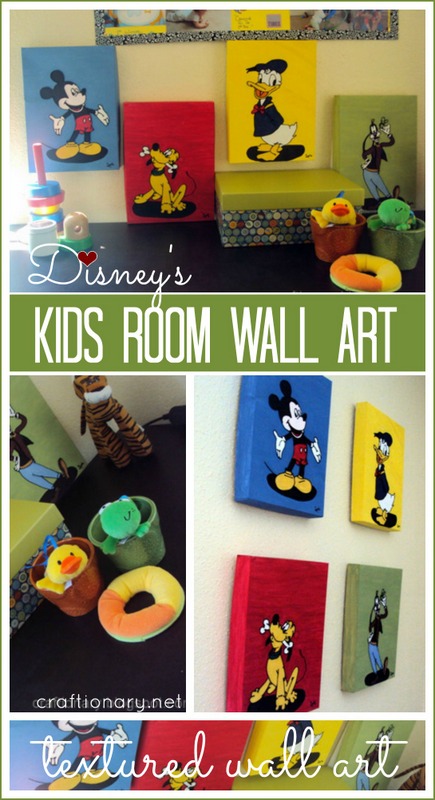 Mickey Mouse – Donald Duck – Goofy – Pluto
Traveling cloth boxes
Thread
Glue stick
Paint brushes
Acrylic paints
Pencil (to draw)
I bought the traveling boxes set from a dollar store. If you want to make your own, you will need thick drawing paper.
Note to myself: Should have made these on canvas.
The boxes I used are 11×8. Start by cutting two rectangles 12″ wide and 9″ tall.
Fold all the sides about 1″ and using the bone mark the lines.
Now overlap two such rectangles to make your canvas. The front becomes your painting surface and the back is used for hanging (you will need to first hang the back piece using a push pin/thumb pin and then place the front piece over it).
I then sketched each cartoon free handedly because I love to draw and paint. If you want to skip the drawing part, you can find tons of Disney characters online.
Once your done with the tracing part, use glue stick to outline the drawing with the thread. I used black embroidery thread. Press and smooth the thread for perfection when gluing.
You will have to cut the thread at several places and this step requires patience, just listen to your favorite music and have fun doing it!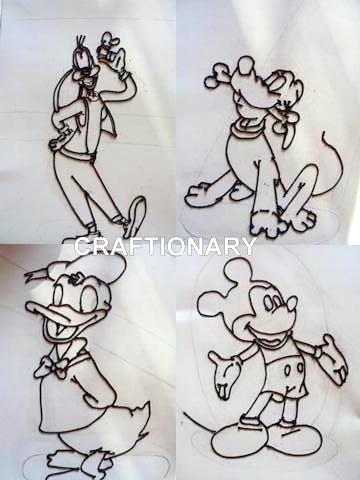 Now paint the characters. I used acrylic paints as they are water based and easy to use. One best thing about the thread painting technique is that you get perfect result without any irregular painting and little effort.
And you also get outlines on your painting which is pretty hard with paint brush!
Disney kids room wall art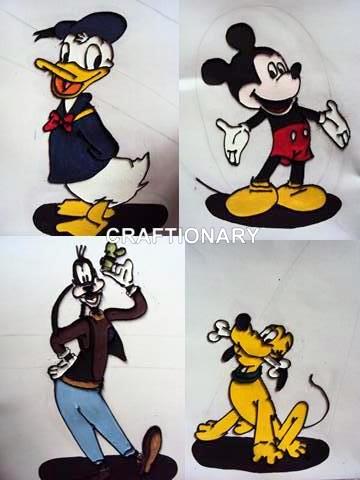 Once your done with painting the characters. Paint the background.Also paint the sides as they show up when you hang them and unfinished sides don't look nice.
Finished wall art.
Textured wall art
You will also like:
Looking for more great ideas?
Check out tutorials in the category
WALL ART
.
Are you on pinterest?
You will also enjoy the DIY wall art and DIY Projects Boards.
These are updated regularly whenever I find unique ideas.