This post may contain affiliate links. Please see our full Disclosure Policy for details.
Kitkat cake easy recipe with kitkat, chocolate cake, strawberries and french vanilla frosting. Make it in 30 minutes for parties. Finally Monday is here and I can't wait to share this easy recipe with you. I made a kitkat chocolate cake (not from scratch, however!). If you are more into baking cakes from scratch, you can use any of your favorite recipes.
This cake will assemble just perfect with a chocolate cake, devil's food cake, marble cake and mocha cake. There is nothing like following the right ingredients for this cake. You can even use an icing/ frosting of your own choice. You can also make M&M kitkat cake and chocolate kitkat cake with kitkat cake recipe.
I choose to use french vanilla, because I love it. You can use a chocolate cocoa frosting too. Let me give you a shot of the final cake without further talking.
Kitkat Cake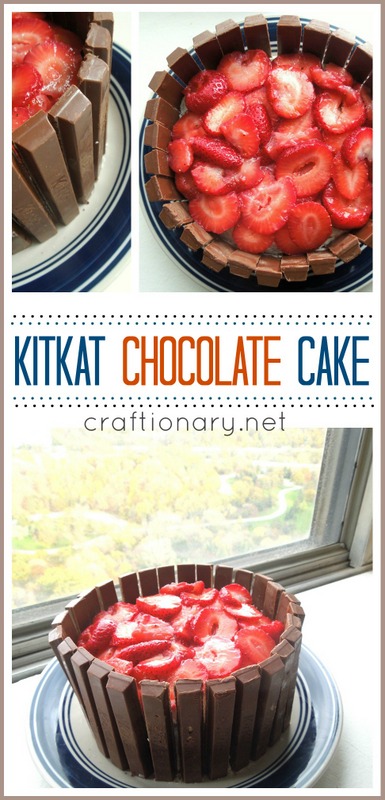 So what do you think? (tell me you like it, I will love you forever.)
I love baking cakes from scratch, but once in a while an instant cake saves a lot of time and dish washing. I came up with the idea of making kitkat cake from Pinterest.
Now let's get to the ingredients and assembling of the cake.
INGREDIENTS FOR KITKAT CAKE
A box cake (I made Betty Crocker's DEVIL'S FOOD CAKE).
Icing/ Frosting ( Mine was Betty Crocker's Creamy deluxe FRENCH VANILLA).
1 Pack Fresh STRAWBERRIES.
Lots of KITKAT. (You will need 7 x 4= 28 regular kitkats for one 6″ round cake)
A round baking pan (I used a 6″ round pan).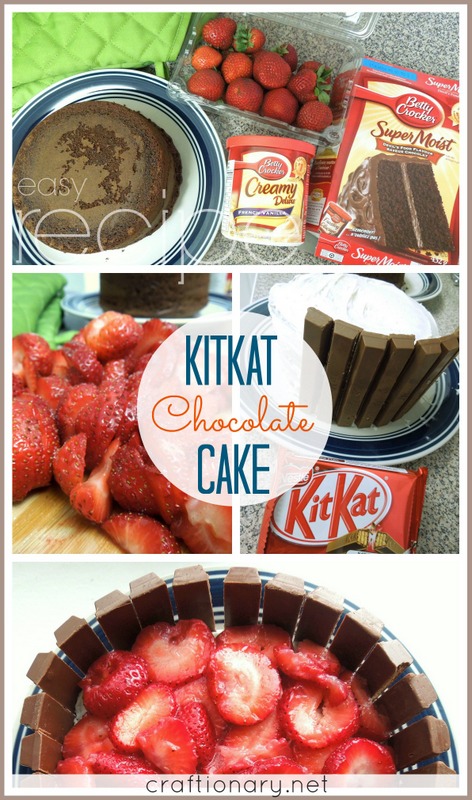 ASSEMBLING THE KITKAT CAKE
Bake the cake according to the instructions. One box will yield two 6″ round cake. You can also make a taller cake by assembling two 6″ cakes together. But then that means more kitkat.
Let the cake cool down completely before you start assembling it together.
Meanwhile cut the strawberries. I like to sprinkle some sugar from the top, just in case the strawberries are not so sweet.
You can also make your own frosting. I would suggest a whipped cream, cocoa and sugar frosting to go with this cake ideally. Beat the ingredients together in the proportion 3-4 cups whipped cream, 1/2 cup sugar and 4 tbsp cocoa powder.
Make sure you refrigerate kitkat before starting to line it up around the cake. It will melt to your finger's touch too quickly if you use it at room temperature.
When the cake cools down. Slice it into two halves.
With the help of a spatula, spread a good amount of french vanilla icing across the lower half of the cake surface. Now top it with sliced strawberries. Followed by another layer of icing.
You can also use a combination of french vanilla icing and cocoa frosting for this cake.
Now top it with the other cake slice.
Spread the icing on the cake. Covering the sides and the top completely.
Now it's time to unwrap those kitkats. Don't forget to eat 1 or 2 while you unwrap.
Start lining kitkat around the cake. The icing will make it very easy to stick to the cake.
Now fill the top of the cake with the remaining strawberries.
Let it chill in the refrigerator.
I made this cake for my Father-in-law's birthday. And it came out so well.
Not to mention none remained at the end, which makes me happy.
You May Also Like:

Check out our category QUICK RECIPES.
Are you on pinterest?
You may also enjoy the Recipe Desserts and Party Food Boards.
Updated regularly whenever I find unique ideas.