This post may contain affiliate links. Please see our full Disclosure Policy for details.
Happy Ramadan iftar time printable you can dry erase is perfect for home. You can simply print this printable for free and make a dry erase frame in no time. Erase the iftar timings on the frame and you are ready to write next day's time for the complete 30 days of Ramadan. Kids will enjoy taking turns to write the Ramadan iftar time everyday as well. They can understand the concept also.
This little project is very handy for families as everyone will stay updated with the iftar time and look forward to iftari together. They can also volunteer to help preparing for iftari meanwhile.
Happy Ramadan Iftar Time Printable
The Happy Ramadan iftar time printable is inspired by constellation. The gold color along with stars and moon makes it perfect for this occasion. Also it reminds us of Eid as well.
Happy Ramadan Iftar Time Printable
In our home, I will place it on the table in our family room. I will keep other important things like bukhur, dates, iftar dua, other essentials and salt lamp to complete the look as here. Overtime, our display includes Quran and religion related activities that will be displayed here with. For yours kids the Character trait crafts activities for a month with kids is perfect to teach them good habits with crafts. This will also give you a chance to speak about the connection of each character trait with religion.
The happy ramadan iftar time printable can be printed by clicking below. It is available in two colors. Gold and black. I could not print it in color at home to show you the complete look.
Iftari time in Ramadan frame
Here's how it looks in the evening right before the iftar time. The salt lamp is believed to bring calmness and peace at home. This is relative to patience. Scentsy in this picture is a good substitute for bukhur. I like to use drops of essential oil like Lavender when I turn it on in the evening. Follow our Ramdan and Eid board for more ideas.
Happy Ramadan from our family to you.
You will also like:
Eid Countdown (Ramadan Free Printable)
Ramadan Calendar Free Printable Countdown
Eid celebration decoration ideas, crafts and DIY projects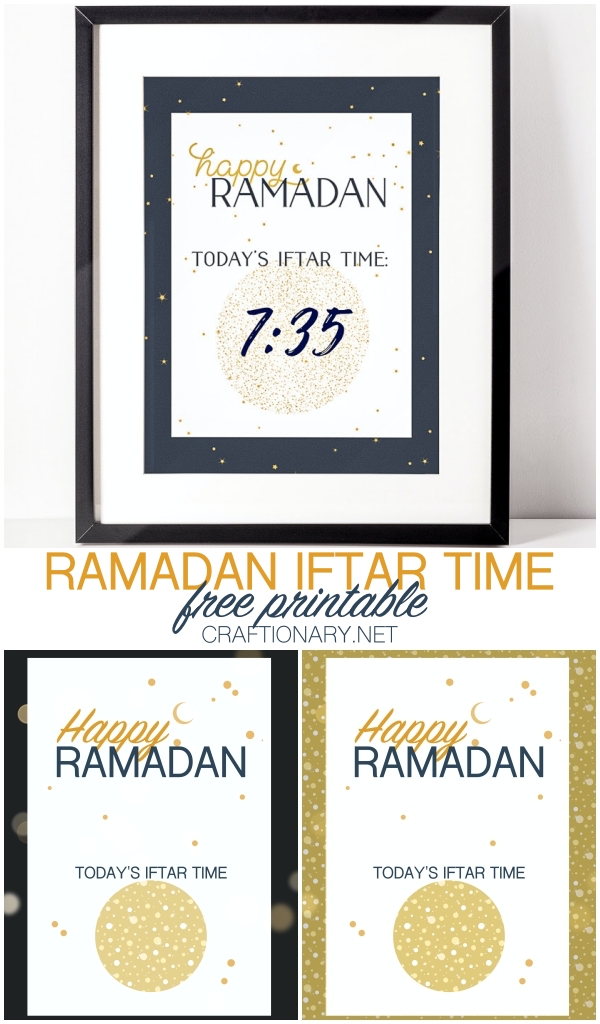 This collection is inspired by Modern Eid.