This post may contain affiliate links. Please see our full Disclosure Policy for details.
One thing while working with wires to make stocking flowers I learnt! Is that you can make any type of flower with it. Or even plants, animals and so much more. Being made with wire and thread, these flowers are very strong. They do not break easily. And therefore they last forever. However, the net in the petals makes it prone to more careful use. You can even make garlands with it!
I am sharing a tutorial on making Hibiscus using nylon (stocking net) today!
Nylon flowers (stocking flowers). Both the appropriate terms used for the same handmade flowers.
However, they were very popular in 70s. They are no longer crafted very commonly anymore.
Since flowers are not used to decorate spaces like before. I still see nylon butterflies and fairy wings are quite popular.
I would love to see these flowers come back, may be with a modern touch. Who knows!
Let's get started with the tutorial to make these flowers.
They are pretty cool girly girl flowers.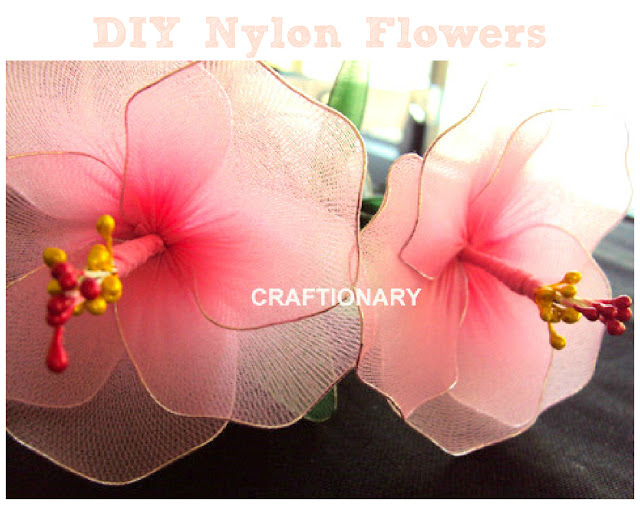 Are you loving the curly petals of the flowers above! They are really easy to make.
Stocking flowers material
Ring size (5) (or circle with diameter 5)

Dark yellow stocking net

Floral tape

Nylon thread

Stem wire

Wire

Plier

Red Stamen
You can find all you want to know about Nylon Material, here.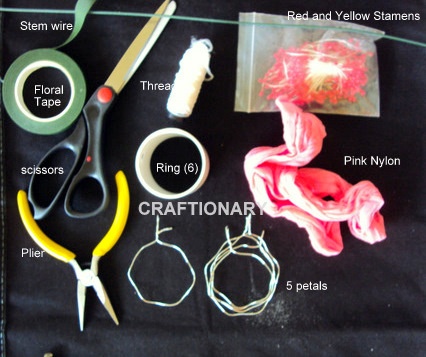 Make stocking flowers
Coil the wire around a pencil tightly. And then uncoil it by stretching both the ends of the wire using pliers.
Stretch until you are satisfied with the waves. This will help you determine how much wavy you want your petals?
Now wind the wire around ring size 5 (or any round thing with diameter 5).
Twist and cut to make structure of petals.
You will need 5 petals for each Hibiscus and stamens to make the center part.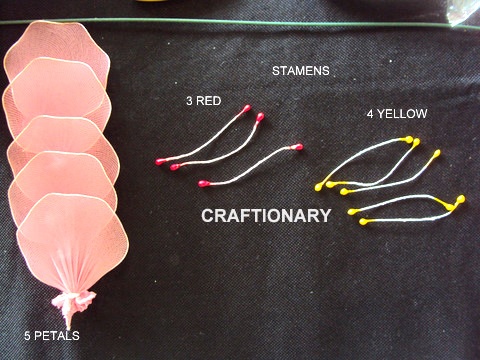 Thread stamens on stem in any colors you like (I chose red and yellow). Roll and glue a scrap of nylon around the stem.
This will hide the stamen ends. This will make the bud (or the center) of our flower.
Now thread each petal tightly. And continue till the flower is complete.
If the above instructions were not clear! Follow the tutorial to make basic nylon flower.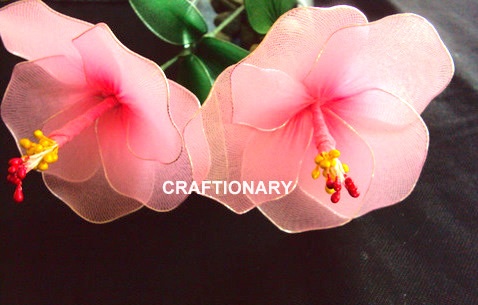 Once you have threaded all petals. Now open the petals to shape the flower.
Projects to make with net flowers
I think these flowers will be adorable for decorating a baby girl's nursery.
Or use them as embellishments. On a girl's shoes, headbands, hair clips and so much more.
These are great for spring decorating as well. Make flower wreath or garland.
Handmade stocking flowers
 For more beautiful flowers made using Stocking. Check out the link below:
You will also like:
Bendable burlap flowers
Ribbon flowers tutorial
Make Yarn rosettes
Looking for more great ideas?
Are you on pinterest?
Updated regularly whenever I find unique ideas.