This post may contain affiliate links. Please see our full Disclosure Policy for details.
How to stencil on wood a decorative tray?
I bought this wooden tray from Ikea. I have been wanting to use it on the side table. So, I came up with this tutorial. I have painted the tray a bold color on the outside and stenciled it inside with harlequin pattern. A very simple project that looks elegant and fresh for any space in the house.
Stencils are popular for painting walls and floors on larger scale but that doesn't mean stencils are not useful for smaller projects. Learn how to stencil on wood and make creative projects on wooden surfaces.
One of the most enjoyed and refreshing craft for me is stenciling. You can stencil paint almost anything with great perfection and beauty. Previously, I had stenciled a magnetic board to display family pictures. It came out very well.
How to stencil on wood?
Today, I am sharing a simple and modern refashion. A quick new look for an IKEA wooden tray. Just as quick as 1,2,3.
Wooden decorative tray
STEP 1:
Spray paint the sides. (I placed paper on the tray's surface to keep it save from paint.)
STEP 2:
Stick the stencil on the surface of the tray. Use stencil adhesive spray and paint.
Make sure you dab the brush in a napkin to remove the excess of paint. Dab the paint on stencil at right angel 90° not sideways. When it's dry. Apply a layer or two of mod podge to seal and protect it.
This is what you get.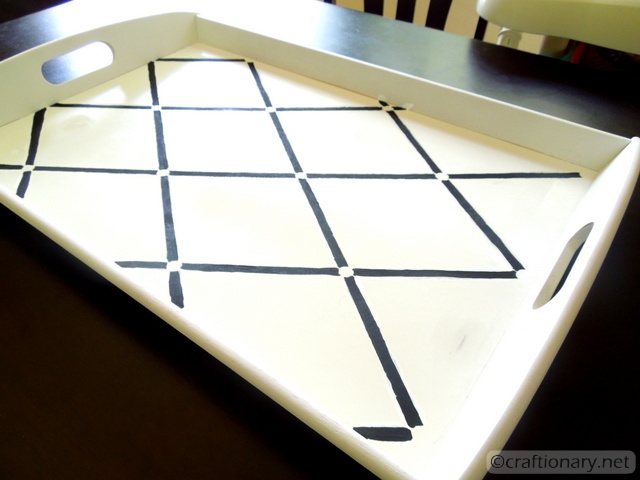 I wanted it to match my living room. And still be neutral. Which lead to!
STEP 3:
Finally, paint the sides of the tray a different color. A bold color!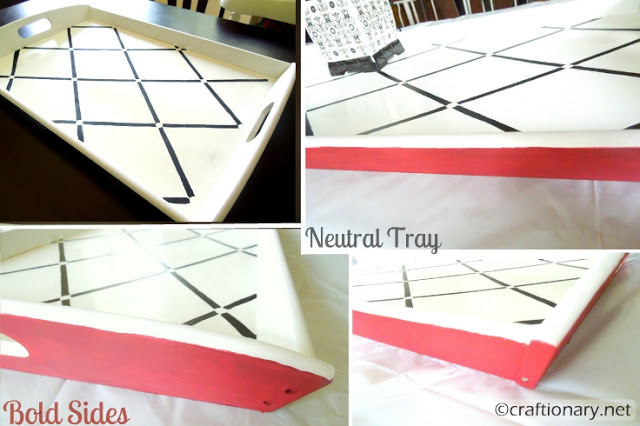 Want to stencil a project of your own. You can find stencils in many different patterns and designs. Trellis Stencil Harlequin Thank you Cutting Edge for the stencil.
You will also like:DIY Crochet Tray
Looking for more ways to Recycle?
You will like ideas in the category REFASHION.
Are you on pinterest?
You will also enjoy the DIY Projects and DIY Trays & Vases Boards.
These are updated regularly whenever I find unique ideas.