This post may contain affiliate links. Please see our full Disclosure Policy for details.
DIY Crochet tray tutorial. Decoupage a crochet tray with mod podge.
Today I am sharing a very simple and cute DIY tray tutorial. Make an old vintage tray look beautiful and decorative.  I had this old tray that I refashioned by using mod podge and crochet mat.
Crochet tray tutorial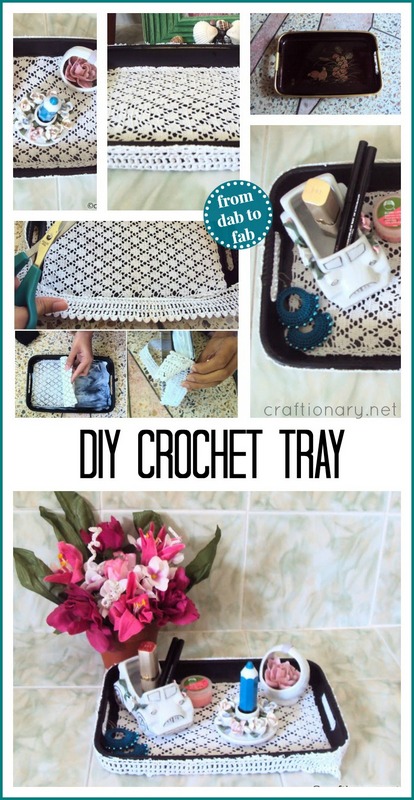 Crochet tray material
You will need:
crochet mat
old tray
mod podge
brush
scissors
DIY Crochet Tray Step By Step Instructions
I had this very vintage tray.
I spray painted it black.
 This crochet mat is very special because it's handmade by my mom.
She loves to crochet, she used to crochet beautiful things when I was a baby. And I am a big fan of her talent. She tired hard to teach me but crochet requires patience. I love to see the things she creates.
So where were we! Yes, and she agreed into letting me use a few of her mats. From 12 crochet white mats, I used one into making this crochet tray.
Luckily, it fit my tray well.
Just like the tray and the crochet mat were made for each other.
So, I cut the side of the mat and separated the two parts. (i e side and center)
It was so exact that I didn't cut the side into a long ribbon but instead I cut it into a ring not losing the continuity. Finally, I decoupaged it on to the tray using mod podge.
And that's it.
I love how neat and organized the tray looks with a hint of handmade love!
I used it to keep my daily stuff but now it's in the living room with the decorative accents.
So, do you have beautiful handmade crochet mats!
What great projects you have made using your crochet mats?
Would you share them with me! I would love to see.
I hope you enjoyed this easy DIY tray tutorial.
You will also like:
How to stencil a decorative tray
Finger Knitting Art
(Non-Crocheter DIY crochet project)
Dollar store Craft Organizer
Looking for more ways to Recycle?
You will like ideas in the category
RECYCLE
.
Are you on pinterest?
These are updated regularly whenever I find unique ideas.