This post may contain affiliate links. Please see our full Disclosure Policy for details.
Beaded necklace (Anthropologie pearl necklace)
Today's Steph our guest blogger, shares an anthropologie inspired pearl necklace tutorial. Her "power of 3" anthropologie necklace inspired project is so close to the original necklace. You will be amazed at how beautiful her beaded necklace is! Check it out!
Beaded necklace

Hi I'm Steph from Southern Fairy Designs
A twenty something that spends their days fixing aircraft for living and crafting on the side when I get home. I seem to have a 'thing' for making jewellery as at least every other project ends up a piece of jewellery. So guess what I'm making in this tutorial… A necklace! Hope you have as much fun making it as I did and if you make one then please drop an email with a photo of it, I'd love to see your take on it!
Here is another piece if jewelery from Anthropologie that I have been lusting for, "Power Of 3", but immensely disliked the price tag that came attached with it. So, I decided to raid my stash again and have my own take on it.
THINGS YOU NEED:
21 beads (7 beads of 3 different colors)
2 meters coordinating color ribbon
1 meter tulle fabric
Jump rings
Necklace clasp
Scissors, pliers, needles and coordinating color thread
Fray stop (optional)
DIY Pearl necklace
Start by cutting the length of the fabric in half. Do not worry about the edges ragging like mine, you can trim and fray stop them later. I intentionally fancied the raw look to it. Anthropologie Beaded Necklace
Add a jump ring through one end of the fabric and tie a knot. repeat for the other piece of fabric.
Attach several rings to the jump ring you added to one fabric piece and a necklace clasp to the other.
Now for the main part, fold the ribbon in half and cut at 1 meter length. Fold again and cut at 1 meter length. Tie the two ribbons together forming a loop.
Arrange your beads order and follow the pattern for each set of three beads. Using a needle thread the bead into the ribbon and tie a knot as shown.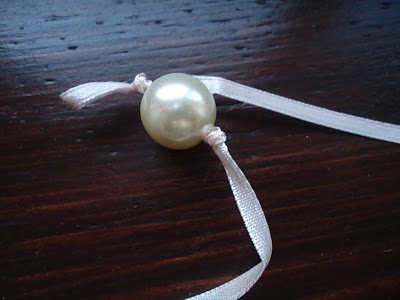 Thread the second bead (do not tie the knot yet). Now thread the third one on the other length of the ribbon and tie knot using both the lengths.
Continue beading following the above pattern till you reach the last bead.

Leave some margin and tie the final knots. Trim the remaining ribbon.
Finally to join the fabric and the ribbon, take the fabric section and feed it through the ribbon loop. Fold it back and sew it together so as to secure the ribbon inside fabric. Do the same on the other side.
Trim and fray stop the edges of the fabric if required. And your done.
Here's how mine turned out!
Put it on and show off.
Beaded necklace
You will also like:
Looking for more great ideas?
Check out tutorials in the category
JEWELRY
.
Are you on pinterest?
These are updated regularly whenever I find unique ideas.