This post may contain affiliate links. Please see our full Disclosure Policy for details.
Do you like Natural remedies or herbal remedies? I love to use home remedies to keep my dry skin healthy. The best part about natural treatment is that it cures your skin without any side effects. Whether you have dry skin, oily skin, acne, blemishes, uneven tone. Natural skin care can cure it.
I have been personally using these natural skin remedies. Since, these recipes are something I have learnt from my family. I find myself in the situation to say used and approved!
The body care natural recipes are the best. If you want your kids to thank you for beautiful skin when they grow up. You must try the first two or a mixture of both. My mother used to make a bottle of the mixture, that would last us all the winter months a year. We used to apply it after bath.
The dry skin recipes I am sharing are my personal favorites. All tried and love the results. My mom has oily skin, and I have seen the oily skin natural recipes working wonders for her. I hope these prove fruitful for you as well.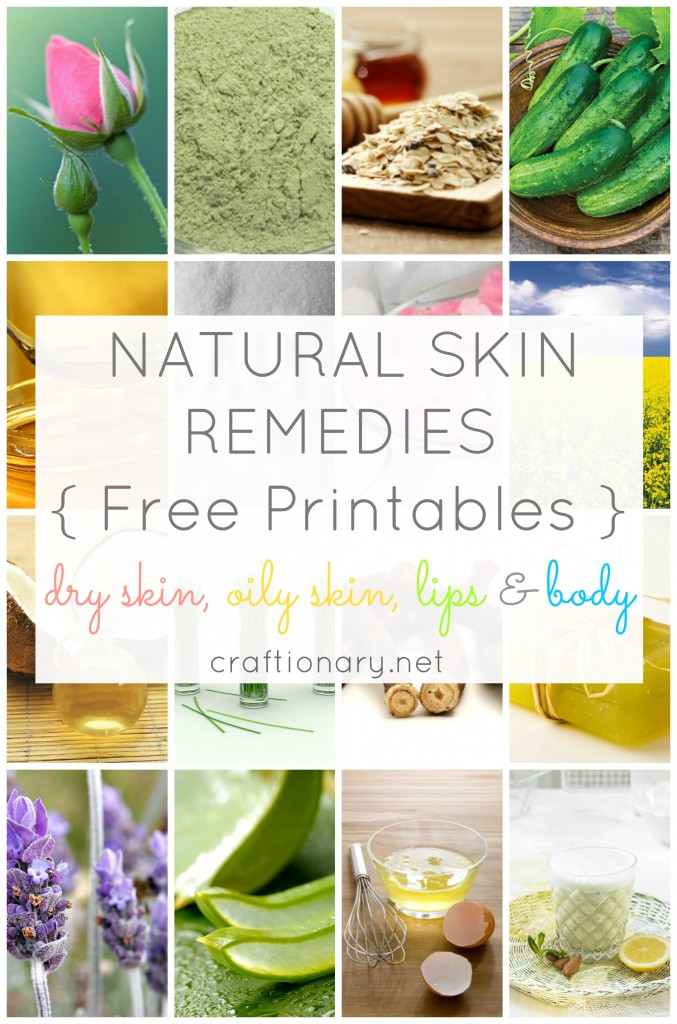 Natural Skin Remedies
You can print individual recipes that meet your needs. Or you can print them all together on a paper.
You can keep them on your reminder board or bathroom. Take them with you on the go. Give them to a friend who needs them. And the list goes on for using these printables.
A printable at hand will help you remember the natural remedies.
The best way to print them is by selecting "Portrait" from the print options when printing.
Cut it and keep your recipes.
Free Printables
All Natural Remedies
Natural and herbal remedies by type:
 A few general notes:
1) There is no specification, but I recommend using the remedies 2-3 times a week for best results.
2) Except for the oily skin remedies. The mud mask works different for everyone. Once a week for starters will be good.
3) I highly recommend using body care for those with dry skin. Especially in winters make a bottle for yourself and your family  Encourage them to use it after bath. Like I said earlier "Your kids will thank you for that".
4) Care for your lips, but hey stop biting your lips first.
You will also like:
Looking for more great ideas?
Check out our category
TIPS
.