DIY best ruler yardsticks ideas has ideas using old rulers and old yardsticks to create useful projects and crafts. Who knew you can be creative with it.
DIY Best Ruler Yardsticks Ideas
Hence, make these extraordinary DIY Projects and Crafts. As I was looking for fun ways to use back to school supplies to make projects I found these ideas. Also these ideas utilize rulers, scales or yardsticks to decorate and organize.
DIY ruler projects
.
Let check out these:
DIY best ruler yardsticks ideas
Decorative Tray
Meter sticks tray
Use meter sticks to turn a tray into a decorative accent! Sometimes gluing some sticks in a frame may look simple but looks beautiful.
Ruler Crate
A genius use of ruler sticks for organization with style.
Yardsticks Clipboards
Back to school Teacher's gift 
Yardsticks clipboards.
Such a wonderful Gift Idea.
Ruler Box Organizer
via the lettered cottage
This one does not come with a tutorial. But it looks fairly easy to make.
Buffet table transformation using yardsticks
via sew dang cute
This Buffet Table has a WOW Factor!
Paint brush holder recycled using ruler
Simple and nice idea!
Cut a yardstick and glue on recycle tin can to keep paint brushes, pens, pencils and more.
Use old meter sticks
Use meter sticks to revamp your staircase via design sponge. I love how the staircase to this office looks! I also like the industrial and creative look of this project.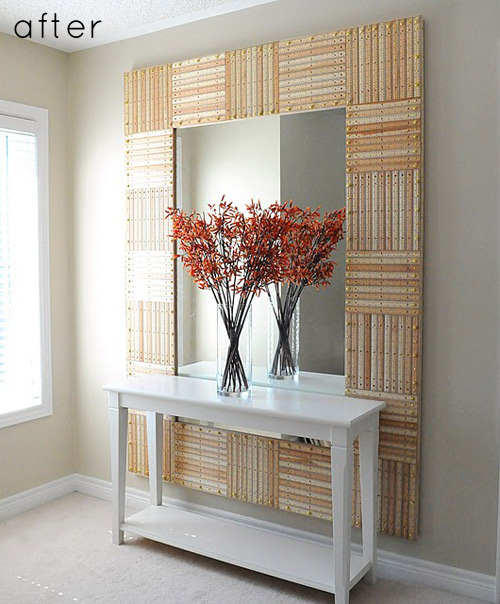 Wall Mirror
(Whistles!) A master piece of it's kind! You may display this at the entrance or living space. Anywhere this gorgeous piece will speak volume!
Ruler Lamp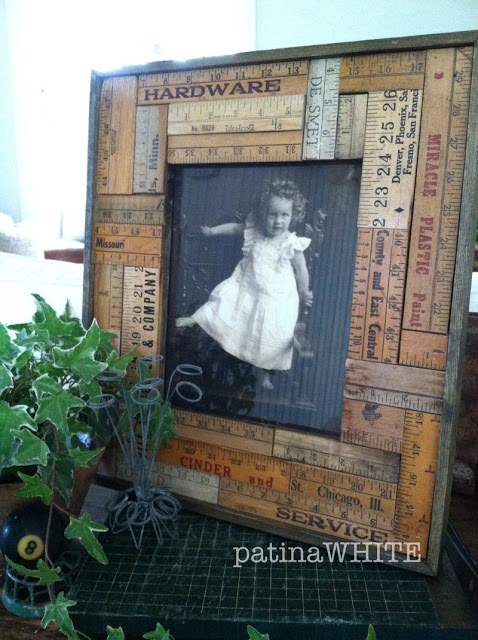 Ruler Frame
DIY Ruler Frame via pinterest. But this c
ute frame can fit in any space.
Yardsticks table
Ruler DIY Side Table via pinterest.
I love the use of ruler on this outdoor table. Matches right on with the chair besides it! Yet for sure. DIY best ruler yardsticks ideas.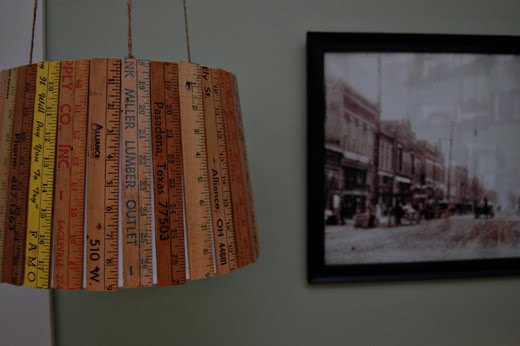 Yardsticks to revamp a lamp
DIY Ruler Hanging Lamp which looks great.

Clip art rail
Beautiful use of yardstick with clothespins to make an art display. Also use it to display important papers and bills. You may also like to display timetables and schedules.
Use as a coat rack
DIY Vintage Ruler Coat Rack.
Simply screw on a few hooks and knobs of your choice! You may also hang kitchen accessories or bathroom accessories in respective spaces.
Wreath
Love this idea for back to school projects. Hence, this can be great for a teacher or class project as well.
Mini Shelf
Make a small shelf using yardstick or ruler scale. Also you can use it to hold small items like these sewing accessories.
Ruler Photo Display- Organizer
Glue sides of rulers. Use it to display papers and holiday cards. You may also use it to display photos. Genius!
Another beautiful yardstick table.
Ruler Table
I am excited to make DIY Ruler or Yardstick projects at home. Also because these DIY best ruler yardsticks ideas have inspired me. What about you? Which one do you like the most?
Some of the links no longer exist and therefore they have been removed.
 You may also like:
15 DIY Color Block Projects
25 Decorative pillow tutorials
20 Wind chime tutorials
Looking for more great ideas?
Also check out tutorials in the category
ORGANIZE
.
Are you on pinterest?
These are updated regularly whenever I find unique ideas.
.