Baby food jars crafts { Recycle Coin banks}  I love random discoveries especially when they are useful  I had been thinking about two things at the same time  I wanted to do something with the baby food jars  And wanted to keep coins safe (away from my son  So, just by default this is what I made
The Coin Banks out of the baby food jars 
Isn't that fun! I am so happy with this project  You can also use these jars to keep scrapbook embellishments, buttons and small craft supplies organized and labeled
What I actually did is made these Coin banks  To systemically collect coins in jars and write the total amount on the chalkboard painted labels  A great way to collect zakat (donation at the end of month) and make it a habit
It can also be used to teach kids 
1) Difference among coins
2) Math
3) Develop early saving habits
Coin banks
To make these:
THINGS YOU'LL NEED:
Baby food jars
Chalkboard Paint
$1 Candle Air Tight Lids
Ribbon (for decorating)
Glue and paint brush
Baby food jars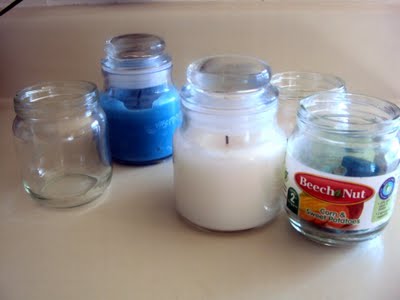 Simply remove the stickers from the baby food jars  Wash them thoroughly to remove any stickiness  And paint 2-3 coats of chalkboard paint  Use decorative ribbon to make the jars look cool!
Chalkboard paint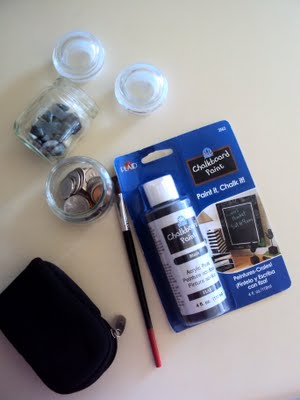 Just in a few seconds you have your very own Coin banks recycled from trash
Baby food jar crafts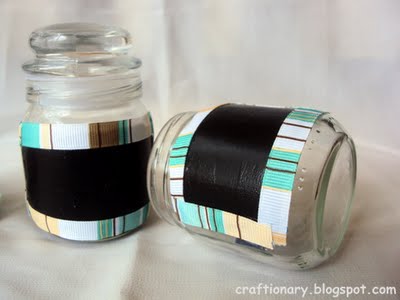 Now all you have to do is chalk them and enjoy writing and collecting
Organizing with jars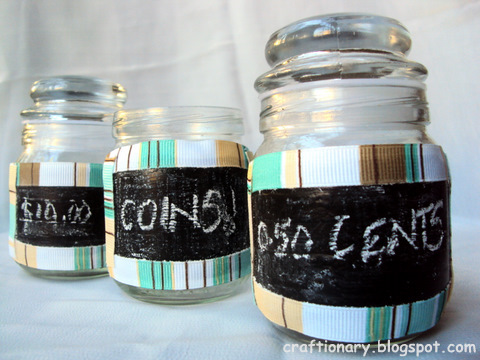 I am writing this project in advance  I think I'll be busy packing my bags and looking forward to meeting my parents soon
Did you check out my Dollar store chalkboard tutorial, made with foam boards!
You will also like:
15 Chalkboard ideas
Gardening with kids
Printing on Fabric
Looking for more great ideas?
Check out tutorials in the category
ORGANIZE
Are you on pinterest?
These are updated regularly whenever I find unique ideas