This post may contain affiliate links. Please see our full Disclosure Policy for details.
Decoupage mothers day canvas with painted quotations. Make a special decorative canvas just for your mom. A handmade gift idea using paints.
I love to celebrate Mother's Day. It's like doing something for the best person in your life. I made a Mothers day canvas for my mom. Actually, I was thinking of sending her a greeting card (may be online) as we live in two different corners of the world. But then I thought of making this decoupage canvas for her and mailing it to her. I think she will love this surprise!
Paint and Decoupage Mothers Day Canvas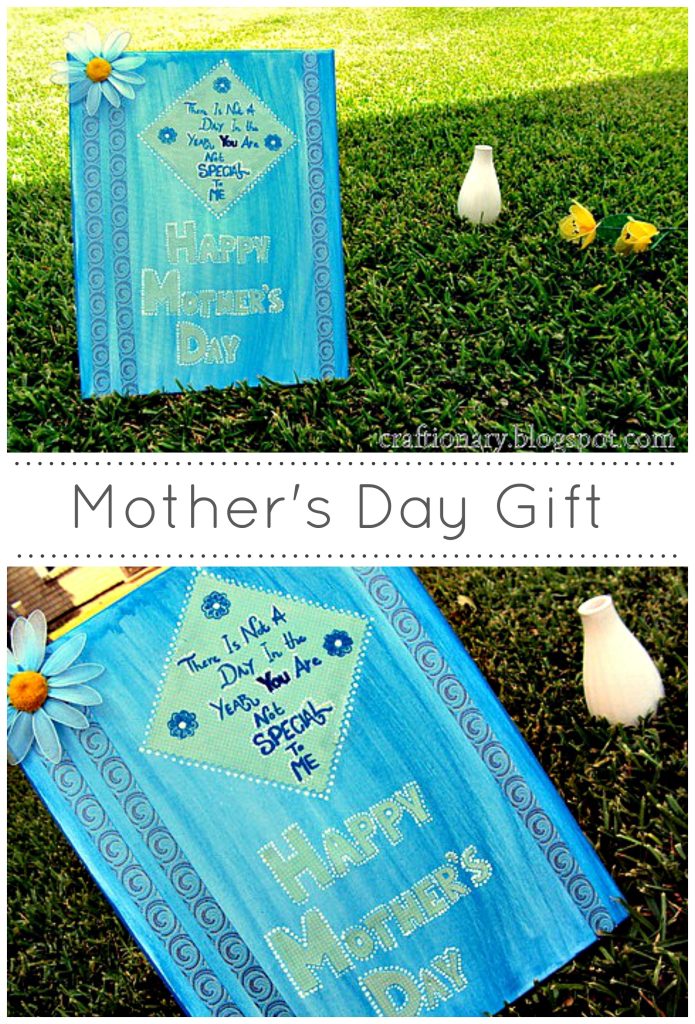 "If you are running out of time. You can also make Your Mom feel special with Canvas Prints.

A beautiful way to live Moments and make wonderful Memories."
For making this project,
YOU WILL NEED:
This is a very easy project. You will need some acrylic paints, paper, mod podge and ribbon of your choice.
MAKE IT:
Start by painting the canvas.
I have painted the sides and shaded the front using denim blue acrylic paint.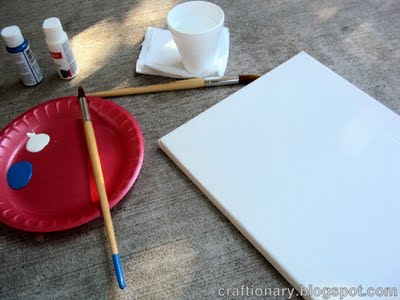 How to paint with acrylic paints?
To get the shaded effect. Simply spray water on the canvas or use water to make some water strokes.
Then take the denim blue color and brush strokes horizontally. Spray some water over the canvas if required. Brush in one direction. Leave it to dry. I painted the sides dark without shading.

If you would like the words to stand out, I suggest painting the canvas dark. Or use bright paper on light background.
(I made the mistake of going light on the light background).
For decoupage, you will need some ribbon and paper of your choice.
Mothers day canvas
If you have silhouette you can cut these with vinyl. Or use decorative fonts for cutting your letters on paper.
I traced the words Happy Mother's Day on the paper. And cut them out with the help of the knife.
Arrange them on the canvas to see how they look. Next cut a diamond shape using the wavy scissors.
Use paint brush to write you message on the paper.
I used size 1 paint brush and stamped some flowers on the sides. Let it dry.
You can use glitter pens, stickers and so much more for writing your quote.
Now coat the letters with mod podge and stick them on the canvas.
Let it dry.
Now mod podge the paper with the message and ribbon on the sides too.
It is easier to apply mod podge on the canvas and stick the ribbon over it.
When it dries. Seal the entire surface by applying a coat of mod podge over the canvas.
The mod podge dries clear.
(For tips and complete instructions see decoupage organizer ).
When all this is done, glue daisy flower on the canvas.
Make this daisy flower with nylon.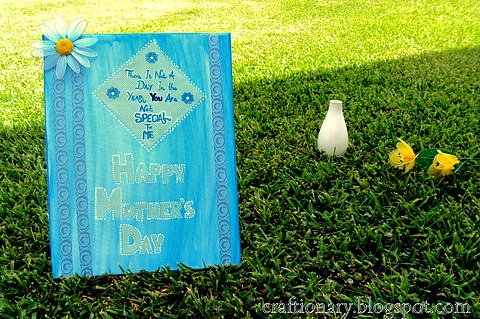 Finally, paint some white dots to highlight and outline the letters.
This step really adds some additional zing to the canvas.
And your done! The final project looks like this.
I hope my mother loves the canvas. I think it will look nice in her bedroom.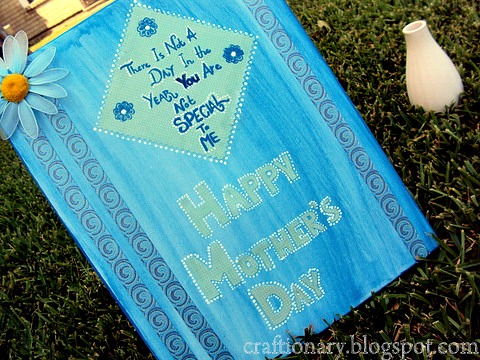 "Happy Mother's Day"
to all mommies.
 You will also like:
Looking for more great ideas to Recycle?
Are you on pinterest?
You will also enjoy the Mothers day and DIY Jewelry Boards.
These are updated regularly whenever I find unique ideas.