This post may contain affiliate links. Please see our full Disclosure Policy for details.
Make colorful yarn rosettes and use beads to make rosettes necklace that turns into a yarn bracelet and yarn brooch with ribbon and backing.Make a DIY rosettes necklace with yarn rosettes. Today's tutorial is about a yarn rosettes necklace which can also turn into a bracelet and a brooch per your liking.
With this tutorial you can create a piece of jewelry which can be worn in three different ways. Depending on your dress, occasion and mood you can change the look.
DIY Yarn rosettes necklace
I made it in colorful yarn rosettes for summer. It looks nice when worn on neutral clothes. And adds some bright colors to the attire.
Summer is here! Are you ready to have fun and party? So, Am I. I made this rosettes necklace that can also be worn as a bracelet and also as a brooch. It looks cool in all the ways I wear it. Which way do you think I should wear it the most?
DIY Necklace tutorial
Yarn rosettes tutorial
Yarn rosettes
Beads
Thread and needle
Felt
Ribbon
 MAKE IT:
Once you are satisfied with the arrangement of the rosettes and beads, sew them on a piece of felt. Glue another piece of felt over to hide the stitches. This gives it the neatness we want.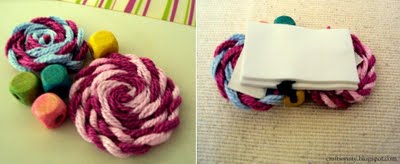 I bought these white beads bracelet and ribbon from Michael's. (1) Thread the white beads on both sides of the flowers. (2) (3) I wanted the flowers to hang on the left side near my shoulder so I made one side shorter and the other side longer. To make the ruffles, make running stitch into the ribbon using your needle. (4) Keep going until you get the desired length.
Thread a knot at the end and leave some extra ribbon for tying around the neck
Glue and cover the back of the felt with ribbon to match the necklace. The white felt on the back was looking ugly.
The ruffled rosettes necklace is complete. Enjoy wearing it on neutrals to brighten it up or
"go happy go lucky" with the chic necklace on trendy colors.
A close-up look of the rosettes necklace.
DIY Rosettes Brooch
Use as a bag brooch to add that extra zing to the look.
Just glue a safety pin on the back of the rosettes.
DIY Rosettes Bracelet
Wrap the ruffles around your wrist for a fun and flirty rosettes bracelet or rosettes wrap.
Have Fun!
What I made last week?
DIY Yarn Rosettes
Looking for more great ideas?
Check out tutorials in the category JEWELRY.
Are you on pinterest?
You will also enjoy the Jewelry and Jewelry Organizers Boards.
These are updated regularly whenever I find unique ideas.