This post may contain affiliate links. Please see our full Disclosure Policy for details.
Have you ever wanted to make tepee for your kids at home? Ever got confused what to do, since the tepees at store are quiet pricey!
And you are not sure about your sewing a teepee. As the triangles, giant poles and accuracy really freak you out. Moreover, you are unsure if you will successfully make tepee after spending lots of time on it too.
Don't worry Ashley shares this amazing tutorial to make tepee which does not require sewing.
Teepee or tipi are all acceptable terms referring to the same thing.
Make tepee (No Sew DIY Tepee)
The tepee she made is 7 inches high and 6 inches wide. She started by using wood pieces that will make the poles. And drilled holes a foot down. Then used jute to string and secure the wood poles together.
Once this was done, she started using strips of cloth. Gluing them on the wood in the start. And then wrapping them back and forth on the poles as she continued. She also used glue to secure the fabric strips.
(You can also use a big clip to secure it in place)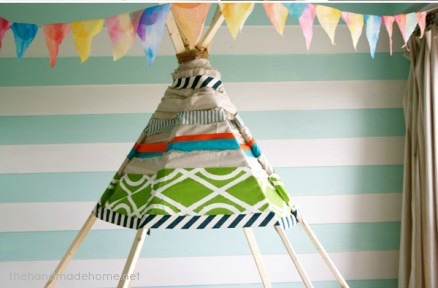 Instructions to make tepee
Now isn't that a wonderful DIY tepee for your kids.
Check out the details to no sew teepee by Ashley on her blog.
I love her DIY projects and ideas. She is simply awesome! While you are there check out her home.  : )
(p s if you haven't already!)
 You will also like:
Color Wheel
Kids Sports Theme Party (& 11 Party Games)
Angry birds games
Looking for more great ideas for Kids?
Check out tutorials in the category
KIDS.
Are you on pinterest?
These are updated regularly whenever I find unique ideas.