This post may contain affiliate links. Please see our full Disclosure Policy for details.
Refashion white shoes into beautiful lace DIY shoes. All you need is a favorite lace of yours to turn ordinary shoes into fabulous. Make DIY refashion white shoes with lace. I love the way white looks almost perfect with everything and in every way. I wanted to refashion my white shoes but wanted them to look decent and fancy at the same time. So, I covered the shoes with white lace and added a beaded embellishment at the center.
Here's what I came up with:

DIY Refashion White Shoes
To refashion these simple flat shoes: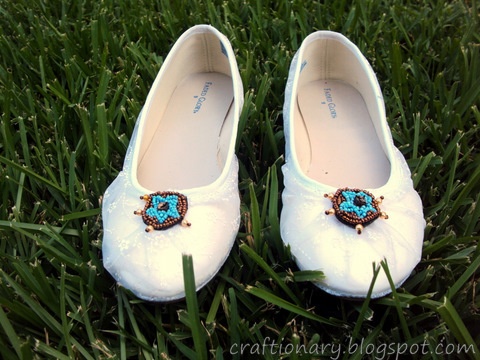 Refashion white shoes
Supplies you will need to refashion shoes:
White wired lace
Scissors
Thread and leather needle
Super glue (I used Krazy Glue)
A pair of white shoes
Beaded embellishments (Turquoise beads)
Refashion white shoes
Tutorial to make DIY refashion shoes:
I used this pair of white shoes to work with for this project.
I started by using super glue (I used Krazy Glue), to stick the white lace on the shoes.
Make sure to use only the tips of your nails to hold and glue the lace in place. This way when your done, you can file your nails and you do not have to bear with the rough gluey feeling for the next 2 days.
Also rub your hands with oil if the glue accidentally comes in contact with your skin. It will help remove the glue quickly when you wash your hands and peel it off.
I glued the lace at the bottom of the shoe first and then secured it at the top.
You will have to work fast and in small intervals to glue the lace, as the super glue dries very quickly.
A lace wide enough to cover the back of the shoe is perfect for covering the entire shoe.
 When gluing the lace, just focus on gluing the lace neatly on the shoe's seam and the ruffles will form by themselves.
When your finished all way round. Cut the lace and fold the rough side inside. And glue it in a way that it overlaps the starting point (in this case, back of the shoe) and gives the shoe a neat look.
(If you like you can also thread the lace, I however think that super glue works great).
DIY Lace Shoes
Now fold and glue the lace that will puff between the top and bottom of the shoe (after gluing the sides), to give it a cute and decent look.
Now your done with the sticky part.
I had this old outcast pair of slippers, that I found potential in for these shoes.
I cut and remove the beaded turquoise embellishment from the slippers.
And used a leather needle (it is easier to stitch using the leather needle, as it is intended for thick surfaces) to stitch the turquoise embellishment in place.
 Stitch on the four sides and then take 2 more stitches to make sure it is nice and secure.
Knot it twice to tighten it in place.
 And there you have it!
Refashion white shoes with lace.
For more shoe refashions check out my Pinterest Board
DIY Shoes
.
I keep updating it with new and great shoe tutorials.
You will also like:
Looking for more great ideas for Ladies?
Check out a great variety of random ideas in the category all about
LADIES
.