This post may contain affiliate links. Please see our full Disclosure Policy for details.
How to make nylon flower tulips? In this tutorial I am sharing step-by-step instructions for making DIY nylon tulips. I personally love this flower, and especially enjoy going to the tulips festival in Toronto every spring. It's beautiful. Fresh tulips look beautiful in flower vases inside home. But they don't last forever! So I decided to make these cute tulip flowers with nylon/ stocking net.
DIY nylon flower tulips
TULIP is a bulb plant belonging to the lily family, mostly spring-blooming, with long, broad, pointed leaves and usually a single large, cup-shaped variously colored flower.
THINGS YOU NEED:
Ring size 5 and 6
White, yellow and purple stocking net
Floral tape
Nylon thread
Stem wire
Wire
Plier
Paper tape
All purpose school glue/ glue stick
For complete nylon material information see NYLON MATERIAL.
Nylon flower tulips tutorial
GET CRAFTY:
Make 3 large petals with ring size (6) and 3 small petals with ring size (5). Stretch the petals to oval shape.
Fold 3 black stamens in half and 1 yellow stamen in the middle but a bit higher than the black stamen and thread them.
Now thread large petals upside down as shown below and then thread the small petals over and between each two large petals. Follow the instructions for making petals and assembling the flower in the post Basic Nylon Flower.
To hide the wire ends of the petals wrap paper tape and then glue a piece of stocking net of the same color, over it and let it dry. I used craft glue as well as glue stick to cover the wires and found glue stick neater, cleaner and easier to use.
Now fold the petals upward and shape it like a tulip (you can also use colored floral tape to hide it but this technique looks more neat and you don't land up buying floral tape in every color).
Your tulip is complete. Though it looks easy but you will have to practice this flower to make a perfect one finally.
Tulips look wonderful in any room and any way. Either in bunches or just a few they had happiness everywhere. Make tulips in different colors.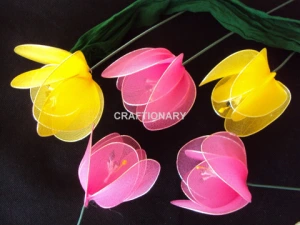 Tulips are simply incomplete without leaves. Make 5 ring size (8) dark green leaves and 4 ring size (7) grass green leaves. Join the leaves to the flowers using floral tape and arrange in a beautiful vase.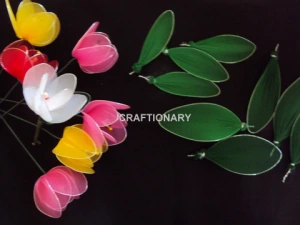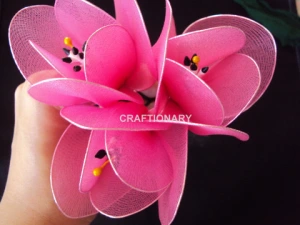 For more tutorials on how to make nylon flowers?
Check out the link below:
More Tutorials On Nylon Flowers
You will also like:
Bendable burlap flowers
Corn husk flower
Make nylon lilies (tutorial)
Looking for more great ideas?
Check out our category FLOWERS.
Are you on pinterest?
You may also enjoy the Handmade Flowers and Lovely Projects Boards.
Updated regularly whenever I find unique ideas.