This post may contain affiliate links. Please see our full Disclosure Policy for details.
Make a hanging organizer from spinning tops. A DIY organization project for small spaces to utilize walls into organization in kids bedroom.
I am sharing a very easy hanging organizer today! I made this colorful hanging organizer from spinning tops for my boys bedroom. And I am very happy with how it came out. I think hanging organization ideas are good for small spaces, and also rental properties. You can utilize the wall into organizing small things. And kids have lots of small things that need to be placed in an orderly system. A systematic placement not only makes it easily approachable. But also teaches kids to stay organized, careful and mess free!
I had initially made the hanging organizer to teach my son to hang his clothes in the closet by himself. But since it looks so beautiful, I decided to use it in the kid's bedroom. I hung it over his working space, and plan to hang some woven baskets. Those baskets can hold lots of things he likes to use. But for now we are only hanging toys on it.
Before I share the tutorial to make this DIY project, let's see what it looks like:
DIY Hanging Organizer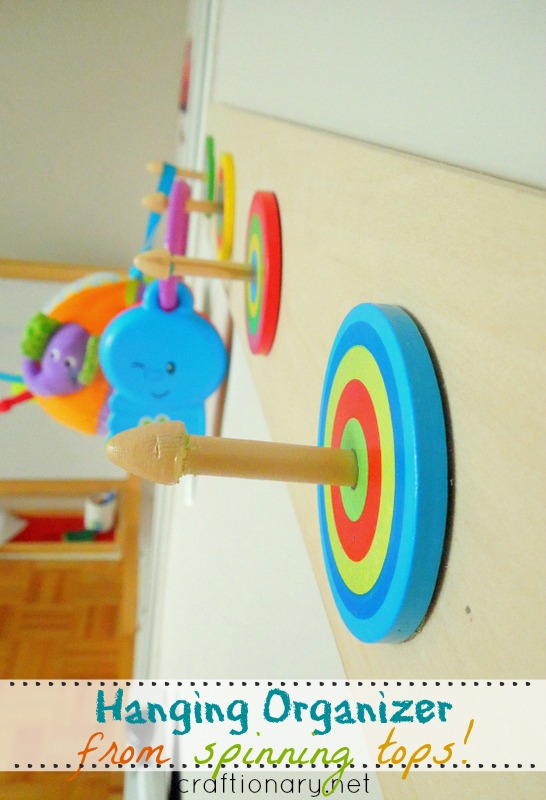 I love how it matches the boys bedroom theme perfectly.
Polka dots and colorful!
It also resembles the board from the bow and arrow game.
Let's get to the tutorial.
You will need:
Wooden plank (I bought mine at Michaels)
Spinning tops (I found these at Target)
Wood glue (I am using gorilla glue)
Super glue
Plier
Measuring tape and pencil
With the help of a plier, I loosened up and removed the glued part of the spinning tops.
Then I measured the wooden plank and marked four equally spaced spots.
I then glued the discs onto the plank using wood glue.
And used super glue to fix the spinning part of the top, upside down. I used super glue instead of wood glue for this purpose, because you need to hold the spinner for a while till it fixes in its place. And super glue takes less time.
That's about it all.
Now just let it dry overnight. And you are done!
Kids Bedroom/ Playroom Organization
I am loving it. And so is my four-year old.
My brand new baby doesn't know where his toys are hanging as yet! He'll soon learn to notice it. And I think he will love it too. 🙂
I am almost done with the boys bedroom in our apartment. It was quiet a challenge to decorate and organize this small bedroom.
I am glad that my boys stay happy and busy there!
Till next time!
xoxo
You will also like:
Looking for more great ideas?
Are you on pinterest?
These are updated regularly whenever I find unique ideas.