DIY Geometric Paintings Canvas Art.

I have been wanting to create a gallery wall for my dining room. But with baby no.2 we don't have any family pictures that were worth putting on the canvas. So I decided to put that project on hold till his first birthday.
I found some blank canvases lying in my crafts store since we moved from Houston. And I wanted to put it to use. So I came up with the idea to paint them abstract.
And from there starts the story to make geometric paintings.
Before I get started let's have a look at the final product.
DIY Geometric Paintings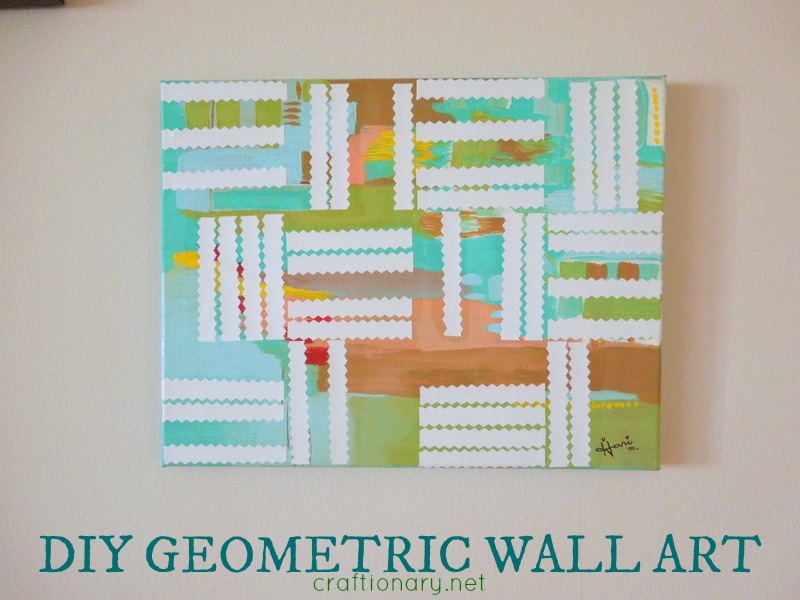 Geometric Paintings Gallery Wall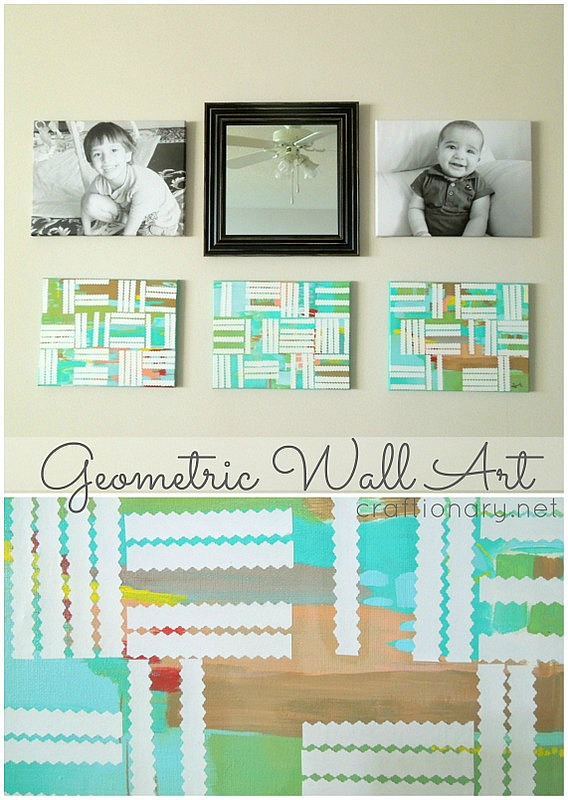 I'm always in search of constructive ideas to keep my son from watching tv in summer vacations.
And one of those days I painted the canvases. And gave him a paper to paint on along with me.
Here's what he came up with:
Creating Wall Art with Kid's Artwork
I thought that piece of artwork was fantastic. I framed and hung it in our living room.
While on the other hand, my vision for the abstract painting failed big time!
Acrylic painting on canvas fail
It was looking way to dull on the walls. So, instead of choosing shades of the dominating color in the room.
I decided to work with the accent colors I have in this room. Which I'll be sharing later on!
And I came up with this:
Acrylic Painting on canvas
(Not quiet convincing still!)
And then I thought about various ideas for days.
From using vinyl to shadow boxes… From writing quotes to decoupaging photos…
From using patterns like honeycomb to herringbone…
Honestly, what not!
Just then…
Behold my geometric painting wall art "Pattern".
 Who would have thought I'll find inspiration at foot!
I then did the simplest thing ever to settle the canvas to match my space.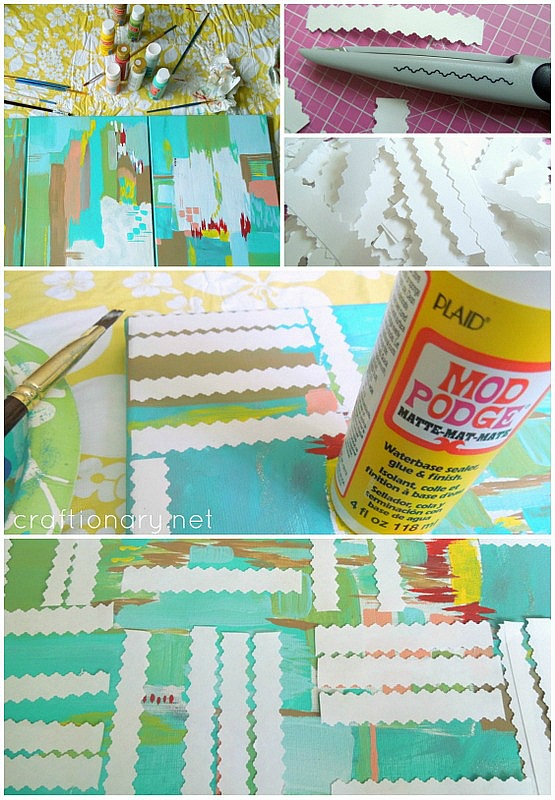 Geometric Paintings Tutorial
I measured and divided the canvas into a square grid. And I found that it comprises of twelve 3″ x 3″ squares.
I then cut two 12″ x 12″ sketch papers into 1″ wide and 3″ long strips using decorative edge scissors.
Next I placed the strips on the canvas. Moving them around and putting them where ever they look best. And I came up with a pattern/ design.
Finally with the help of mod podge I decoupaged the strips on the canvas.
I brushed a coat of mod podge on the top to seal the paper on the canvas as well.
And that's about it all.
The canvas went from:
Dull to Bright to Balanced.
And I also added my kids photos to balance it out.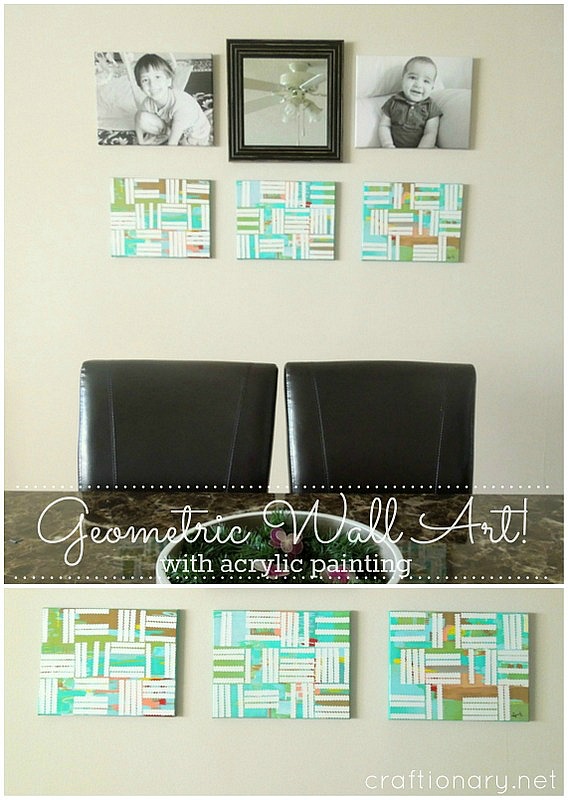 I love the way it looks!
What do you think?
You May Also Like: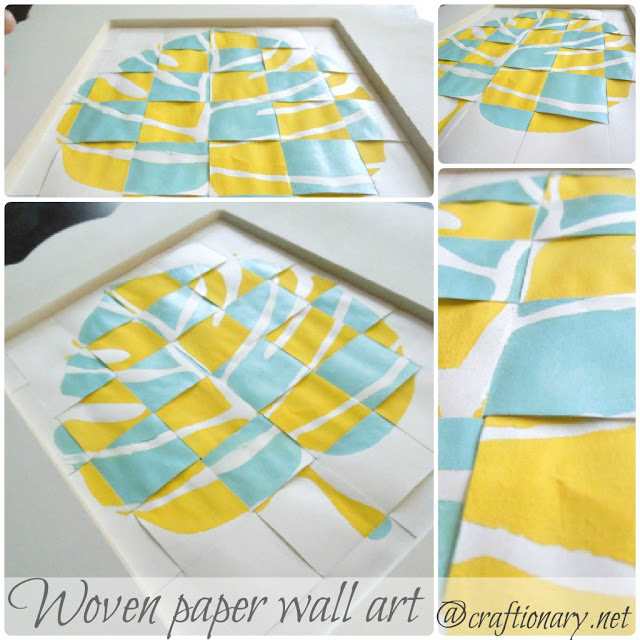 Woven Paper Wall Art

Easy World Map Tutorial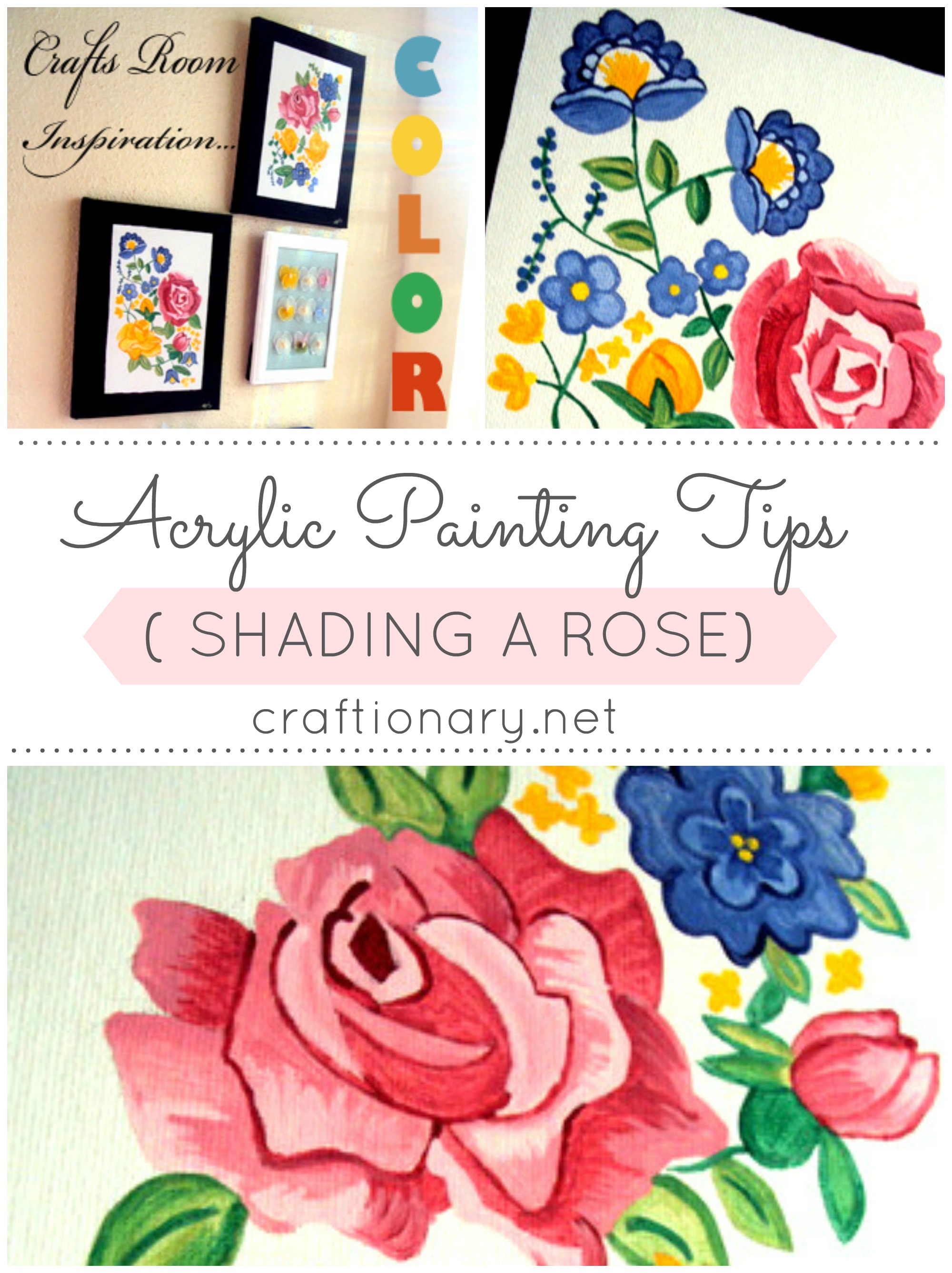 Acrylic painting tips
Are you on pinterest?
Updated regularly whenever I find unique ideas.