This post may contain affiliate links. Please see our full Disclosure Policy for details.
Easy flower pot mothers day gift idea and free printable. Do you know why Mother's Day comes in May? Because it's the Month of Love, Beauty and everyone is super excited celebrating SPRING.
I am sharing an Easy flower pot Mothers day with free printable.
.

Easy Flower Pot Mothers day gift idea

This Year I wanting to give my Mother the Everlasting gift of potted bulb flowers. Something that lasts forever and make her heart blossom whenever she waters it and sees it's beauty.
What's more prettier than Daffodils? the yellow color of this flower is so Happy, Friendly and Loving.
I wanted to present this beautiful pot to her in a special way so I fancied and printed a quote, I loved about Mother and that matches the flower pot as well.
You can find this free printable at Mothers day quote free printable.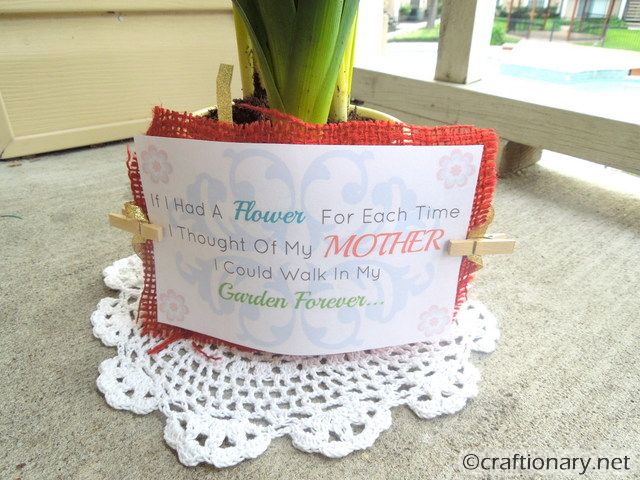 Easy flower pot Mothers day
So, lets get started with the process. Daffodils are the most common bulb flowers to find just around everywhere during Spring.
So, I bought these beautiful Yellow Daffodils and potted them into a beautiful yellow pot to make it look all lovely and wonderful.
Next I printed my Mother's Day quote and glued it over a piece of burlap, with the help of clothespin I hung the quote and bowed it at the back of the pot.
(You can also make a banner of this quote and place it inside the pot and make a bow of ribbon around the pot, it will look cute if you have a bigger pot).
Finally when I was done, it looked amazing.
Easy flower pot Mothers day
I gifted it to my Mom and she was so happy to have it. It was a surprise gift for her and that look on her face was priceless. I am so glad I gifted her flowers this Mother's Day, it speaks for itself. Give the gift of love his spring to your loved ones on Easter and Mother's Days and feel good about it, find some really good tips, ideas and more stuff about potted bulbs by clicking on the link.
The potted bulbs found a beautiful place with colorful friends where it will stay for quite a long time.
To the best person in my life. This post brought to you by iBulb. All opinions are 100% mine.
"Happy Mother's Day"
You hold the key to my heart with printable template
 You will also like:
DIY Plant gift ideas
Handmade Special Gift Ideas for Mom
Handmade Gift Ideas (Special Edition for Her)
25 Best Mothers Day Printables
Best Mothers Day Free Printables
Looking for more great ideas to Recycle?
Are you on pinterest?
You will also enjoy theMothers day and DIY Jewelry Boards.
These are updated regularly whenever I find unique ideas.