This post may contain affiliate links. Please see our full Disclosure Policy for details.
Find cottage style decor ideas inspired by cottage house and country cottage homes to bring cottagecore decorating ideas and cottage interior design.
This September on the Labor Day weekend, we decided to go for a Lakeside Country Cottage house weekend getaway with our family. It was a last minute plan, but I cannot believe our luck because the country cottage decor in this Airbnb property was just perfect for someone who admires creativity and personal touches in a space.
Inspired by the aesthetics and feel of this Lakeside cottage interior design, I took pictures and want to share what I think are the most welcoming cottage style decor ideas that attract guest to your Airbnb to visit more than once. It also helps to spread via word of mouth in their circle.
I will share cottage style decor ideas that make the space feel less city-like and more like lakeside cottage house. A cozy cottage with vintage fireplace and cottage style homes must haves like the things that make the space feel more natural in it's environment.
Moreover, the welcoming touches like activities and entertainment made available to your guests readily for them to have a good time with family and friends during the days and nights they are staying at your Airbnb cottage property.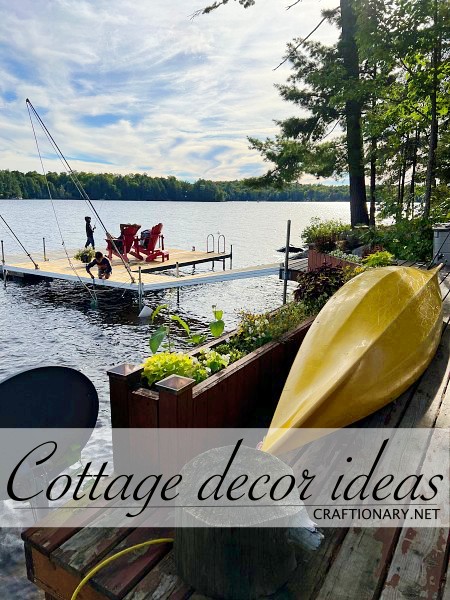 Let's get digging into the cottage core aesthetic ideas without further a due.
Cottage style decor
I have tried to organize these ideas for convenience into cottage wall art decor, cottage interior design and cottage exterior ideas. Some artistic pieces are irrespective of space and are shared as cottage decorating ideas. You will also find some well thought cottage home activities for a weekend getaway ideas.
Cottage house decorating ideas
Cottage house ideas that are unique and extraordinary for cottage home decor and cottage style ideas.
DIY Ski Hanger
Old skis used as hangers in the dining lounge which has windows all around to give a greenhouse feel. This adds to the cottage exterior decor along with usefulness.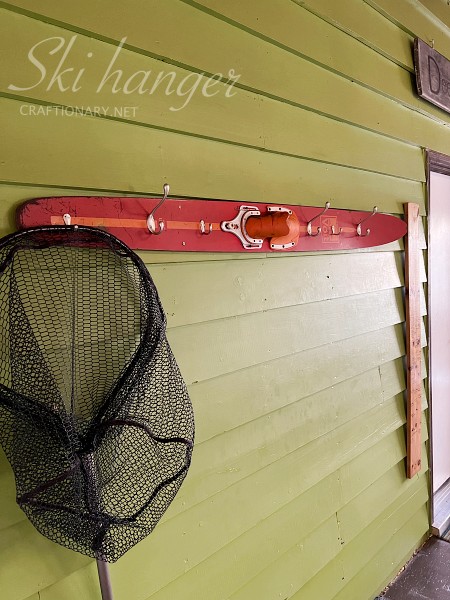 Hang fishing rods, net, life jackets in summer or snow jackets and snow pants in winter.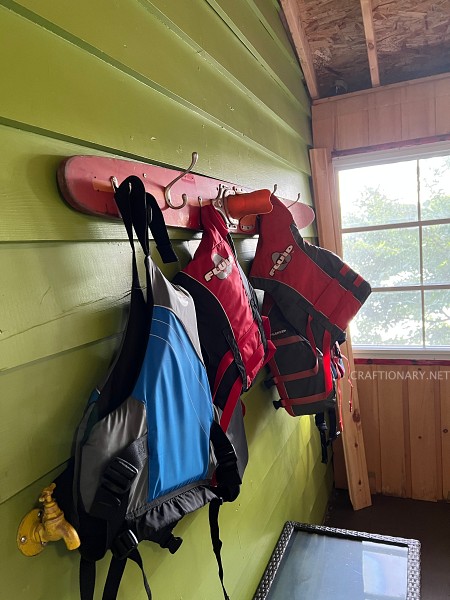 Repurpose vintage faucet as hanger.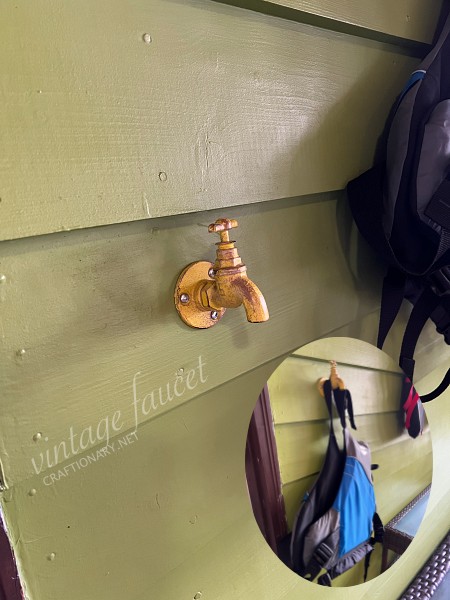 Reuse Kayak Paddles
Painted wood kayak paddles as cottage style decor in the greenhouse space using screw eye and hook. The raw wood panels add to the rustic feel of the cottage.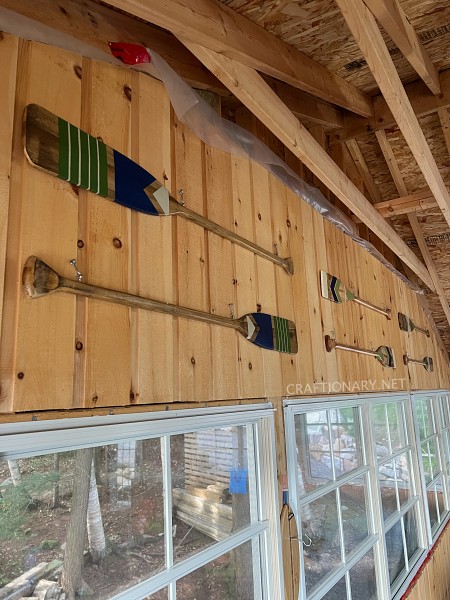 Message board
Use acrylic photo frames from dollar store to leave messages for your guests.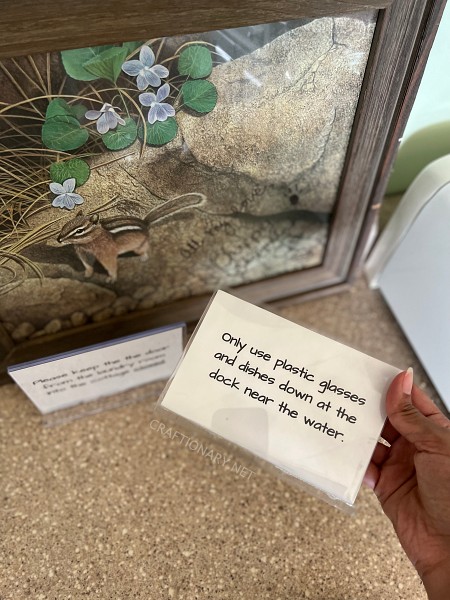 Ratings and review journal
Who loves to write in a journal with pencils in today's era? Well I do! Bang on the best element was a journal with reviews from guests. It was heartfelt reading other people's reviews and leaving our own for a imprint that is not on a website but uniquely located available for visitors only.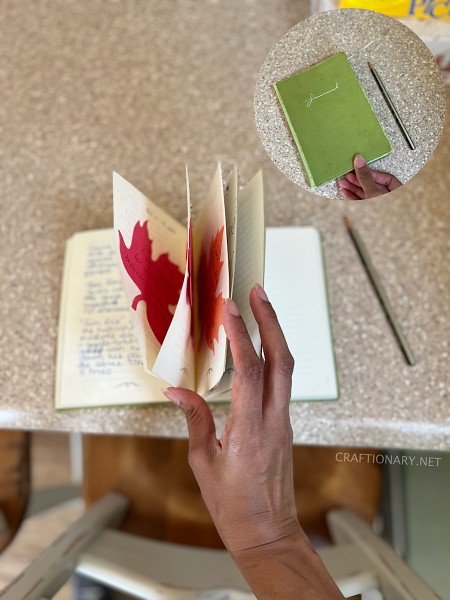 Cottage decor ideas
These cottage wall decor ideas are amazing. You would want to try these for your own.
Cozy cottage style map wall art. This map is of the area in which this cottage is situated. Here's a fun world map I made for my home in 10 minutes.
Personal touches in a cottage house with a welcoming message written on a framed chipmunk photograph on site.
Summer vacation subway canvas art.
Cottage life rock art on a background picture of the lake. Find more Rock painting ideas with pebbles and stones.
Stencil lake art. This can also be produced by tracing the lake outline and painting on a wood plank.
I love this wooden board hanging at the entrance of the cottage house. It is signed by people who have visited with year of visit.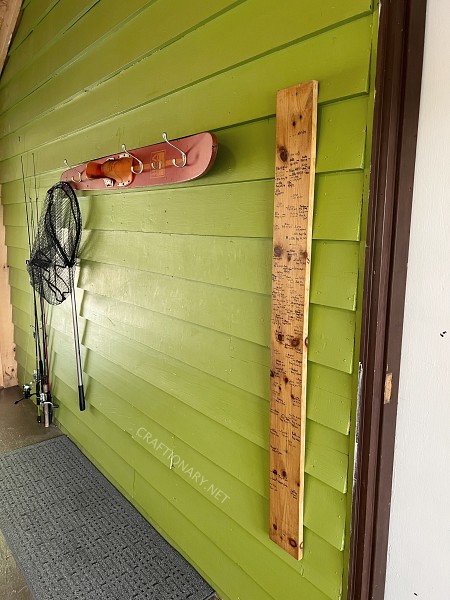 Coastal interior decor canvas art of sand beaches.
Country cottage decor wall art. Stained wood board with stencil painted message.
If the fish don't bite the mosquitoes will!
Cottage paintings of lakeside view from the woods.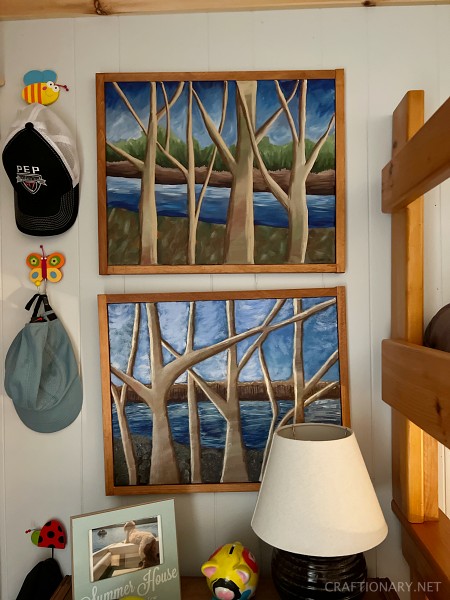 Cottage House Interior Design
The rustic cottage style and vintage vibes in the country style homes touch my soul. I can sit and admire these features for a long time. If you can relate you would appreciate these ideas in the cottage style interior decor.
Cottage Living Room Ideas
Modern country cottage living room ideas with rustic fireplace and cozy english furniture fabric. Old fireplace feature in the corner of the room with vintage fabric upholstery on the love seat and sofas. The pallet wall makes the cottage feel deep in the woods. There are pallet wallpapers too but it doesn't have the same feeling.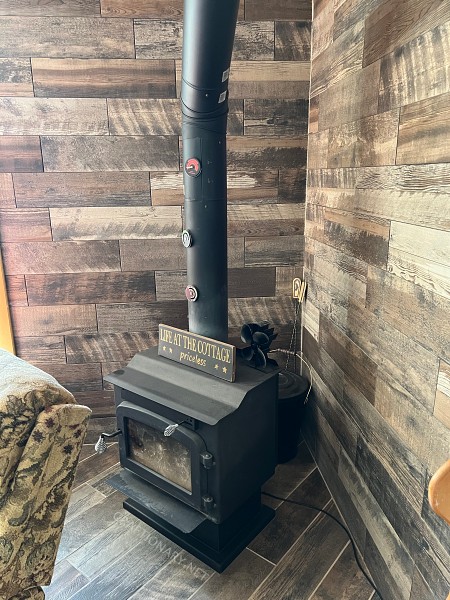 Beadboard wall paneling or wainscotting with planks, boards and panels or shiplap walls. Shiplap ceilings were a popular trend a while ago. The breezy blue and raw wood color with stain makes the room look versatile and fresh. Use of bookshelve with rattan baskets or wooden bins compliments the decor. Find more ideas to DIY bins.
Find natural elements and letters to spell 'The Cottage' or family name in the neighborhood for a wall art.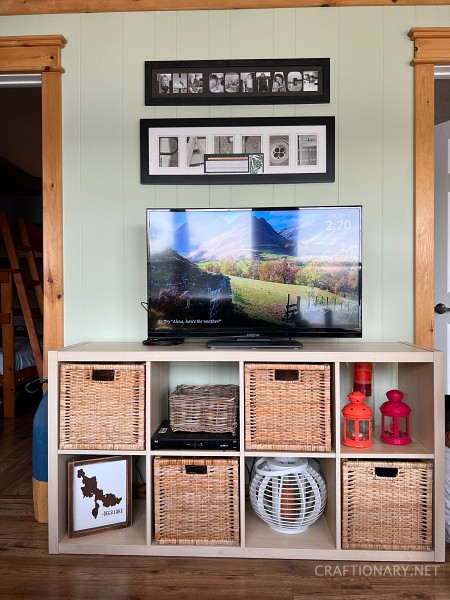 Cottage Kitchen Ideas
Bring English cottage kitchen vibes that are rustic, old and french yet modern. Open shelves with industrial pipes and wood planks. The use of cottage pottery and subtle use of colors and natural tones. Find ideas for styling bookshelves and bookcases the way you like it.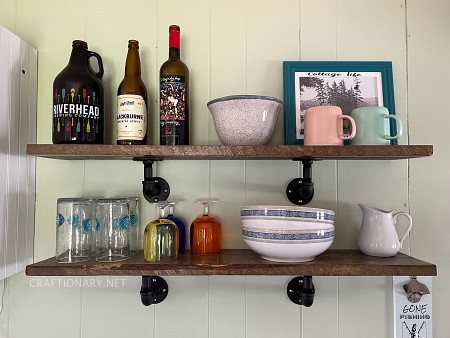 A rustic birdhouse on top of the stove in the kitchen and some ideas to make birdhouses for garden.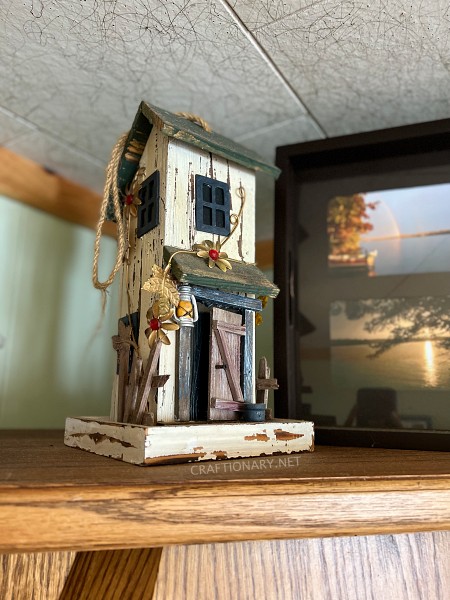 Customized charcuterie board symbolizing the Deer Lake.
Big Mouth Billy Bass frame that symbolizes the most common fish in the area. These cottage decor touches gave answers to all our questions during the visit.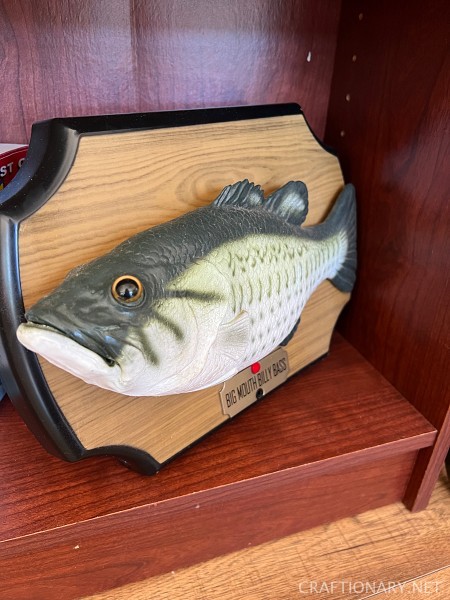 Nothing beats the feeling of catching fish and cooking it fresh to enjoy with your family and friends.
Cottage home ideas
A distressed study table with vintage gas lamp. Fishing and boat equipment organized in an easy to locate space.
A vintage gas lamp and walkie talkies to go around the area and have fun. City maps and other information guides for the area at our dispense.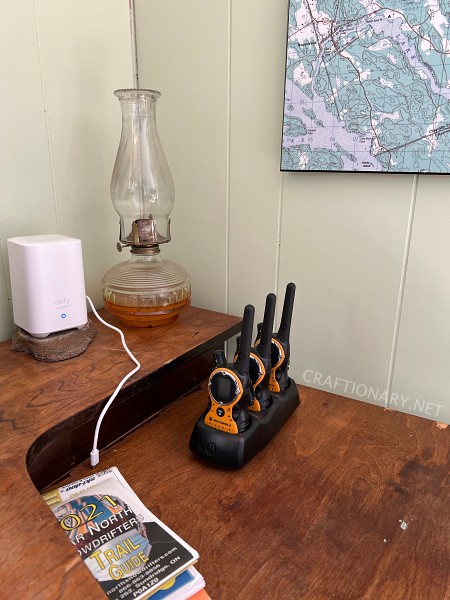 Love the entryway sign stating 'It's 5 O'Clock Somewhere'. The coat hanging board with hooks and waterproof phone covers. Would you appreciate the thought?
Exterior Cottage Style Decor
Let's look at the exterior of the cottage. The view of the lake from the living room windows overlooking the dock. Comfortable dock chairs and kayaks to canoe and paddle board in the lake water. The view looks almost like a vintage camera photograph.
The cottage garden ideas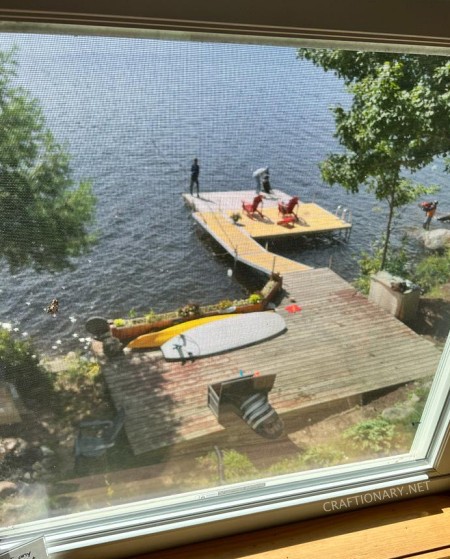 The wood planter boxes on the side of the dock add to the landscape as well as safety near the lake with young children around. I love the natural use of tree stumps as stools.
White hydrangea bushes were looking magnificent against the greenery and blue lake bringing in Irish cottage vibes. These will also add to the cottage landscape if you like white cottage.
Furnished outdoor patio overlooking the lake is ideal for morning breakfast and evening tea.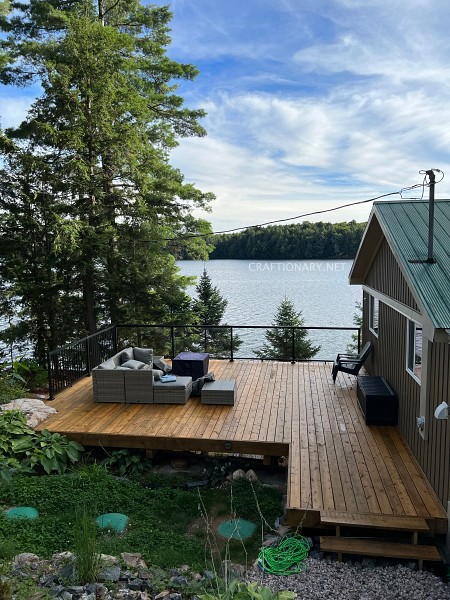 Cottage core ideas
The rustic wood pallet stairway into the lake adds a natural feel to the space.
The space is equipped with swing and slide along with a little tree house for kids to enjoy and make memories. I love the little details on these pieces by the owner. This was made when the kids were young and has hand prints with year painted into the play set. The personalized touch makes it feel like a cottage home and less like a commercial cottage.
Kayak along with paddle board and canoe were available for use.
Inuit heritage Inukshuk is a type of manmade structure made of stone piles on top of each other. Inukshuk means 'stone man that points the way'. Native touches like this First Nation's cairn in Canada provides opportunity to appreciate and acknowledge diversity.
This storage of wood for bonfire adds to the exterior decor of the space.
We enjoyed warmth and admired the scenic views in the evening at the lake. Cozy cottage that felt like home.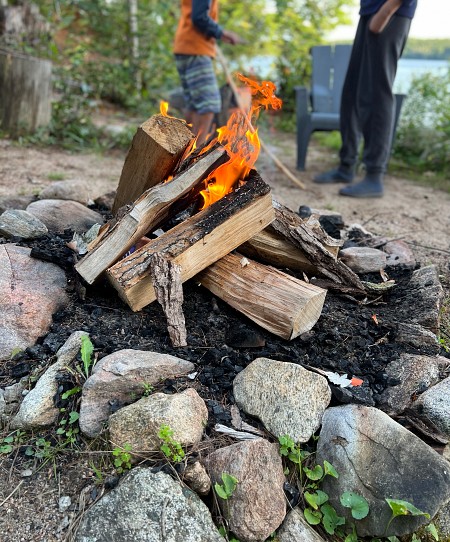 Cottage house activities
There are a variety of activities for family and friends to enjoy together during the visit to the cottage homes. The best part is these were not things we had to plan and take along but were readily available for us. These are great for the daytime as well as nighttime activities at the cottage.
Board games
A cabinet full of board games for all ages like pictionary, catan, monopoly, trivial pursuits, puzzles, table tennis, classic board games and more.
Arts and crafts
An arts and crafts supply that included adult coloring books, doodling pages, markers, pencils, drawing supplies and so much more.
Puzzles and games
A collection of mind games in a basket in the living room underneath the table. The puzzles and games included sudoku, crossword puzzles, word search and so much more.
Cottage library
A library of books on a variety of topics related to cottage interior design. Interesting books included topics on fishing, photography, dock manual, do it yourself manual, camping, mindfulness, writing, cottage houses, fiction novels and more.
Cottage bedtime stories
And last but not the least a collection of bedtime stories for children in the cottage home bedroom.
I hope you enjoyed my experience at this wonderful Deer lake cottage in Ontario, Canada. These ideas are shared only to appreciate the thoughtfulness of individuals with their properties. The human touches matter and I wish most of us understand that these are worth everything at the end of the day.
Only in two days we felt connected to this family whom we don't even know but appreciate deeply given they took great care of making us feel comfortable in their cottage house. If you like these ideas please acknowledge by linking to the article and do not take more than one photo. Let the people know where this is coming from!
Like what you see here? Follow along on instagram to stay updated with latest updates or subscribe to the newsletter.