This post may contain affiliate links. Please see our full Disclosure Policy for details.
A while ago I received an opportunity to choose, paint and share my honest opinion about Winnie's Picks Paint by Numbers. I seldom accept such opportunities and post a review only when I feel highly about a product. However, with this product I got very excited, especially because I was in the events of setting up my indoor garden and I found just the perfect painting to work with for that area!
So here goes my disclaimer: I received product from Winnie's picks, however, all opinions are solely my own. Let's get started:
Winnie's Picks Paint by Numbers:
Before we get started with the review let me share some background about the company. Winnie's Picks offers a wide variety of paint by numbers. There choices are organized by adults, kids and custom paint by numbers. Each painting has enough information to help you make your decision with ease and offers a difficulty level as well.
They are working with Artists for the unique designs collection since 2020. This makes them a fairly new company working hard to set their steps. They are fun and friendly, and I love following them on instagram. They are a cheerful team. The designs go through proper licensing. They are also highly active in green environment initiatives.
At Winnie's you will find a collection of landscapes, flowers, animals and kids kits. However, if you are looking for something out of your mind's works the custom paint by numbers option is best for you.
If painting is your hobby, you will enjoy hours of relaxation and peace working on these canvases. It takes away the fear of being a beginner and helps you create your own masterpiece just by following numbers. The painting makes wonderful personal decor for home as well as unique gift for someone special.
Winnie's Picks Product Packaging:
Let me start by saying that the product packaging is simply lovely. It is perfect. I will not change anything about it. It looks fancy, has a painting poster on it which readily makes you excited to open it up and start painting.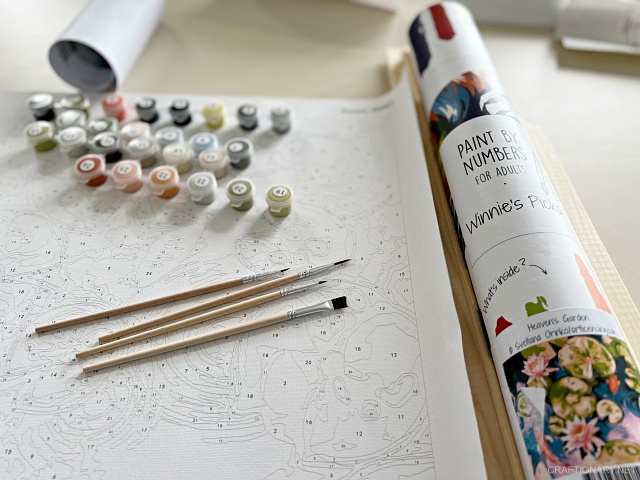 In my experience, it arrives packed properly and in perfect shape. It is basically a wrinkle-free tube that comes with all supplies fitted inside. The canvas is rolled in along with all the supplies you need to complete the project. If you are wondering it includes:
Linen canvas roll
A paper template
Acrylic paints enough to complete the project
Set of 4 paint brushes
Complete painting instructions for beginners
Wooden frame (optional)
Heaven Garden Paint by Numbers:
I chose Heaven Garden for my review. It is a medium difficulty painting and came with wooden stretchers. Orange koi carps and waterlilies are the major attraction in this painting making it my choice for the indoor garden project.
I started by reading the instructions to ensure I do not miss anything important to begin. Then I simply starting to paint each number one by one. Pretty much that's all I did for hours and days. Find the spots for the number in hand and paint all the spaces I can find before moving to the next number.
My favorite way of enjoying painting is tealight candle, music, a beautiful view and pleasure! This made the complete experience extraordinary! It was usually on the weekends or in the lazy mornings that I spent a couple of hours doing it. It was fun, relaxing and one of the best hobby product out there for paint lovers.
The great part is that this activity can keep you occupied for hours or even weeks based on the time you spend on it! If you are a weekend person like me it will take a few weeks to complete this beautiful painting! The anticipation to see the final product keeps you excited. Now that I have completed it, I feel like making a gallery of paint by numbers because it looks so stunning. Especially, the child inside you jumps with satisfaction and you want to show it off and do more of it.
Who should paint by numbers?
Paint by numbers is an ideal activity for a variety of situations and events. Here are some I am thinking:
For adults who want to spend time doing something constructive and painting is a hobby.
Moms to relax while the kids are at school
Adults to focus and refresh after a long hard day
To introduce kids to the art of painting
Helps to enhance brain and hand development by focusing on painting curves and strokes
Divert mind from anxiety and stress and help stay content
A personalized gift for a loved one
Family or friends activity to spend quality time on the weekend
A skill to develop for people who love to challenge themselves
and so much more…
BEGINNER PAINT BY NUMBER KIT GUIDE:
After completing this project, I feel like sharing the following opinion:
LINEN CANVAS:
The canvas is a high quality and can be easily rolled numerous of times to store away in the tube without any issue while you are working with it. However, I had a designated area for it and mostly continued working there. If you make a mistake while painting you can easily swipe off the excess with a paper towel while it is still wet. Keeps the canvas fresh and new to start again.
ACRYLIC PAINTS:
Acrylic paints come in small plastic containers attached together in a line. The quantity inside it is enough for the entire project. In fact, I had paint leftover after completing the project.
You have the option to either use the paint on the line or cut each one off and hold it in your hands for ease of access and painting. The light weight of each container makes it hard to stand on its own, therefore, I ended up holding it in my hands.
Sometimes you may find the paint to be to thick to work with and you can easily remedy it by adding some water to it and make it the consistency you desire. The nice flow of paint makes it best to work on the borders and sharp edges for perfection.
PAINT BRUSHES:
I have been painting since childhood. Therefore, I feel that as an artist everyone has their own choice of paint brushes. The paint by numbers kit includes all the necessary supplies, however, you might end up using your own paint brushes for the edges and borders where the focus is most important.
I like to work with size 1 brush, however, if you use the set brushes. I found this little tip to work best. The paint brushes I received had uneven bristles and not numbered (but you can understand the size of brush by the thickness of bristles). Use your scissors to cut of any bristles that are scattered. Also make sure to align the bristles before you start painting.
PAINT BY NUMBERS INSTRUCTIONS:
As mentioned above, the kit includes all the instructions you require to complete the painting. However, knowing the number of times each number appears in painting will help make painting more interesting and focused. I have mentioned this to the team as well.
Also because there is a slight chance of leaving the container not completely airtight once open, going back to find a number you missed earlier can become troublesome.
WOODEN STRETCHERS:
The company offers a choice to buy paint by numbers with or without a frame. I received the frame to stretch the canvas as well. The wooden frame comes with DIY instructions. This was my first time stretching a canvas on the wooden frame and I found it very easy and foolproof.
Apart from the instructions included in the kit, I found marking the painting border on the backside with pencil helpful. This way I knew exactly where to place the wooden stretchers once the frame was ready.
In order to make the frame, you only have to fix the sides tightly and secure them in place.
Put the canvas facing down and align the wooden frame with the pencil marks.
Now fold the canvas over the wooden frame and use pins (included in the kit) to fix it in place.
Don't firmly fix it yet. Check the canvas painting to ensure it is stretch correctly.
You can change the alignment as many times as you want without damaging the canvas.
Once you are satisfied with the alignment use a hammer to lightly tap the pins in the wooden frame.
Repeat for all four sides.
Lastly fold the sides following the trick on the included instruction paper for perfect result.
And you are done!
Canvas Painting Dos and Don'ts
A few painting tricks that may come handy while you paint by numbers:
Use a size 1 brush for the edges and borders as the design might have tiny and narrow turns to work with
Start by forming the edges and borders for each paint number and then use a larger brush to complete the spot
You may have to double coat where the number displays to hide it if the paint color is light
Use water to make the paint consistency flowing for better results
Do not let the paint container stay open. The paint dries off very quickly
Use soap and water solution to clean off your brushes properly
PAINT BY NUMBERS INSTRUCTIONS SHOULD INCLUDE:
I feel the instructions should include the following:
The number of times each number appears in the painting. It will help with the search and paint process giving us a goal to reach before moving to the next number.
The wooden stretchers are easier to align with a simple pencil marking of the border on the back of the canvas.
That's about it. In the end I want to thank Winnie Picks for this amazing opportunity. The thought of trying a canvas paint by numbers was always there and thanks to this amazing team I got the opportunity to mark this of my things to do list. However, I feel I'll end up with another one soon. That's how much fun painting by numbers is in my experience.
For more information, reviews with photos and loads of ideas visit Winnie's picks. You will end up painting one I guarantee!