Rainbow food or Rainbow recipes. Who doesn't like colors in food!
So, I am sharing 25 Rainbow food recipes for St Patricks day.
This Irish Holiday is so fascinating for kids. With pot of gold, rainbows and more.
Be ready! There are going to be lots of WOW moments today.
We already love the popular rainbow cakes.
Now get ready for rainbow jellos, rainbow cookies, rainbow spaghetti and even rainbow pizza.
25 Rainbow Food Recipes
I really love this quote:
Let's start this colorful roundup. I am so excited:
Colorful Rainbow Cake made for blog party using sixlets and candy sprinkles.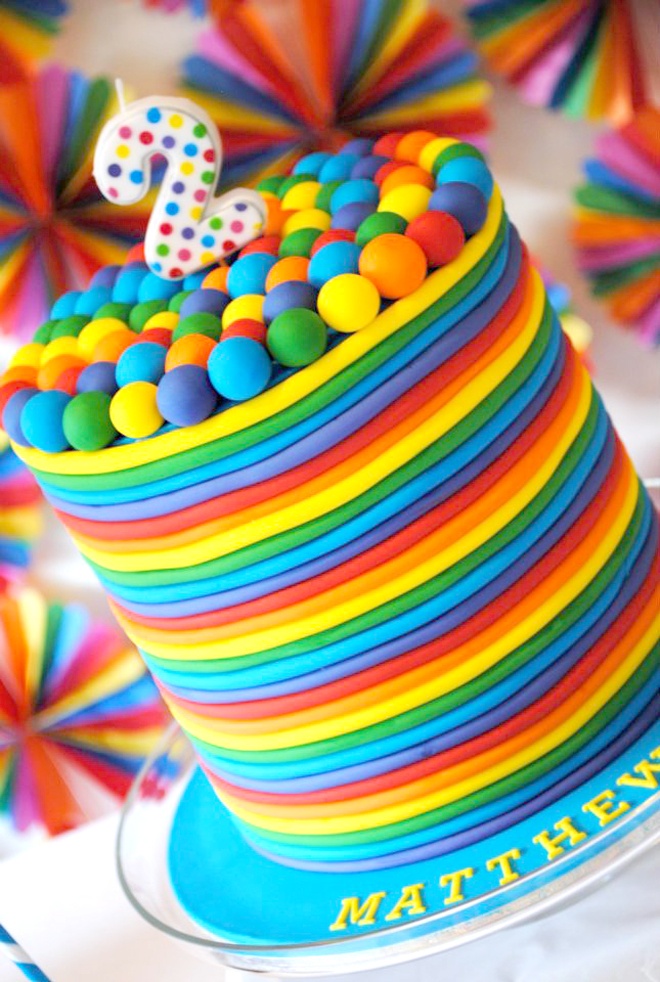 Rainbow birthday cake decorated with long ribbons of fondue. And topped with fondue balls.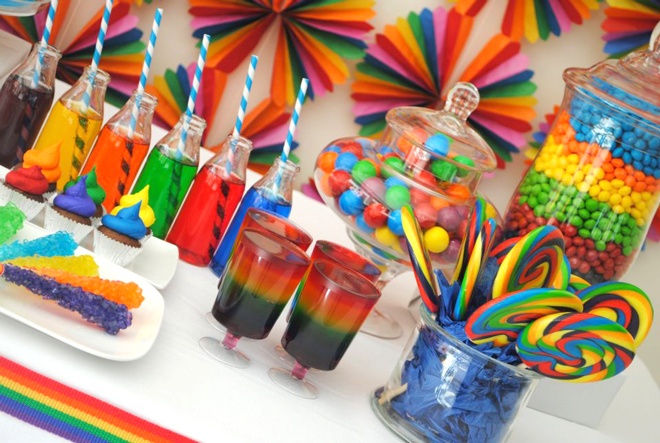 What's not to love! Rainbow lollipops, candies, drinks and jello.
Check out more pictures of this Rainbow party here.
Rainbow krispy squares. Made with butter, marshmallow and Fruity pebbles cereal.
(My favorite)
These cupcakes are made from a box. And decorated with rainbow marshmallows.
Real fun rainbow jello. Made with colorful jello. Chilled and set at each stage.
Bake rainbow cookies for St Patricks.
How we love to eat cookies with milk.
Looking for a non-sweet, low calories rainbow recipe?
You can go meat or veggies with these rainbow noodles. Tons of recipes to go with rainbow spaghetti.
Color them in individual cups. More on rainbow pasta here.
Another cute rainbow cookie for St Patricks.
Bake this adorable rainbow cookie. Meant to surely make those pretty faces smile!
Rainbow fruits on the stick. Kids are sure to love fruit skewers. Aren't they?
And here's a fun breakfast recipe for St Patricks.
Serve the fruit skewers with rainbow pancakes. Yum! Yum!
 Make rainbow cake pops. Great as favors.
We made these in rainbow colors. And coated them with pink icing. For a baby girl's shower.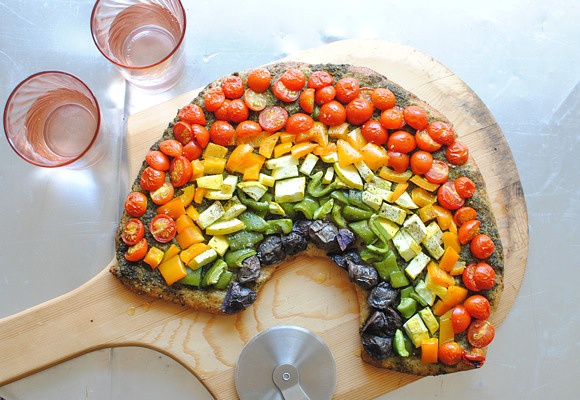 Let's break the calories again, shall we? 😉
A great idea. Bake rainbow pizza. Cut the dough in the rainbow shape. And top it with your favorite veggies.
What? Ruffles and Rainbow. Super amazing!
Decorate your cake with colorful icing. Have fun making ruffles on your cake.
Jello shots made with molds. And cherry on the top.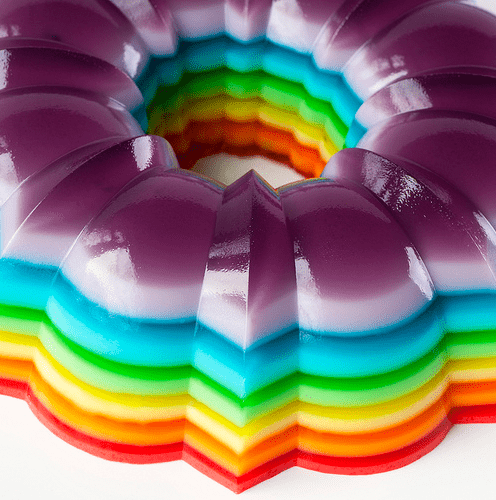 I love this rainbow jello made in a mold.
I could not find the source to credit. But I wanted to share this idea!
Bake rainbow cakes in a jar for St Patricks.
These make great party favors.
Rainbow snow cone. Or rainbow shave ice.
Both are acceptable terms for this fun rainbow ice cone.
Think about all the flavors you can enjoy!
Bake rainbow cubes for St Patricks.
Rainbow hearts cut from fondue.
Make rainbow sugar cubes with sugar, water and color.
Apply icing on the cones. And dip them in sprinkles. Fill them up with your favorite candies.
Some ideas are worth sharing.
If you find the source let me know!
Make a colorful rainbow candy gift.
And last but not the least. Two St Patricks in a jar gift ideas.
Fill the mason jars with coins, skittles and marshmallows.
How colorful and lovely!
 These will make beautiful party favors as well.
Bake rainbow oreo cookies. And rolos to represent pot of gold.
I hope these ideas made your day,
Ex
tr
a C
ol
or
fu
l!
You will also like:
60 St Patricks Day Free Printables
St Patricks Day Free Printables
15 Green Recipes for St Patricks Day
Oreo pudding pie with cream
(You can shape it as a clover, see how!)
Looking for more great ideas?
Are you on pinterest?
These are updated regularly whenever I find unique ideas.