This post may contain affiliate links. Please see our full Disclosure Policy for details.
I have mentioned many times but if you are new here, I am decorating my first ever home that we bought 1 year ago. The first project in this house is our kids bedroom. Today, I am so excited to share with you the enchanting minecraft room ideas with Minecraft bedroom reveal. Boys think this is the best Minecraft bedroom and is super cool.
It all started with a blank white canvas. We added Ikea single beds and tropical bedsheets. These bedsheets are custom stitched using fabric. The vertical lines net blue curtains are made in Pakistan. That's how it was practically ready for use.
Now let's look at the Minecraft room coming together step-by-step.
I like to start a room by planning it on a paper. So, I drew a rough sketch of the dimensions and had a meeting with kids about their requirements and ideas to incorporate in Minecraft Room Design. Here's a VIDEO showing Minecraft room design creativity from beginning to the final reveal.
Minecraft Bedroom Video
Minecraft room ideas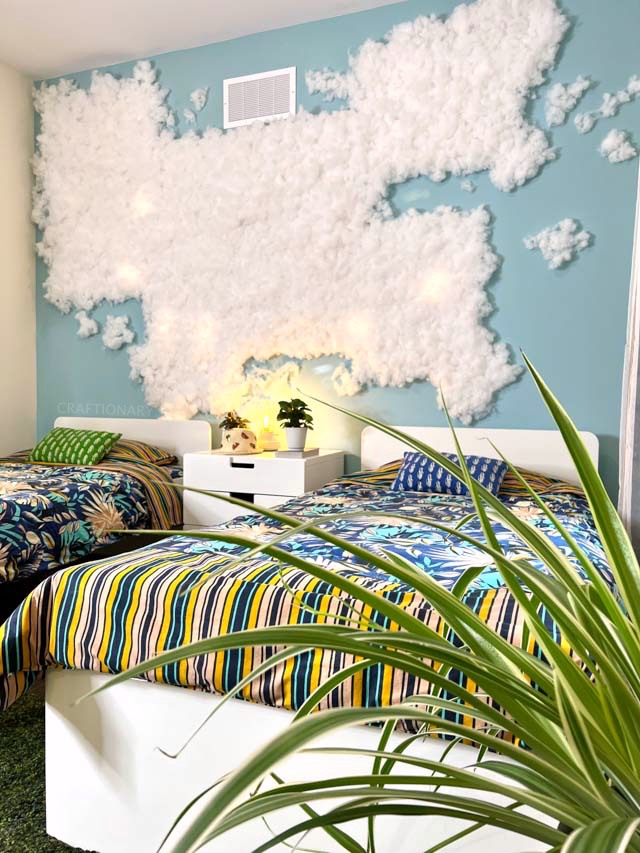 Minecraft Cloudy Sky
They asked for a cloudy sky so I made a Cloud Wall Light. We decided on a very breezy Behr Ocean Boulevard for the sky color. In order to ensure the wall is not messed up by glue we used posters paper to make an app operated Cloud that uses LED lights for cool colors and patterns even thunder clouds, lightning clouds and so much more. My inspiration for this project was the trendy cloud wall for game room.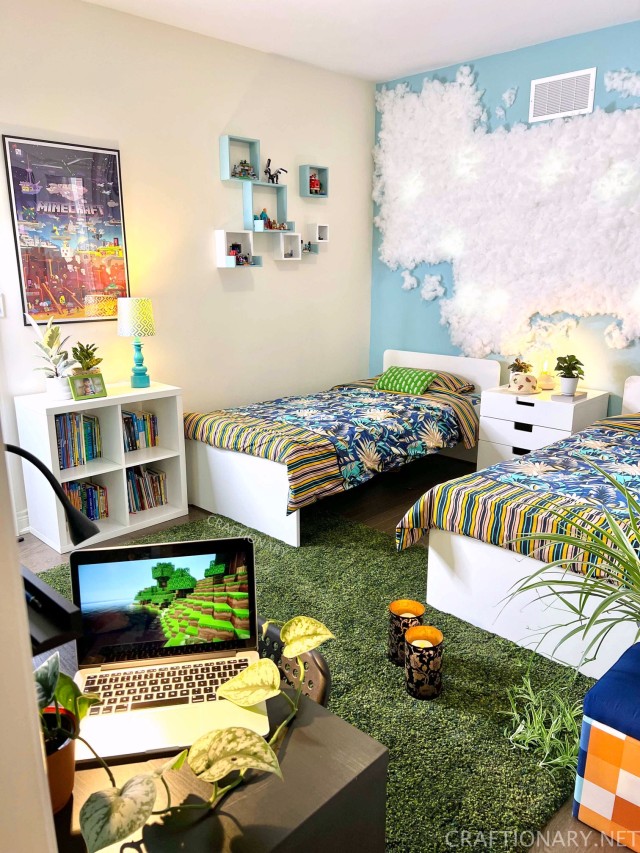 Lego Minecraft Wall Display
The idea for wall art was to incorporate kid's personality and have them participate in the making of their room. They chose the Minecraft poster from Walmart. Searched on Amazon and Toys R Us to choose lego Minecraft sets to their liking and some drawings of famous Minecraft characters.
All this was incorporated to make a Minecraft wall display of Lego Minecraft. Minecraft wall art online are all very trendy and temporary but this floating cube shelves wall can grow with kids.
Minecraft Wall Art
I found beautiful Minecraft printable art creeper, craft table and grass art printables on Etsy and printed them from Staples. The square frames are from Michaels, I could not find square frames elsewhere.
Other Minecraft Interior Products and Design Details
Kid's achievement wall with dust proof martial art display and hooks for hanging medals.
Instead of printed bed covers we incorporated the plant theme of the game to add tropical minecraft bed and bring cool minecraft bed ideas to life.
The lightning rod minecraft was replacing with geometric patterned lamp.
Minecraft bedroom ideas and Ikea kids bedroom furniture
This room has the following products:
Twin beds from Ikea
Book Shelf from Ikea
Center drawer shelf from Ikea
Chest of drawers for kids clothing from Ikea
Kid's study table and picture ledge from Ikea
High Pile Green Minecraft grass rug from Ikea
Floating cube shelves from Amazon (all products in this post)
Behr Ocean Boulevard Paint from Home Depot
Minecraft wall art from Etsy
Pixelated cube ottoman from Target
Blue lamp from Target
Beige table lamp from Ikea
Houseplants from Home Depot
Minecraft bedsheet set custom made
Minecraft curtains custom made
Minecraft poster from Walmart
Poster frame from Amazon
Minecraft bedroom full reveal