This post may contain affiliate links. Please see our full Disclosure Policy for details.
Make nylon flower American Peony as I show you step by step with pictures and detailed instructions. This is the flower to try if you are a beginner. You will love how easy it is to make! And also how beautiful it looks. You can use it to decorate many simple things. I decorated my office supplies storage tray with these flowers.
How to make nylon flower American peony?
See the picture below:
American Peony is a garden plant. It has large, variously colored flowers. With numerous stamens and several pistils. The elements I mentioned of this flower above, make it very creative. Choose bright and interesting colors. Add lots of stamens to make the bud. This is my first ever stocking net nylon flower. And hence my practical reason for suggesting to try for beginners.
Let's get to the tutorial.
How to make nylon flower American peony
You will need:
Pink, white and yellow stocking net (you can use your own colors)
Nylon thread (it's elastic)
White wire (silver or any other color works well too)
Stem wire
Plier and scissors
Floral tape
Rings size 5 and 6 (if you don't have the rings. Use anything round with diameters 5 and 6)
If you are new to making these flowers. Find information about them
HERE
.
Make Nylon Flower American Peony

The flower comprises of 7 petals. Make 4 petals (ring size 6). And 3 petals (ring size 5).
To make petals and assemble the flower, follow the instructions from the post Basic Nylon Flower.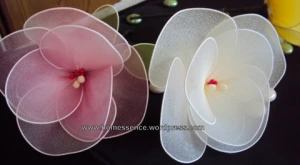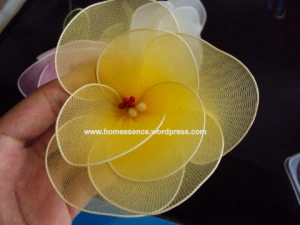 This is what a flower with 4 round petals looks like.
And a flower with 3 round petals looks like this: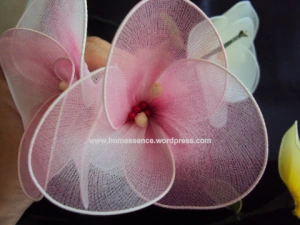 And that's all. Your flower is ready!
Stocking flowers or Nylon flowers
handmade flowers
For more beautiful flowers made using Stocking. Check out the link below:
You will also like:
Bendable burlap flowers
Corn husk flower
Make nylon lilies (tutorial)
Looking for more great ideas?
Are you on pinterest?
Updated regularly whenever I find unique ideas.