This post may contain affiliate links. Please see our full Disclosure Policy for details.
I am sharing a simple glitter pine cones tutorial today. Do you love to decorate for Fourth of July?
If so you will love this easy outdoor decoration project that costs nothing. This is also a great project for kids at school and home.
All you need is pinecones and some glitter.
Glitter Pine Cones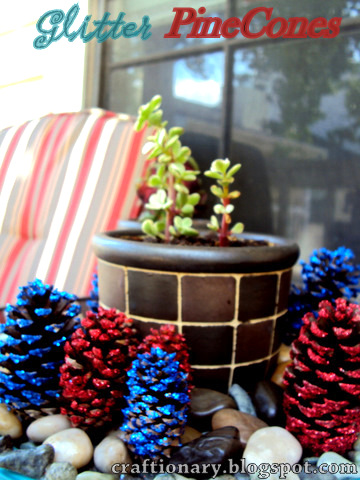 I made this simple planter arrangement, perfect for outdoor decoration.
Fourth of July Centerpiece
 HERE'S WHAT YOU NEED:
Pine cones
Glitter
Dry clear glue
Brush
MAKE IT
You can also enjoy an activity of pine cone collection at the nearby park for this project.
Brush the pine cones with glue and sprinkle glitter over them. Shake to remove the excess and leave them to dry.
Tip: Sprinkle glitter on a piece of paper to collect the spilled glitter for reuse.
This way the glitter is not wasted.
Here's what the pine cones look like when the glue dries.
To arrange the pine cones, I used a plastic plate.
Make sure the plate is strong enough to hold the weight of stones and pot.
I glued the stones on the outside of the plate to cover it.
Arrange the pine cones over the stones with the planter in the center.
I love these beautiful ceramic flower pots at dollar store. You can find tons of creative ones for just a dollar.
And that's all. You're done!
Have a festive Fourth of July my friends.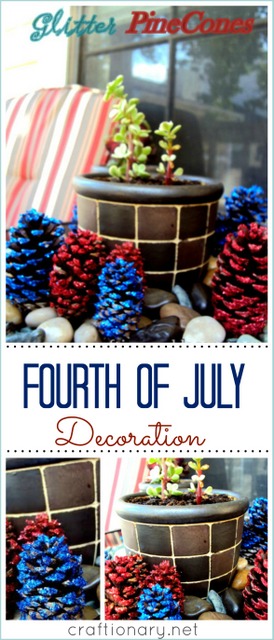 You will also like:
Looking for more great ideas?
Are you on pinterest?
These are updated regularly whenever I find unique ideas.