This post may contain affiliate links. Please see our full Disclosure Policy for details.
This wall decor project is art of the Living room Wall Gallery.  The series comprises of handmade wall decor tutorials and ideas that are easy and cheap to make. Make a Family Rules Subway Art Canvas using letter stamps, acrylic paints and pre treated canvas to display a fun family art.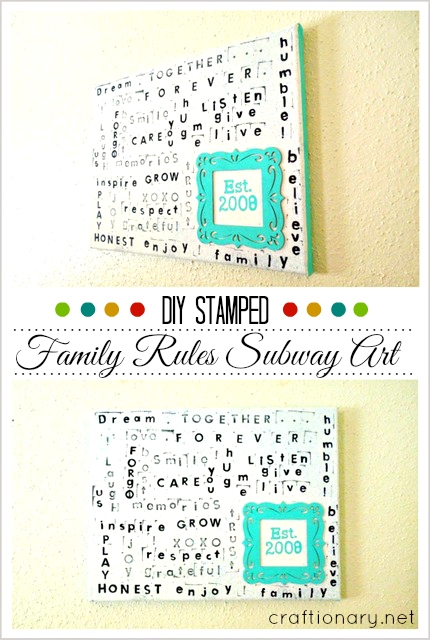 Family Rules Subway Art Canvas
 Today's project is very special because if you look at it, it makes you realize what a family is all about! How special it is to have a family. And how such beautiful feelings and emotions keep us together.
The family rules subway art, stamps these values in our home.
I first wrote down the family rules on a piece of paper to make this DIY subway art.  Then I simply started stamping them onto the canvas, after sprinkling some paint on it.  I left the corner of the canvas empty, where I wanted to decoupage our frame.  And in just a few minutes, I came up with this handmade family rules subway art using stamps and paint only.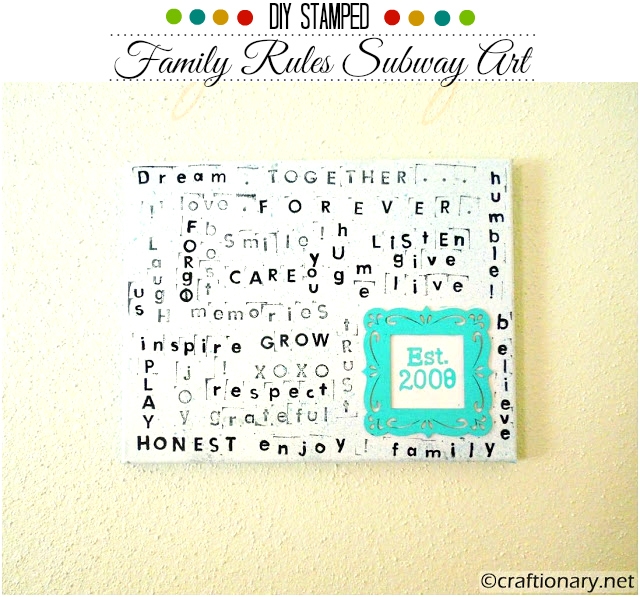 Family Subway Art Canvas
I am loving this family rules subway art because it's true to our hearts.
Let me show you the disaster I created which led to this wonderful project.
(note: the image does not exist anymore)
It looks so ugly with the dull and bright blue shades. And the bold red paint just doesn't match right.
What was I thinking! I had a sad heart for a while, but thankfully I came up with a much better project.
Subway art material
Alphabet stamps
Paint
Canvas
Wooden Frame
Mod Podge
How to make family rules subway art?
I started by sprinkling some paint onto the canvas to give it some texture. And overcome that plain look by teasing the brush tip dipped in paint onto the canvas.
I placed a small book on the down right side of the canvas and left it sprinkle-free.
Then I stamped different words, we value as a family onto the canvas using the Alphabet stamps set.
I bought this Melissa and Doug Wooden Alphabets Stamps Set online.
While the stamps were drying I painted my wooden frame from Michaels in turquoise.
And printed out the Year we got married to paint inside the frame.
To transfer the print on the canvas
, I rubbed the back of the print with lead pencil.
And then traced the image on the canvas.

Then I painted the number. And decoupaged the frame on the canvas using mod podge.  I also painted the sides of the canvas turquoise. And painted random words with black to give it a vintage look!
So, what do you think?
I hope you enjoyed this tutorial.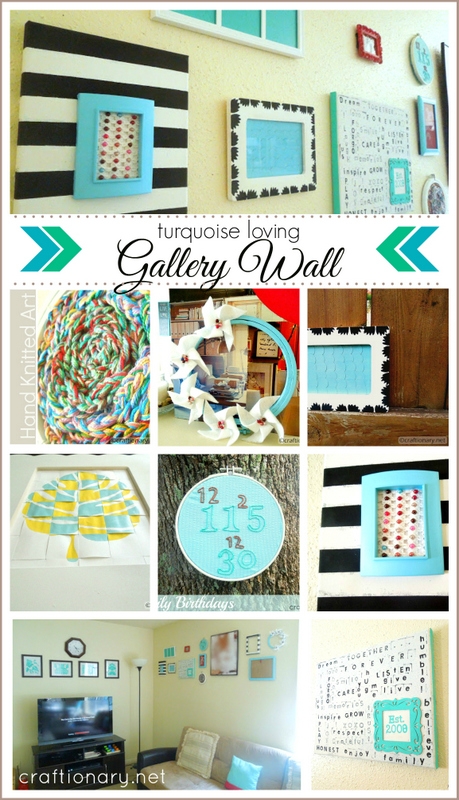 Which one you think is the best?
You will also like:
Looking for Wall Decorating ideas?
Check out tutorials in the category 
Wall Art
.