This post may contain affiliate links. Please see our full Disclosure Policy for details.
DIY projects and crafts you can create with polka dots. Make cute kids bedroom and nursery projects inspired by dots, dotted and dotting. Polka Dotted ideas are so much fun. You can refresh any space with some cuteness polka dots bring. From DIY crafts like painting clothes, making organizers, mobiles, wreaths and pillows. To DIY projects like painting rugs, stenciling furniture, planters and walls. Polka dots are just one simple and easy way to add life to any project.
Today I am sharing 25 DIY dots projects that will inspire you to create your very own polka dots project. These are great ideas to use polka dots on various different things.
DIY Polka Dots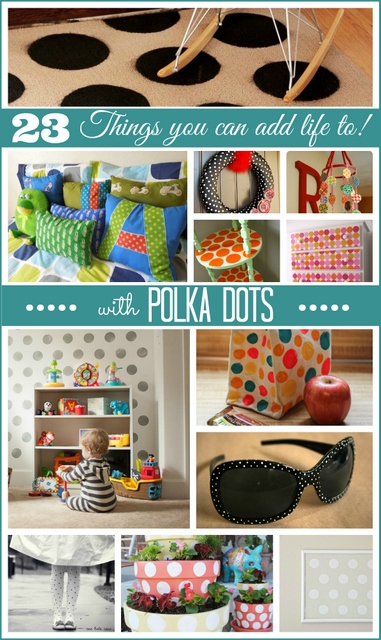 DIY polka dot projects
Let's start with these cars and polka dot inspired pillows created for a boy's bedroom.
DIY rosette wreath
How to paint mailbox?
How to paint washer and dryer?
Potato print colorful artwork
DIY pencil eraser tshirt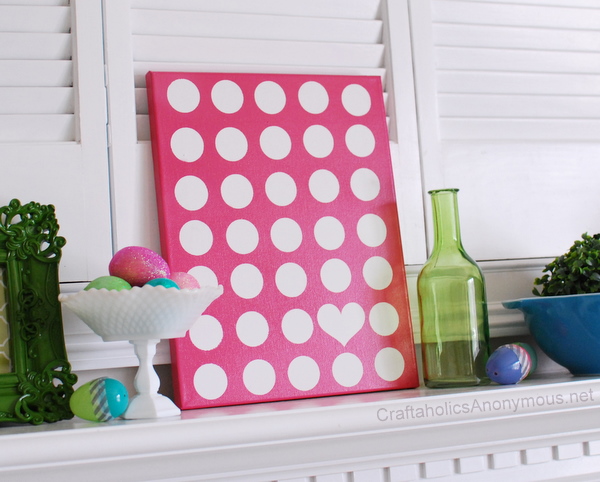 Painted dots pink canvas
Paper circles mobile
Painted polka dot rug
DIY dots manicure nails
Old shabby furniture gets a fresh modern face lift.
DIY fusible fabric shirt made by cutting circles and ironing them on a shirt.
DIY dots suitcase
Sharpie leggings made by painting circles on white tights.
Painted lunch bag
Painted dots sunglasses
DIY stenciled wall
DIY shelf makeover
Dipped polka dotted shoes
DIY dots cork board
Tiered planters painted with dots and fresh spring-like paint to bring joy and happiness.
Stencil painted Christmas tray with green and red dots.
You will also like:
27 Stencil Furniture Makeovers
Looking for more great ideas?
Check out tutorials in the category DIY IDEAS.
Are you on pinterest?
These are updated regularly whenever I find unique ideas.