DIY Clay Pots.  Use Clay pots for decorating home.
Let me share a scenario with you today! I am a road lover, I love to go on long drives and chat while driving.  One day I saw some beautiful handmade DIY clay pots on the roadside.  You will be amazed when I tell you these are made by molding the clay with hands on a rolling disc.  Then left to dry in the sunlight for a day or two.  Finally when strong they are hand carved to make various designs.
WOW!  And these DIY clay pots were so hard to choose from the variety.
So, I gave them a real quick creative touch to match our blue room.
As, I already knew the pots have so much beautiful they don't need anything extra.
Sometimes the simplest projects are the best for a quick new look around the house.  Just like today's project.
DIY Clay Pots!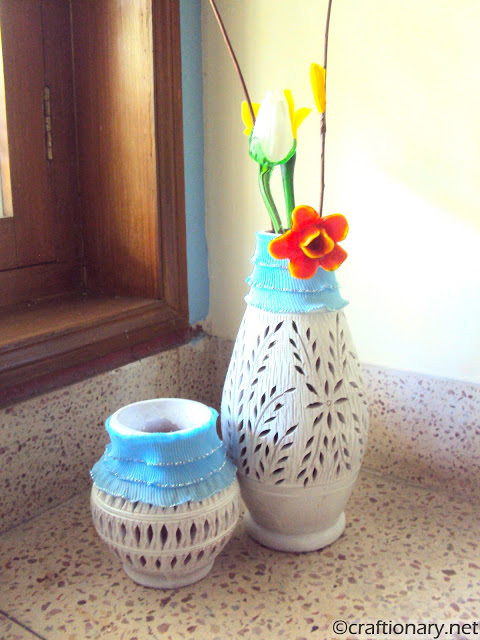 Let me tell you a little about these beautiful DIY clay pots.  These are
Handmade Clay Pots
bought home at my parent's place in Pakistan and believe it or not both of them cost less than a dollar.  I have no idea if you can find these kind of DIY clay pots in US but if you can, please let me know! I would love to buy some for my home.
p s: I love me these type of projects which I can work on around my boy!

I just simply spray painted them.
This was my first ever spray painted project.  Believe it or not I am not fond of sprays for some inhaling and surface preparation reasons.  But once I tried it, it was not that bad.  Moreover I am loving how easy it is to simply spray paint just about everything.  It also gives a neat finished surface.
Make sure you wear a mask for precaution.
Added a piece of ruffled ribbon on the top and glued at the back.  And that's all!
DIY Clay Pots are ready to be a part of our blue room.
So, what do you think?
You will also like:
Family Room Gallery Wall
25 Apothecary Jars and What to fill?
Thrift store find refashion
Looking for more great ideas for Kids?
Are you on pinterest?
These are updated regularly whenever I find unique ideas