This post may contain affiliate links. Please see our full Disclosure Policy for details.
A great DIY project for furniture makeover. Revamp old furniture with spray paints. Combination of silver metallic paint and antiquing glaze will bring your old furniture to life and make it look expensive. See how you can turn thrift store table into grand looking show stopper.
You can use gold metallic paint which is trending these days. However, silver metallic paint and modern masters metallic paints are quiet popular as well. Black metallic paint, blue, brass and red are some other popular choices. Metallic paint for wall is another scope of projects that you may want to venture into. Sherwin Williams, Benjamin Moore and Pewter are great choices as well. Folkart and decoart metallic paint is great for your craft and decor projects.
DIY Metallic paint with antique glaze
Hi Craftionary readers, I'm here from JandJHome. I was so excited when Hani asked me to come over here. And write a guest post. I love finding new friends and blogs to read. I'm a School Psychologist by day. And a DIYer by night. I love all things DIY, crafts. And repurposing thrift store and garage sale finds.
I'm excited to be here to share a redo of a $5.00 garage sale find. It's not a bad looking table, but I was not loving the finish. I've been repurposing a bunch of items for my sister's apartment. And I thought the size of this side table was perfect.
Table makeover
Spray Paint Primer + Silver metallic paint
I applied spray paint primer. And then I gave it a couple of coats of RustOleum's Metallic Silver spray paint. Here it is all nice and shiny.
Valspar Antiquing glaze
Antiquing glaze is a technique that produces interesting color effect by rubbing the glaze with a brush over a furniture piece to make it look old and aged. After applying your base coat rub the glaze to increase the age of a piece. It works best on a variety of surface coats like enamel, lacquer, varnish, and shellac. You can also mix tint to your glaze to make it unique to your project needs. For example, for a latex glaze you can add acrylic paint or latex tint.
I then used Valspar's interior antiquing glaze and gave it a light rub down. I'm not a fan of heavy glazing, but I wanted some dimensions to the piece. And that's how simply this table became super cool, with faux mirrored metallic paint and antique glazing.

Hani, Thank you so much for having me here. And I  hope you all come by and say Hi. I'm always working on something. Thanks for the amazing technique to give new life to old forgettable furniture and things. With metallic paint and antique glazing you can make strikingly amazing projects.
Here are a few more finished same way.
Metallic glaze on a dresser.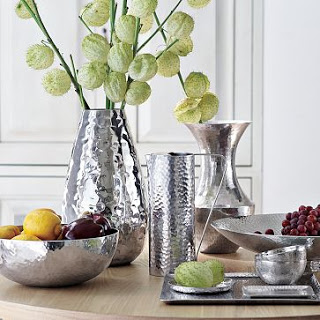 Metallic glaze vases and jars.
Looking for more great ideas?
Check out tutorials in the category DIY.
Are you on pinterest?
You will also enjoy the DIY Techniques and DIY projects Boards.
These are updated regularly whenever I find unique ideas.