This post may contain affiliate links. Please see our full Disclosure Policy for details.
How to refinish a table? A DIY furniture makeover project. An old pink table gets new life with paint. Black and gold painted table makeover. A DIY sandy table with textured paint on the neck. Makes it totally stand out. Let's get to the tutorial on:
How to refinish a table?
From simple in pink to spectacular sandy table.
(Pretty in Pink….Or so they say!)
Hello Fellow Craftionaryians, My Name is Jen Lossing from The Consigner Designer. I am so happy and honored to be here today! Today I am going to share with you how to refinish a table! You might be wondering why the title says pretty in pink…well this is why! Here she is…pink, but not so pretty!
One of the things I love about refinishing things. Is you really don't know what you are in for until you start taking away the layers. And this old girl had lots of layers!
Materials for refinish table

An Electric Sander

Heavy Duty Gloves

Heavy Mask

Safety Glasses

Sanding Sponge

Putty Knife

Rolling Brush

Paint Brush

Small Brush for Details

A Foam Brush

Painters Tape

Spray Gun Adapter (Optional)

Black Paint

Martha Stewart Textured Paint

Polyurethane

Primer

Paint Stripper (Not Pictured) 

Wood Filler (Not Pictured)
Before you get started, always be sure to wear safety gloves, masks and goggles!
I began by spraying a layer of Paint Stripper.
Read the instructions and apply accordingly.
It is best to apply and strip small areas at a time. 
How to strip the paint?
Once you apply the Paint Stripper. Your paint will start to bubble and look like this.
 Once the paint starts to look like this. You are ready to strip it off using your putty knife.

After using the paint stripper. There was still some areas of paint and varnish left on the table.
So I used my sander to get the remaining layers off.
I then filled in the holes with wood filler.  Once this was dry, (I used my sponge sander) I sanded those areas down level. The sponge sander was also great for getting into those tiny details!
 Once my piece was sanded. I wiped it down with a damp cloth. I then used my brush to get into any crevasses, I may have missed.
Now the real fun begins. I applied a layer of primer according to the directions and allowed it to dry.
How to refinish a table?
Used my painters tape and tape off the base and top of the table. She looks better already!
Then applied my black paint to the top and base of my table. I used an acrylic water based paint. I applied it with the sponge brush first. And then finished with the roller. I made sure there were no streaks.
For some interesting texture and contrast.
I decided to paint the neck of the table a different color. I used Martha Stewart gold textured paint.
This stuff is awesome!!
It looks like I applied a thick layer of gold leaf!
(Look at it….it looks like peanut butter!)
Once the gold paint was completely dry. I finished up by filling in the details with black paint.
This juxtapose against the gold paint.
I then went back in with the gold paint. This was to correct any mistakes I might have made.
 I let the table dry over night. And applied a layer of polyurethane according to the directions. And here she is….Miss America; I mean, the newly refinished table! I just love it!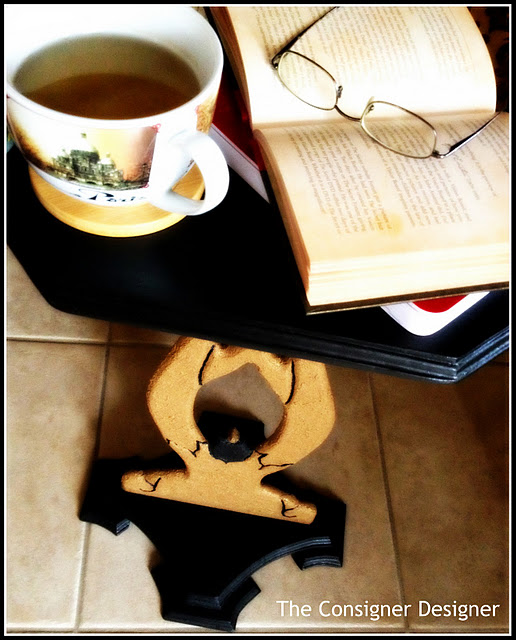 Thanks Hani for having me on your blog. I hope everyone enjoyed this. And I hope it has inspired them to refinish something not so pretty! Thanks again for letting me share.
 Be sure to check out Jennifer's blog for ideas like:
DIY perfume tray
You will also need:
What color to paint furniture?
Looking for more great ideas?
Check out tutorials in the category DIY PROJECTS.
Are you on pinterest?
You will also enjoy the DIY Techniques and DIY projects Boards.
These are updated regularly whenever I find unique ideas.