This post may contain affiliate links. Please see our full Disclosure Policy for details.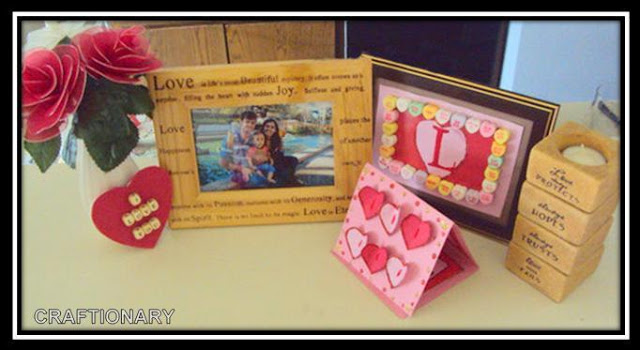 Hey Friends! There's a lot going on these days every where with so many outstanding valentine ideas. Funny for me I only have a 5′ long shelf area to keep things and all the rest is in reach of my little dynamite. Well we even finally had to move our table to the corner so as to limit his access to things. Still he never misses an opportunity if we forget to slip in the chair (even for a second).
That is to say I was sure if I make something catchy that will be either a non-survivor or my boy will have a good time chewing on it; when I get too much involved surfing around the internet. Best for me to keep it simple and safe. So, the ideas was to make a frame and a greeting card; well it works the charm and says it all.
Gift Ideas for Kids Valentine Hearts
These projects are also easy and safe for children to try.
Hearts Candy Kids Frame Art
My sweetheart bought this wonderful wood carved frame.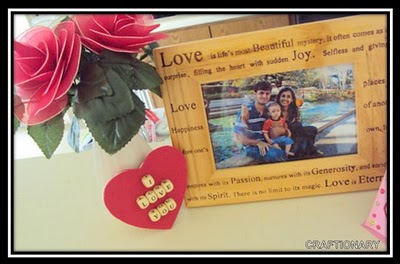 And I made it more sweeter with candies. Well that is to say I had some heart candies lying around and  gave me this idea. You will simply need colored papers, candy hearts and transparent glue.      
For the "L" you need a paper; I chose pink dotted paper, red paint and a stamp
Dab the stamp with paint and stamp in on the paper. Draw a heart around with pencil and cut it. Lucky for you if you have a cutter or cricut machine. Thats makes the job a whole lot easier.
Now for the sticky part. Simply glue all the paper layers together.
It is best to arrange the hearts before gluing them to avoid alignment problems. Dab a little glue and place it in position.
Use glitter glue to make the outline of the heart to make it stand out.
Let it dry and we are done.
Gift Ideas for Kids Valentine Hearts
You will need hearts, strips of paper, thread and a card for this project. (Remember to cut the card so as to fold it in three parts). Fold the hearts from the centre so they stand popped out on their own.
Thread the hearts on the strips that you have cut. Now remember to stitch twice and make a knot for each heart. This will help keep the hearts firmly in place.
Next glue the strips on to the card
Now cut red paper leaving 1/2″ margin at the sides of the card. Then cut pink dotted paper or any of your choice with a margin of 1/2″ from the red paper. Also cut letters and hearts.
Glue all the layers, letter and hearts and outline with black marker. The outline really makes everything stand out.
Outline the card with glitter. I used red and golden glitter.
Allow the glue inside to dry and then glitter the hearts with red
There your card is complete.