This post may contain affiliate links. Please see our full Disclosure Policy for details.
I am so excited to introduce a brand new Craft Handmade Projects book to you today!
Craft-A-Day by Sarah Goldschadt
365 Handmade Projects
Let me begin by saying this book is so much fun and cute!
While I was reading through each beautiful project I was feeling so inspired and motivated to try my hand at a few. There are 365 handmade projects which are very easy to make and do not require any special tools. Anyone anywhere can make these projects with most of the supplies already available at home. Make cupcake toppers, wall art, finger puppets, cards, garland and more with themes ranging from holidays and seasons to animals and shapes.
Here are a few super cute ideas I have snapped from this adorable book. The instructions are easy-to-follow  accompanied by handy patterns and more than 400 photographs. Which is exactly what we love, right?
365 Handmade Projects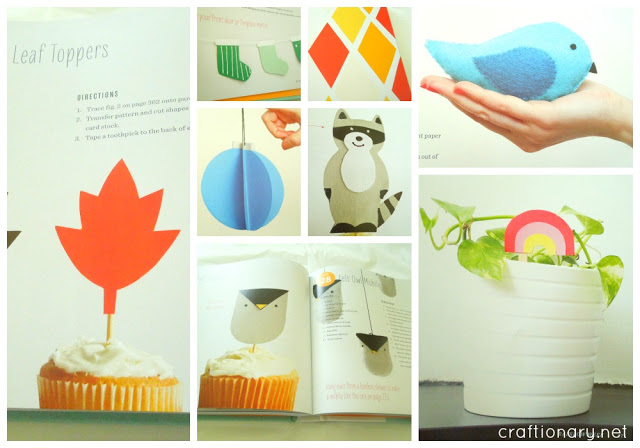 The book has a project for every day of the year with this important detail which is my favorite. You will find a theme for each week of the month and have 7 projects related to that theme. Such as triangles, starburst, ladybug, snowman and many more.
These patterns are not the usual ones, they are different and unique and that is why I am inspired!
The book will be available at Quirk Books for $24.95 on October 2, 2012.
You can also review the book in PDF.
You are SURE to love this book, if you like crafty and cute!
Love to read creative, easy and tutorial books on crafts, you will love. Sarah Goldschadt is a Danish American freelance graphic designer and crafter who loves to make things, travel, and take pictures. Her work has appeared in Oprah, Better Home and Gardens, Martha Stewart Living, Food Network Magazine, Do It Yourself, and Kids' Rooms.