This post may contain affiliate links. Please see our full Disclosure Policy for details.
Summer can get harsh for natural environment and certainly we can help with simple steps. Use these bird bath ideas to make one to help and enjoy the birds in your backyard. A bird bath can be pedestal, hanging, mounted or on the ground. There are many approaches to getting creative with homemade bird bath ideas. Make a safe bird bath in an area with bushes and trees by laying bricks, putting the bowl on top, and filling it with water.
Bird bath ideas
You can repurpose a hanging planter with a saucer or hang DIY birdbath on a tree branch. Use anything to make a bird bath, terra cotta pots upside down, and cement set in mold like DIY concrete leaf bird bath are the most popular. You can use a variety of material from home as a base for bird baths like a tomato cage cut to the desired height using wire cutters. Apply primer, and outdoor paint to seal your bird bath to slow down natural corrosion or settle for a more natural look.
A while ago tippy pots, topsy turvy pots, recycled glassware, teapot, upcycled old dishes, stacked stones, old sinks or basins and other one-of-a-kind bird bath projects were very popular. Check out these DIY bird baths. My favorite way to make a bird bath at home is with flowerpots. Some ideas are easy and simple and required gorilla glue or epoxy glue to stick and paint only, like candle plate bird bath, chip platter bird bath, and repurposed bird bath with old candlestick and pretty plate. Barnyard or pebble terra cotta bird baths are adorable and cheap too.
Long and shallow ceramic bowls and large plant saucers placed on tree stumps, logs or stands work great as well.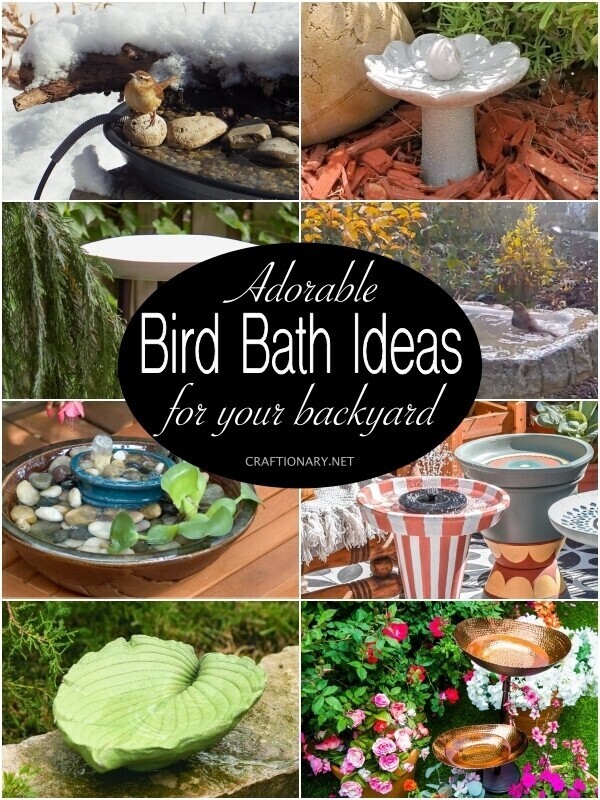 Where to put your bird bath?
The most common reason for birds not visiting your birdbath is that the water is too deep, and birds are scared to drown and find it dangerous.
Add stones, glass beads, rocks, pea gravel, or marbles at the bottom of a bird bath to assist the birds as they like shallow water, anything more than 2 inches is too deep for small birds. Rocks on the side and middle will help the birds to land on their feet to drink water, perch, splash and preen themselves in the water and nearby trees. Water in a bird bath in shade stays cooler and fresher for longer than in sun.
Bird bath considerations
Bird bath is essentially a bowl of water, the aesthetic features are for fun. Keep in mind that bird baths need to be safe for birds, cleaned and replenished so the main purpose should not be forgotten while decorating it.
The most basic birdbath is a shallow terra cotta plant saucer with stones.
Birds like shallow water of anything within 2 inches of height.
Add stones to the base of a deep bird bath to reduce fear of depth.
Small pebbles and stones also help birds stand and climb out of the bath easily.
A rough surface like terra cotta, or concrete (unlike glass and plastic) is recommended so that the birds can grip with their claws and not slip.
Seal the bath's surface with a bird-safe and non-toxic sealer.
Use an electric heater to keep the bird bath warm during the winter.
Clean your bird bath once a week with diluted apple cider vinegar to reduce acidity. It is non-toxic and additives-free compared to regular detergents and cleaners.
Many people also use old real copper pennies and copper tubing to keep the bird bath clean and free from algae.
You can also find birdbath cleaners with helpful bacteria and enzymes in stores as well.
Easy and adorable Bird Bath Ideas
1. Waterfall bird bath
small electric fountain pump + vinyl tubing + small and large ceramic planters + stone by runningwithsisters.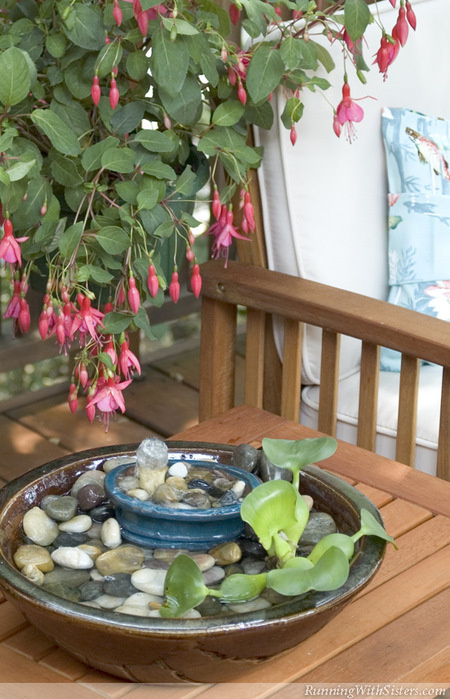 2. Copper bird bath
watertight bowl or tray + planter stand + gorilla glue by hallmark.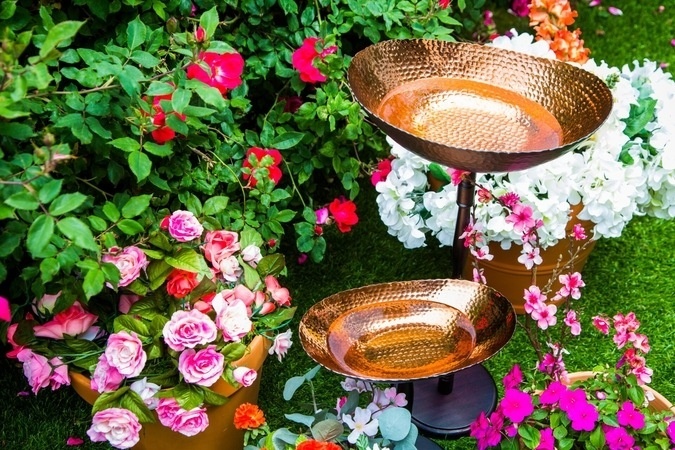 3. Fountain bird bath
Plastic plant saucer + copper poles + epoxy glue + bird bath solar fountain pump by Charleston Crafted.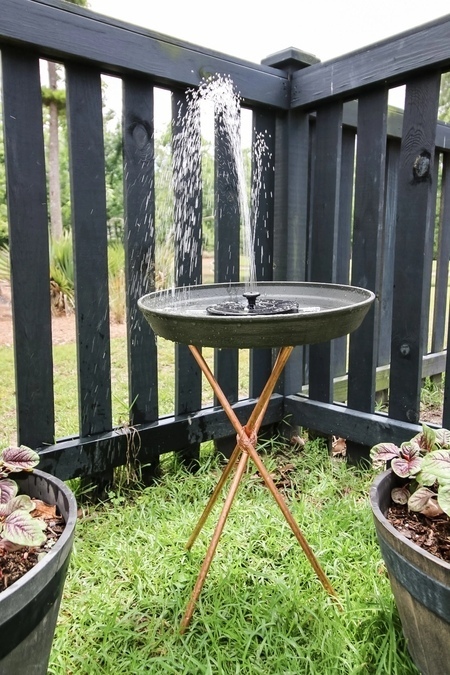 4. Painted pots bird bath
Terra Cotta Pots + outdoor paint + terra cotta saucers by Hayley Stuart.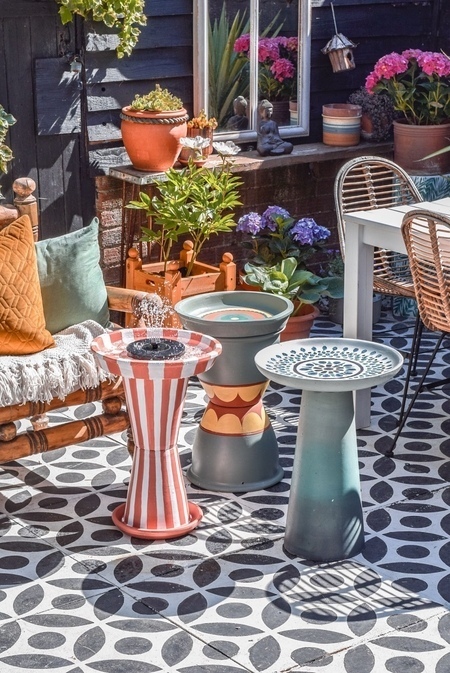 5. Wood slice bird bath
wood slice + patio paint + glass bowl + sand + baubles + vases by Chica Circle.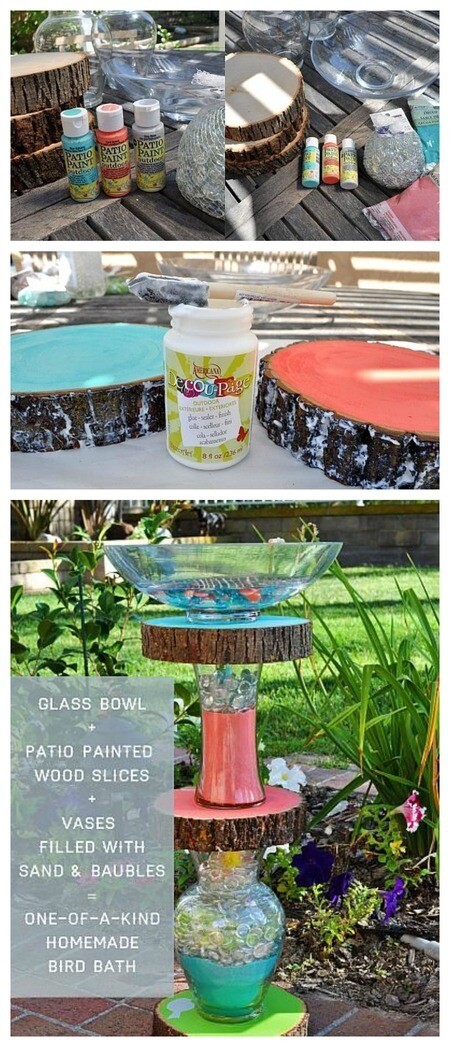 6. DIY glass bird bath
Glass bowls + plates + vases + candle holders + candy dishes + E6000 by Life on Summer Hill.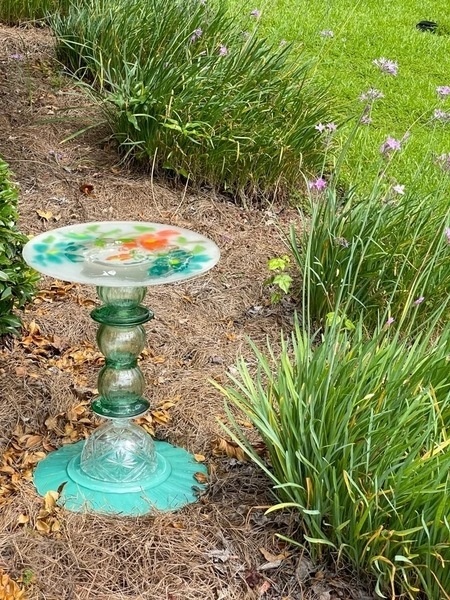 7. Organic modern bird bath
Shallow dish or bowl + 3 wood dowels by theartofdoingstuff.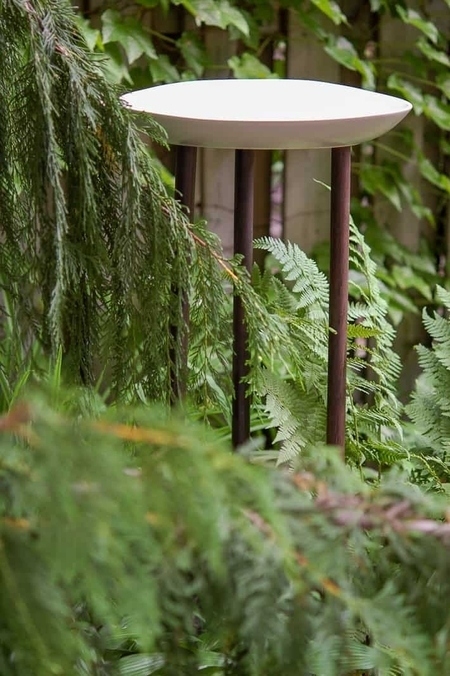 8. Repurposed lamp bird bath
Easy to locate. Made with old lamp stand + thrift store bowl by Color Me Thrifty.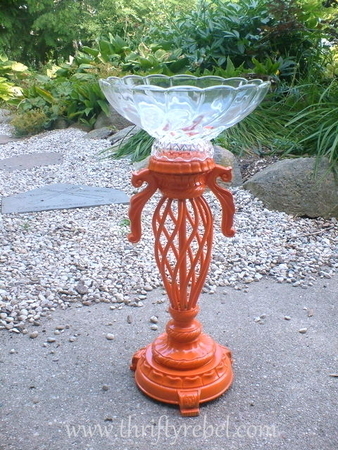 9. Wreath hanging bird bath
Grapevine wreath + planter saucer + string by craftionary. Photo by Meredith Skyler.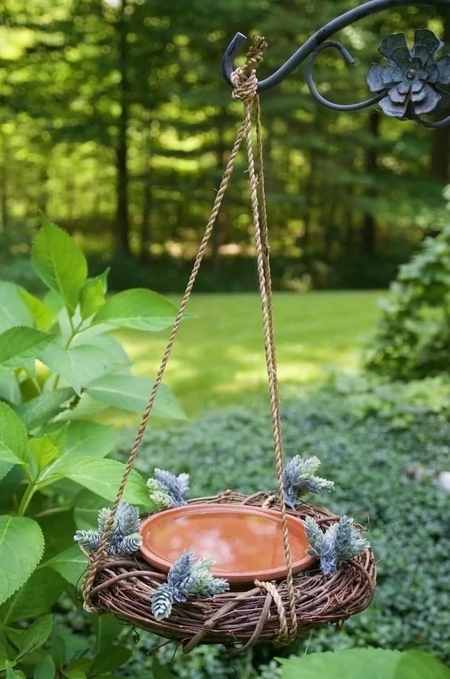 10. Handmade bird bath
Round baking tray 8" + Empty food can + Acrylic paints + Paints brushes + Colored stones + Aquarium decor plants by Nicekazi.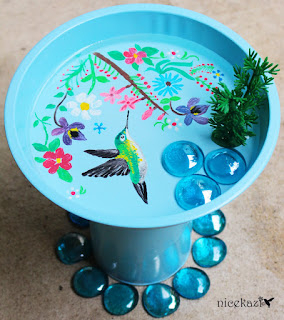 11. DIY Stacked Pots Bird Bath
3 terra cotta pots (1 small, 1 medium, 1 large) + 1 large terra cotta saucer + outdoor acrylic paints by Craftionary.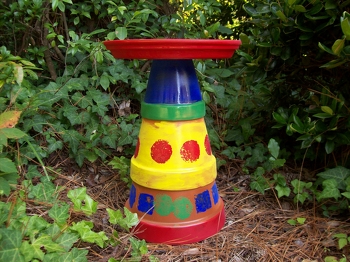 12. Adorable Concrete Bird bath
Large plant leaf + 1/2 to 1 bag of play sand + 3 to 4 cups of contractor's sand + 1 to 2 cups Portland cement + Concrete fortifier by Birds and Blooms.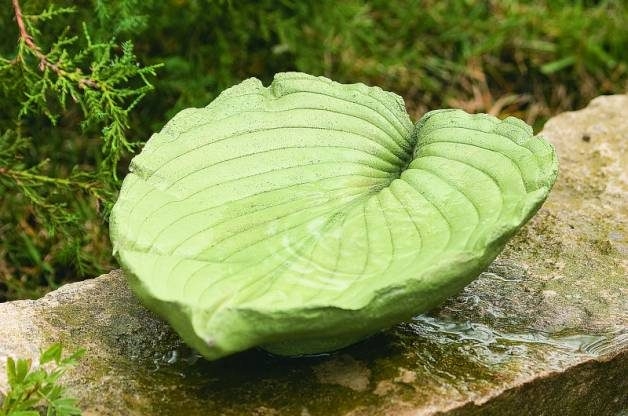 13. Mosaic Birdbath using CDs
9 old CDs + Terra Cotta saucer + Tacky Glue + White Paint + Clear Spray Paint + Grout (to fill gaps) by Misadventures of Victoria. Find more Impressive DIY mosaic ideas.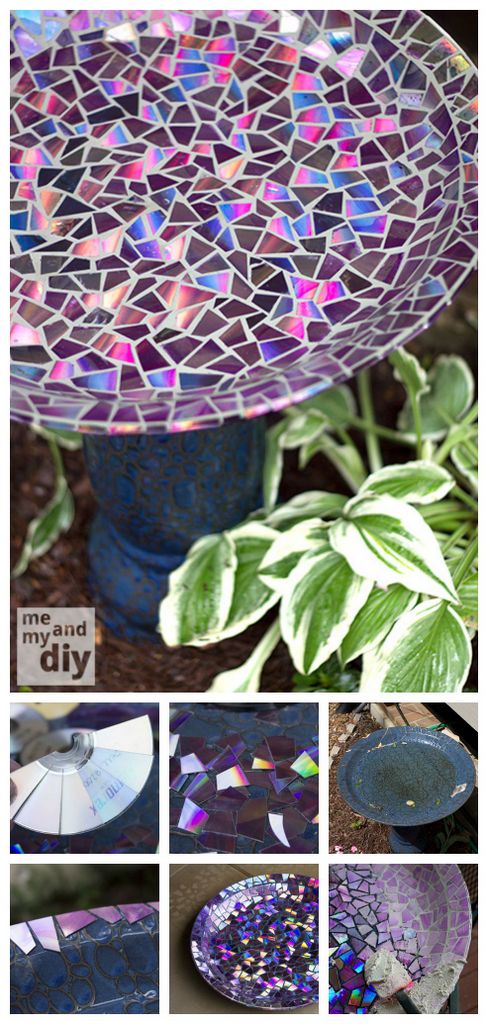 14. DIY bird bathing tray
wood + cookie sheet or tray + PVC Pipe and fittings + electrical conduit hangers + submersible fountain pump + plastic clear tubing + bucket + brackets (if mounting onto tree) + screws + spray paint by Home Talk.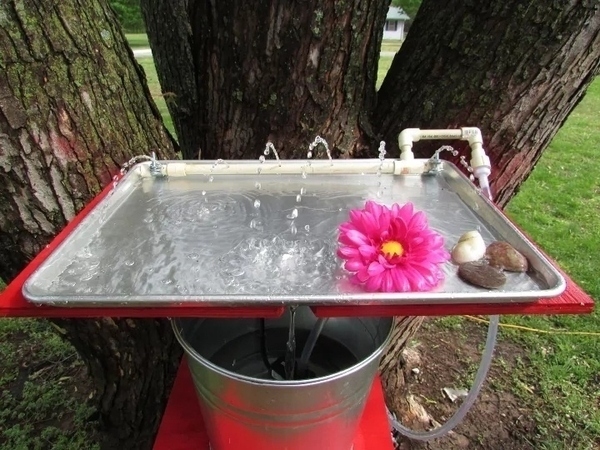 15. Upcycled Chair Bird bath
Chair-Shaped Plant Stand + 10-inch Clay Saucer + Multi-surface Waterproof Spray + Spray Paints + Acrylic paints + High Gloss Glaze Paint to seal by Modern on Monticello.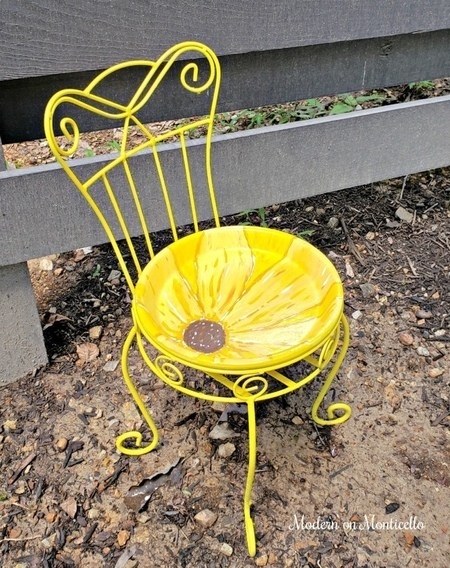 16. Galvanized Bird bath planter
Metal Tub + 15-20 inches diameter bowl or planter + Platform for your bowl to sit on (old coffee can or cement block) + Solar bird bath fountain + Garden soil + Plant and flowers by Home Talk.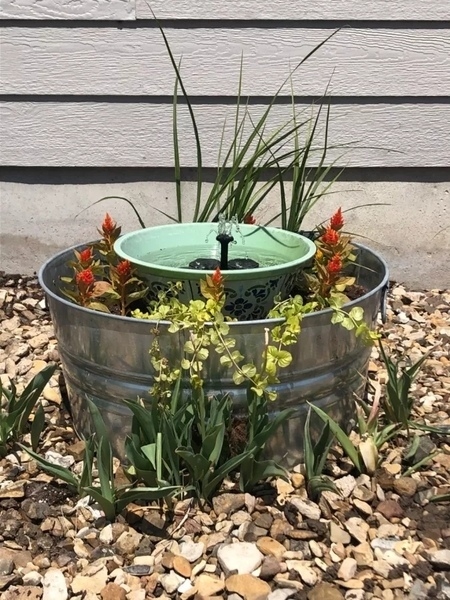 17. Resin Bird bath
Bird Bath Planter Saucer or Bowl + Bird Bath Stand + Super Primer + Penny Round Tile Sheets (from tile cloud) + Rubber Tower + Tile Adhesives + Grout Cleaner + Tile Sealer by little red indutries.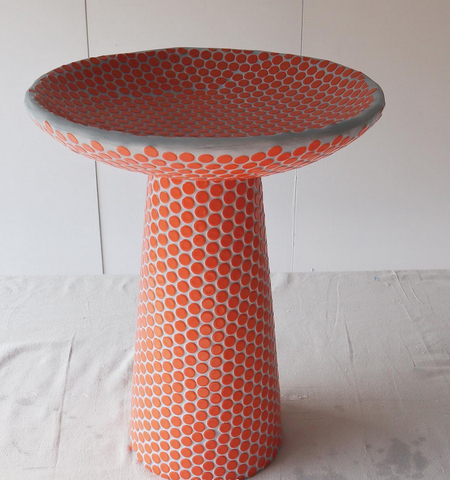 18. DIY Plastic Bird bath
Plastic Flower pots and drainage plate + Gorilla Glue + Rocks by My Momma Taught Me.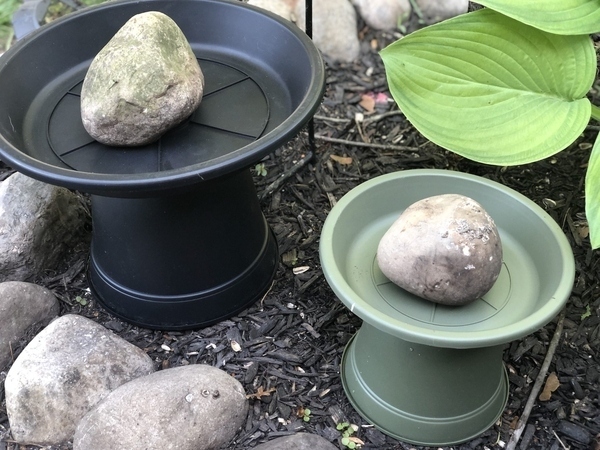 19. Bin Lid Birdbath
Bin Lid + Old Flower Pots + Paints + Stones by Earth Based Fun.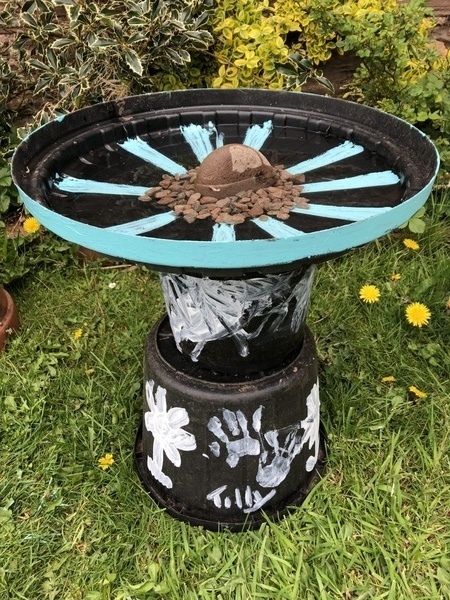 20. Large Terra Cotta Bird bath
Vinyl tubing + Brass pipe adapter + Brass pipe reducer  + Brass flare  + Fountain birdbath pump + Plastic saucer + Terra-cotta azalea pot + Large tapered terra-cotta bowl + Terra-cotta saucer + Large strawberry jar + Silicone glue + Pebbles + Electrical cord + Aquatic plants by bhg.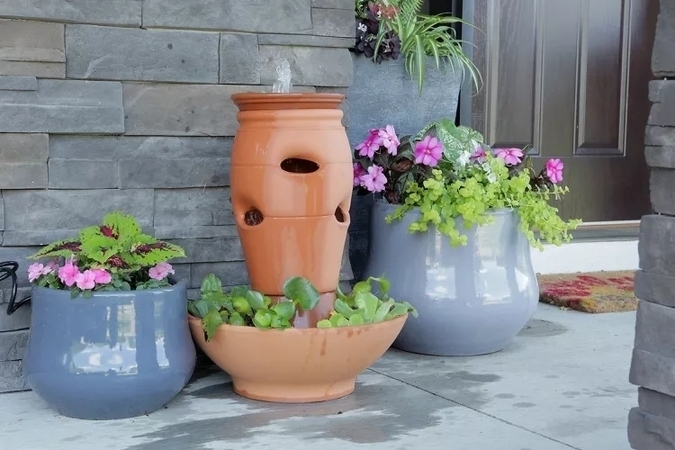 21. Beautiful Clay Birdbath
Clay + Polymer Clay Sealer + Acrylic Paints + Acrylic Paint sealer + Acrylic varnish by Clay Crafting.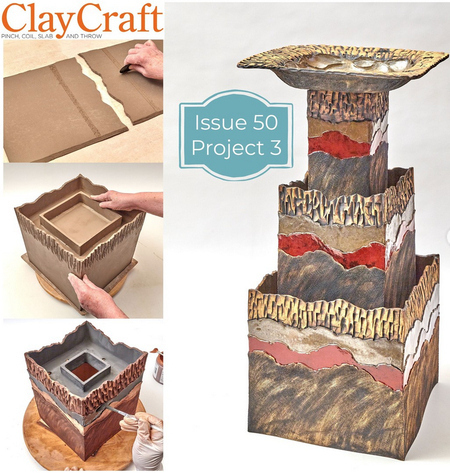 22. Make a Heated Bird bath
Flat Tub + Rocks + Pebbles + Bird Bath Heater by Ferns and Feathers.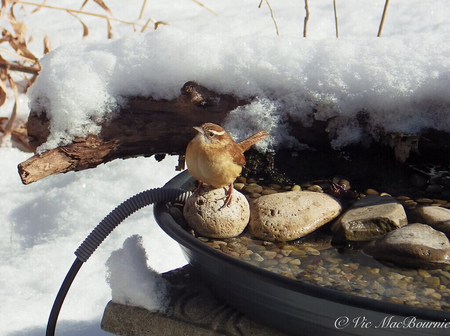 23. Topsy Turvy Garden bird bath
Clay Saucer + Clay pots + 3/4? x 36? Rebar + Hammer + Spray Primer + Paints + Vinyl Decals (optional) + E6000 Adhesive + Mod Podge + Clear Sealant Spray + 7/8? x 6? Hex Bolt (from Home Depot) + Flowers by Home Stories A to Z.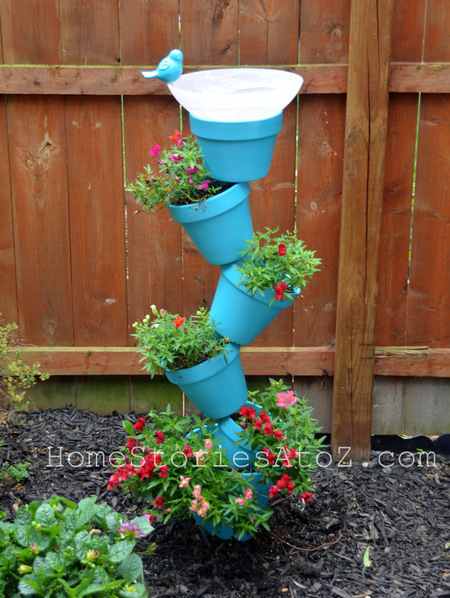 24. Mini Dollar Tree Bird bath
Desert shot glass + Incense holder + E-6000 glue + Hot Glue  + Spray paint of choice  + Clear spray sealer by David Owen Creates.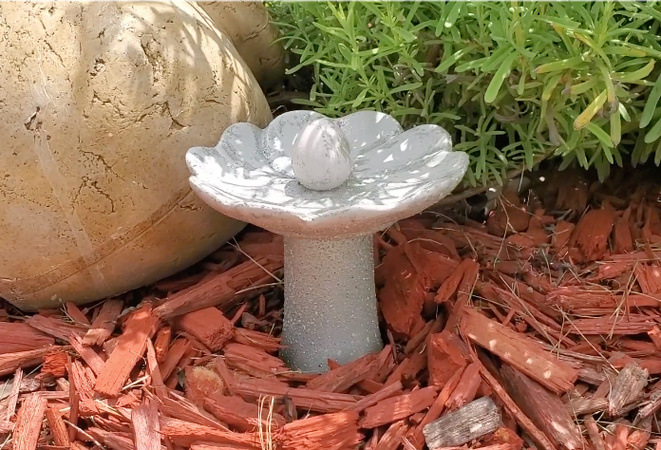 25. Stone Bird bath
Large Natural Stone (for Base) + Flat Stone (for top) + Angle Grinder + Hammer + Chisels by  devine escapes.
Try out these fantastic DIY bird bath ideas to turn your backyard into a lovely haven for feathered friends. You can create the ideal bird bath that will bring the beauty of nature into your own home with little effort and time.
Author: Marriam Arshad
You will also like:
DIY hummingbird feeder for your garden