Hello Everyone
I am Sachiko from over at Tea Rose Home
On my blog I share sewing/craft project ideas and tutorials. Also, I share a little bit about my thoughts and life as a busy mom of three. Every Wednesday I host link parties too.
Today, I am sharing my square-in-square quilt tutorial
It took me over a year to decide how I wanted to finish the quilt. My daughter is so excited, finally it's complete. Here is how I did it.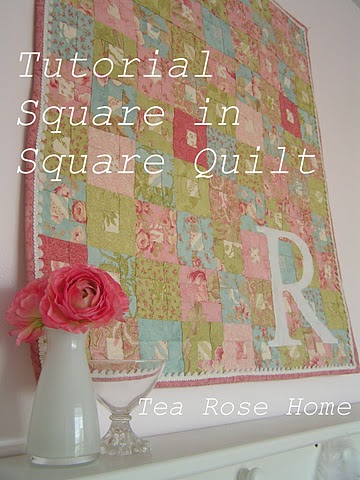 Finished 27″ x 30″ (Constructed using 90 3″x3″ squares)
I used Honey Buns from Moda, but you can make your own 1 1/2″ wide strips by the fabric's width and use them instead. I used 36 strips to make this quilt.
Sort and group the strips by color
Cut 90 squares (1 1/2″x 1 1/2″) from the light color fabrics
Cut 90 squares (1 1/2″x 1 1/2″), 90 rectangles (1 1/2″x3 1/2″) and 90 rectangles (1 1/2″x2 1/2″) from the dark color fabrics
My Honey Buns had three main colors: pink, green, and blue. Since I made this quilt with 90 blocks, I made 30 pink blocks, 30 green blocks, and 30 blue blocks. When you are making this from scratch, this will make it easier to pick out the fabrics. You only need four different color schemes, one light, three darks.
 Arrange the pieces together to make blocks. See the pictures for guideline. Don't forget to press the seam after each step. It will make quite a difference on the finished quilt.
Lay all the blocks together to see how you want it to look. Sew them together first side by side
Then row by row
Thanks Sachiko for the wonderful tutorial
The post has been truncated for copyright safety. Thank you so much for understanding! "This post first appeared on Craftionary.net"